The Truth About Gibbs And Ziva's Relationship In NCIS
Throughout the eight seasons that Cote de Pablo appeared as a series regular on "NCIS," Special Agent Ziva David formed special bonds with every member of the Naval Criminal Investigative Service. While fans of the show will inevitably most remember the will-they-won't-they relationship between Ziva and NCIS Special Agent Anthony "Tony" DiNozzo (Michael Weatherly) that writers teased out for nearly a decade, Ziva's relationship with her boss, Special Agent Leroy Jethro Gibbs (Mark Harmon), is an important one for fans of the series to remember.
Of course, Ziva's relationship with Gibbs was very different than her relationship with Tony. Whereas Tony and Ziva shared a (primarily off-screen) romantic relationship, she quickly came to view Gibbs as a father figure and someone she could turn to when she needed profound advice. Conversely, Gibbs grew to see Ziva as a daughter. "NCIS" has repeatedly made the point that Gibbs's NCIS family filled the void left by the loss of Gibbs's wife and daughter, Shannon and Kelly. Given how she joined the team in the first place, Ziva's relationship with Gibbs might be the most poignant of the bonds she formed.
Ziva proved her loyalty to Gibbs early on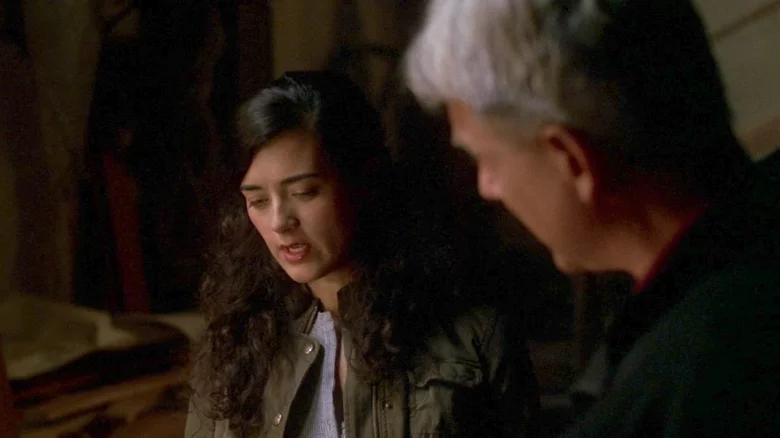 Cote de Pablo's first appearance as Ziva David occurred in the Season 3 premiere of "NCIS," aptly titled "Ki**l Ari Part 1." The first two episodes of this season revolve around the search for Mossad operative Ari Haswari, one of the first multi-episode villains on the series and the man who many NCIS fans still see as Gibbs's prototypical arch-nemesis. In the Season 1 episode "Bête Noire," Ari was first introduced as a mystery man who breaks into NCIS headquarters and takes three personnel as hostages. Gibbs begins to obsess over Ari's capture and plans to k**l him. In the final moments of the Season 2 finale, Ari k**ls NCIS Special Agent Caitlin "Kate" Todd (Sasha Alexander), angering Gibbs more than ever before.
However, Kate's seat at NCIS is quickly filled in the Season 3 premiere by newly arrived Mossad agent and NCIS liaison Ziva David, who comes with quite a backstory. While Gibbs is unsure whether to trust her at the beginning of her role at the agency, she ultimately proves her loyalty in the final scene of "K**l Ari Part 2" when Ari suddenly corners Gibbs in his basement. Just before Ari is about to sh00t Gibbs, Ziva arrives on the stairs and sh***s Ari d**d. It is only at this moment that Ziva reveals to Gibbs that Ari was her half-brother. As she lowers her weapon and weeps, Gibbs comforts her, and she softly sings a prayer in Hebrew for her fallen brother.
Gibbs loved Ziva as a daughter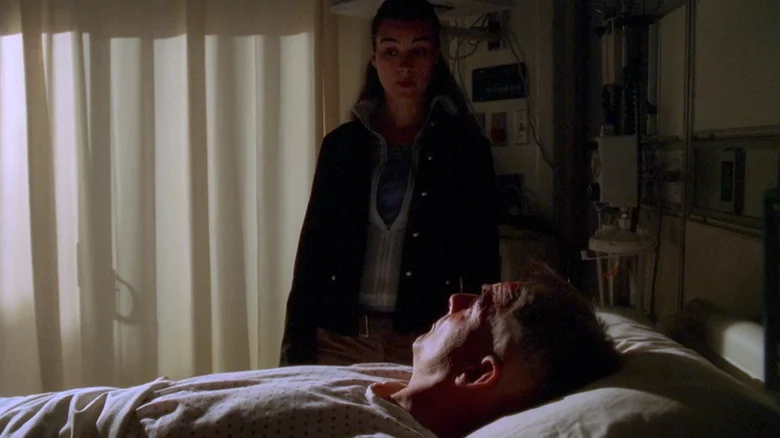 Ziva's willingness to k**l her half-brother ultimately made an enormous impression on Gibbs, and he came to see her not only as a trusted member of the team but also as someone he could personally rely on in times of crisis. In the two-part Season 3 finale titled "Hiatus," Gibbs suffers a severe concussion that leaves him without memory of the previous ten years. Interacting with his most trusted teammates is nearly impossible for him as he doesn't remember them or that they ever worked together. Shortly after his former boss, retired NCIS agent Mike Franks (Muse Watson), attempts to shock him back to the present by informing him of the events of 9/11, Gibbs is brought back to reality by none other than the newest member of his team, Ziva.
In his hospital room, Ziva reminds Gibbs of their relationship by suddenly placing his hand on the back of her head. Fans of the series are no doubt familiar with Gibbs's reputation for head slaps to encourage his employees to perform better. The movement sends a jolt through Gibbs as he recalls the numerous times he has humorously hit his beloved team members in the back of the head. She further reminds him of the events in his basement which led Ziva to execute her half-brother. As he remembers, the two embrace and Ziva cries at the painful memory.
Ziva needed Gibbs when her father failed her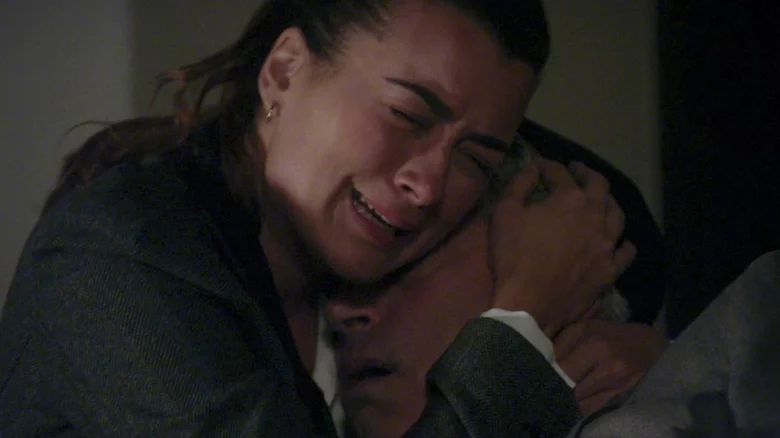 A significant part of Ziva's time on the show focuses on her relationship with her home country and, more specifically, her relationship with her father, Eli David (Michael Nouri), the director of Israel's intelligence agency, Mossad. Ziva's childhood is repeatedly alluded to as having been difficult, and her estrangement from her father is a source of deep pain. Her k*****g of Ari only served further to divide the strained relationship between father and daughter.
In Season 6 and Season 7, Ziva is kidnapped by Somali terrorists and is tortured in a training camp. Her three closest friends — Gibbs, Tony, and McGee — eventually rescue her at NCIS, but her father is primarily seen as indifferent to her struggles and sees her divided loyalty between NCIS and Mossad as a liability. Ziva remarks that her father treated her "like more of a Mossad officer than a daughter." In the Season 10 episode "Shabbat Shalom," Eli David is k****d in a drive-by sh00t1ng that also claims the life of NCIS Director Leon Vance's wife, Jackie.
When Ziva left the team, it was painful for Gibbs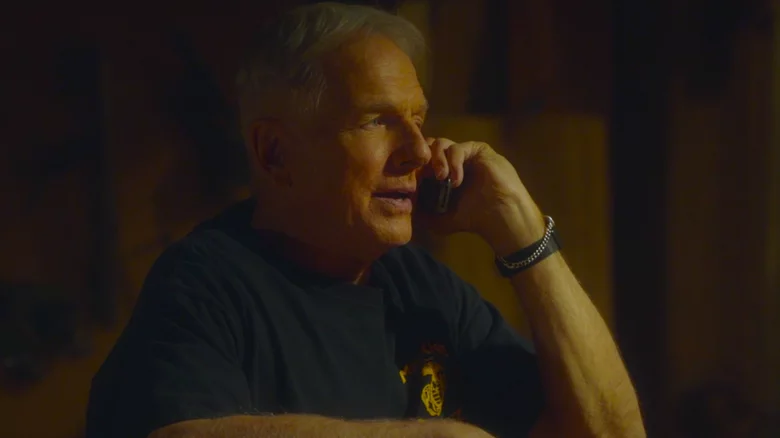 In the Season 10 finale, "NCIS" writers shocked fans when Tony, Ziva, and McGee resigned their posts and turned in their badges to the NCIS director. While the move was primarily seen as temporary, news in the real world upended this assumption when Cote De Pablo announced her intention to leave the series after a whole eight years with the show. In the Season 11 premiere "Whiskey Tango Foxtrot," Tony and McGee returned to NCIS while Ziva was said to be back in her home country of Israel. In Season 11, Episode 2, Tony travels to Israel to try to convince Ziva to return. The two embrace and share a kiss, but she ultimately refuses his pleas. In what he calls "the hardest 180 of [his] life," Tony is f****d to depart Israel without Ziva. However, the episode does not end with Tony and Ziva's final shared scene.
Instead, the episode shows Gibbs at home, nursing a head injury with a cold beer, when his cell phone rings. The episode closes as he answers the phone and slowly says, "Hello, Ziva." While viewers were not shown the actual conversation between the two, we can assume that Ziva explained the reasons for her sudden departure. Gibbs struggled to replace Ziva in the next several episodes with a string of unsuccessful hires before finally settling on NSA Analyst Eleanor Bishop (Emily Wickersham) in Episode 9.
Ziva was angry with Gibbs when he didn't look for her
In the penultimate episode of Season 13, the team is shocked when a fire erupts at Mossad Director Eli David's former home, the same place that Ziva was last reported to be staying. It is later confirmed in the Season 13 finale that a body believed to be Ziva was found on the scene. The team is devastated by the loss, but none so vocally as Tony. He screams in the bullpen at the team's lack of action, proclaiming that it should be "all hands on deck" to find Ziva or hunt down her k*****s and reminding Gibbs that she was "like a daughter" to him. The team hunts down her assumed k****r, but Ziva doesn't stay d**d.
Gibbs is working on his boat in his basement when Ziva suddenly appears to provide a warning only three years later. In a scene meant to evoke memories of her fateful meeting with Ari in Season 3, she appears at the top of the stairs and tells Gibbs that they don't have time for pleasantries and that he is in danger. In the Season 17 premiere, Ziva temporarily rejoins the team and helps Gibbs take down a group of mercenaries. Telling him that she felt "abandoned," Ziva tells Gibbs that she was devastated that he didn't look for her. Gibbs admits his mistake and apologizes before Ziva heads off on her own once again.