NCIS Star Katrina Law Thinks This Is The True Reason Behind The Show's Ongoing Success
Despite drastic lineup changes over the years, "NCIS" has managed to find a way to stand the test of time and reach the coveted 20-season mark (via Deadline). Their ability to fill out their roster with talented TV stars is also above average, and one recruit that arguably stands out as yet another fine choice is most certainly Katrina Law.
The prolific actress has had a successful run on the small screen starring in a number of thriving franchises throughout her career (via IMDb). While she has a slew of notable credits to speak of, it's hard to deny that the most popular show she has ever been featured on is, without a doubt, "NCIS."
Law plays Agent Jessica Knight on the CBS c**e procedural and caused quite a stir with fans when her character replaced Agent Ellie Bishop (Emily Wickerman). She has undoubtedly made her presence known on the series, and since her debut in Season 18, she has seen plenty of action and has even been caught up in an intriguing workplace romance. It's rarely a dull moment for any character Law plays, and Knight is certainly no exception, and she has proven to be a beneficial addition to the hit c***e drama.
Although award shows like the Emmys continually ignore the series, and certain followers think it's way past its expiration date, "NCIS" has endured against all odds with exemplary results. For those wondering how such a thing is possible, Law herself may have the answers.
Katrina Law doesn't hold back on what she really thinks about NCIS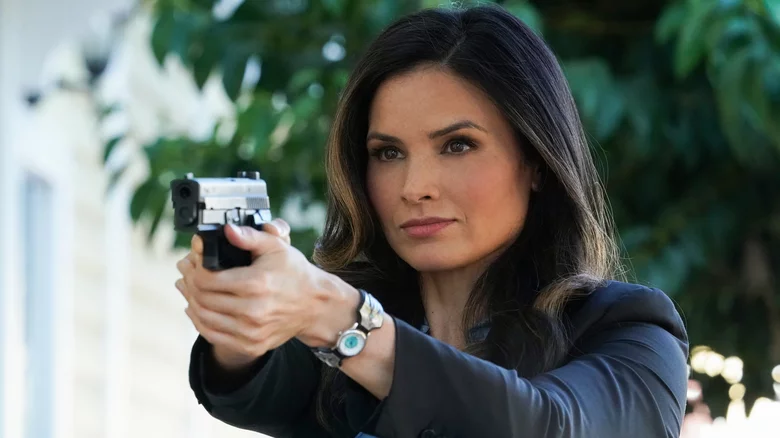 Bill Inoshita/CBS
According to a statement from CBS Entertainment President Kelly Kahl (via The Hollywood Reporter), "NCIS" is "one of the most popular and enduring series in the world." But what could be the reasons behind the ongoing sensation of a show about investigating Navy c***e? Katrina Law believes she has solved the mystery.
In an interview with TheCherryPicks.com, the actress discussed why she thinks the show has remained victorious over the years. "NCIS is a beautifully crafted character-driven drama that has been supported through amazing writing, character development, talented actors, and a highly skilled crew. It is a unique blend of drama and humor that somehow always leaves you feeling good and like a part of the family. The chemistry between the cast would always keep me coming back for more, and the opening credit music is pretty catchy." Law's assessment is arguably on point, and many fans would most assuredly agree with her take on the reasoning for the show's resilient popularity. Not to mention the evidence out there to back up her bold claims, like a report from Variety that stated "NCIS" outranked the likes of "FBI," "Chicago Fire," and "Blue Bloods" as the most watched scripted TV series of the 2021-2022 season.
While there are things fans still might not know about "NCIS," one certain thing is that the show has been a hit for almost two decades and shows little signs of slowing down.