Inside Linda Hunt's Renovated 1919 Home, where she shares with her Beloved Woman of 43 Years
Hollywood star Linda Hunt flexes her excellence in the movie industry and a grand Hollywood home designed to suit her sense of style alongside her longtime lover, Karen Kline.
Linda Hunt's expertise and impactful presence in Hollywood extends to her personal life and craftsman-style home that has felt her dexterous touch for decades. However, before the actress put her life together and gained recognition in the movie industry, she was a youngster who got picked on.
Linda Hunt's parents noticed her unusual features right from birth, and it wasn't until later that they discovered she had hypopituitary dwarfism. Growing up, the Hunts supported their daughter, helping her develop at her own pace rather than being institutionalized.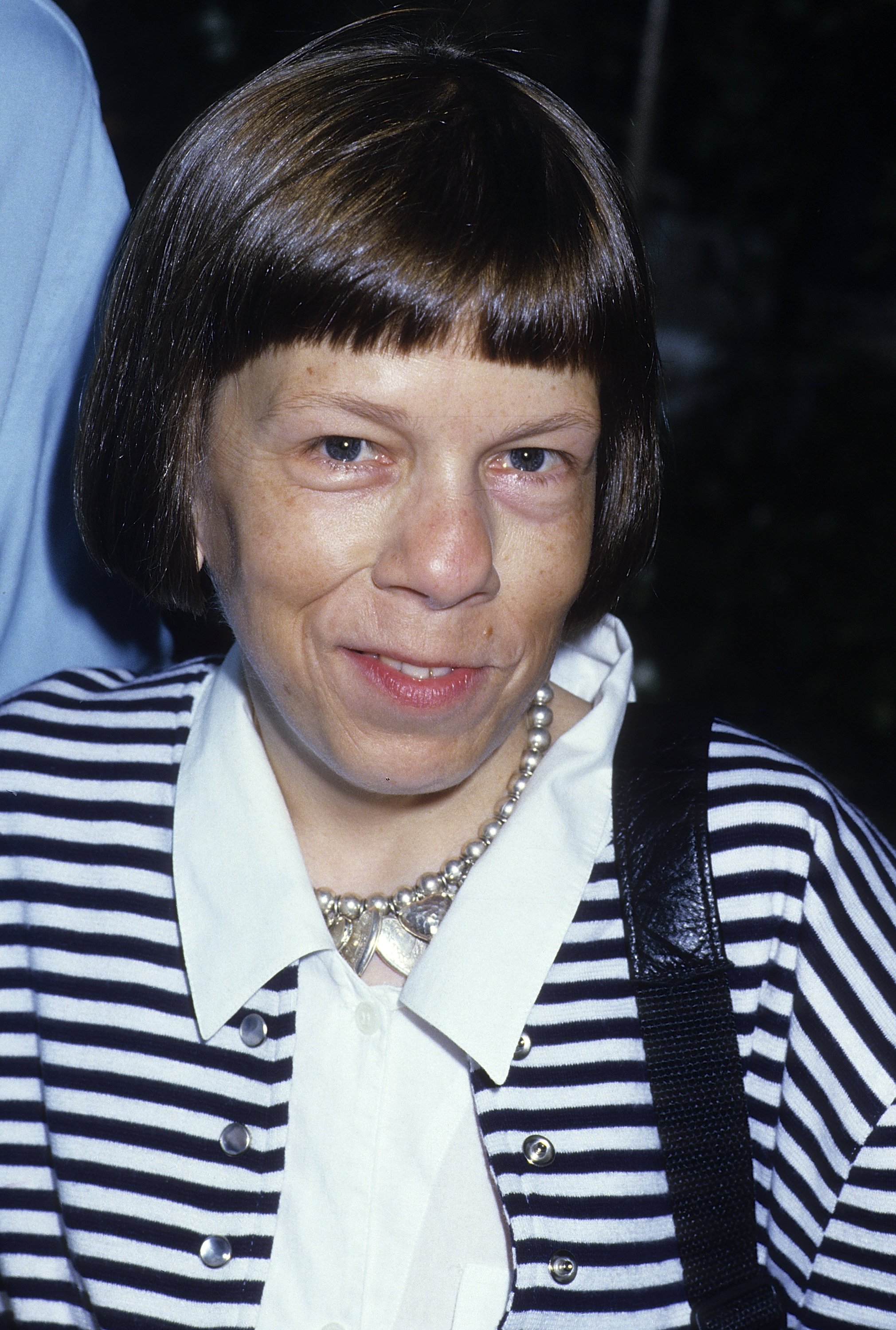 Actress Linda Hunt attends the George T. Delacorte Theatre's 25th Anniversary Celebration on July 28, 1987 at the Tavern on the Green in New York City
GROWING UP
In her formative years, Hunt's mom taught her to read and channel a dream of becoming an actress in the future. Both parents would take her to theaters, and from there, Hunt found her calling and followed suit.
Despite their unwavering support, the Hunts could not shield their daughter from some negativity. The actress experienced some bullying in school, and she would often be teased for her diminutive size.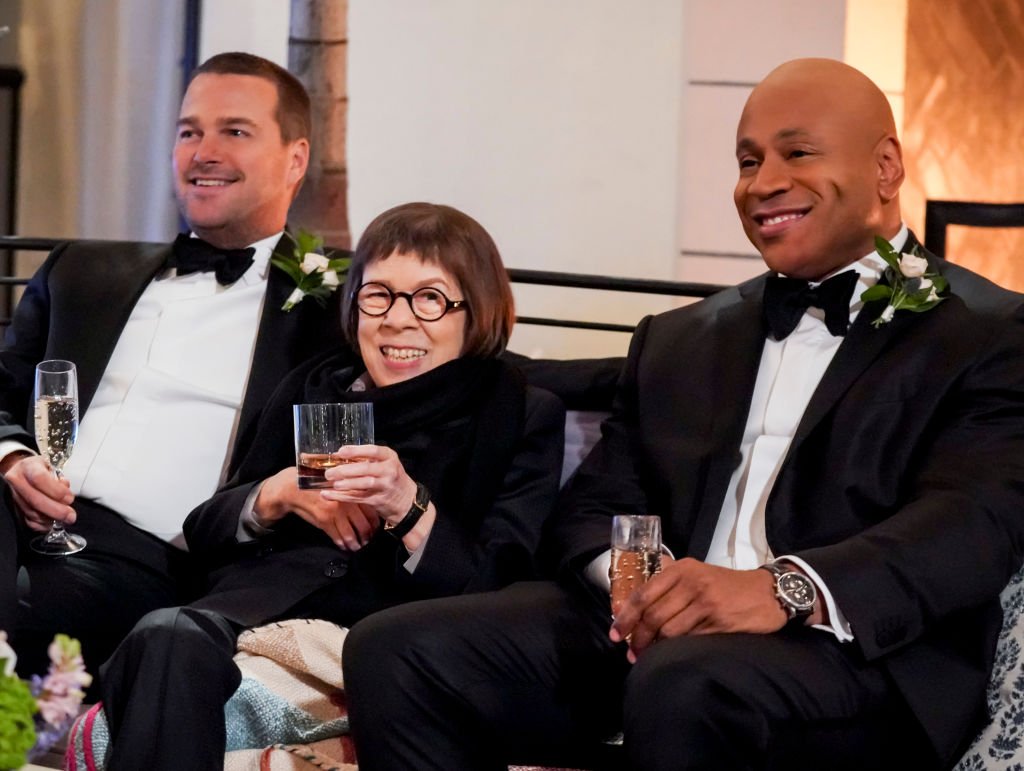 Picture of Chris O'Donnell, Linda Hunt and LL COOL J on an episode of NCIS which aired on January 18, 2019 | Source: Getty Images
These days she has put all of that behind her, while her acting dreams have actualized and taken her to greater heights. Hunt is still active in the industry, and when she is away, she retires to her elegant home with Karen Kline, her partner of 35 years.
INSIDE KLINE AND HUNT'S LOVE LIFE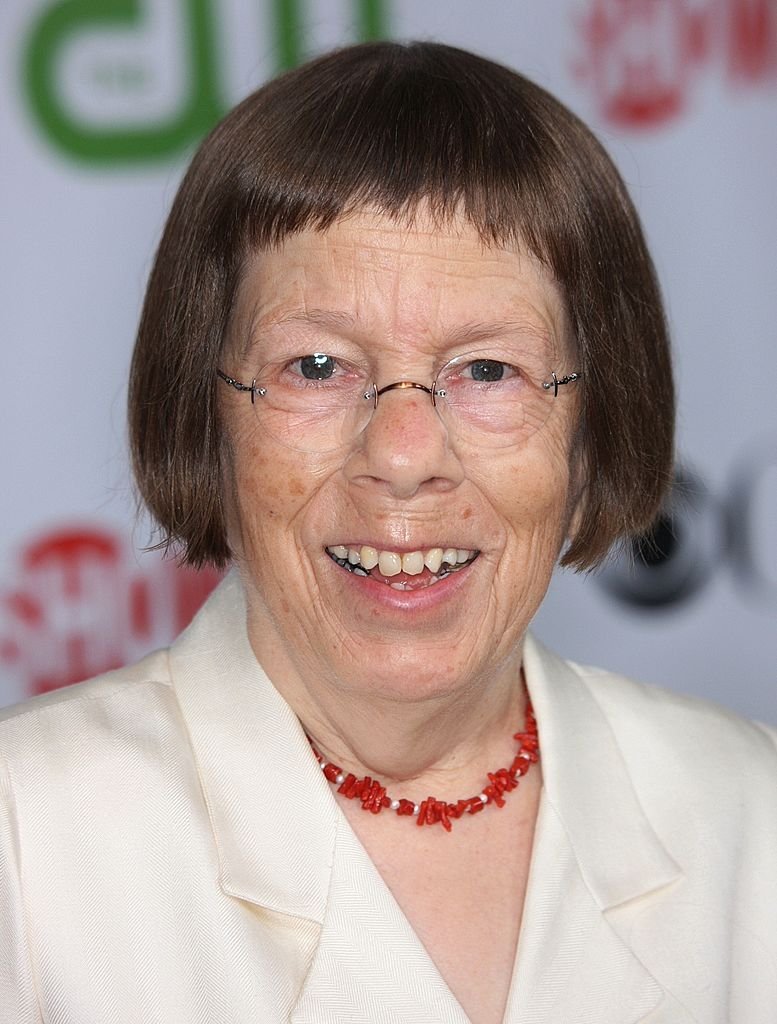 Linda Hunt arrives at the CBS, CW, CBS Television Studio and Showtime TCA party | Source: Getty Images
Hunt's commanding aura is a reputation that precedes her, but it wasn't the first thing Karen Kline noticed about her. Once speaking about how they met, Kline shared that she had been drawn to the "NCIS" star's corduroy pants.
Hunt and Kline, a retired therapist, hit it off right from the start, and by 1987, the pair began living together in her Los Angeles "jewel-box home." The couple made their union official in 2008 and haven't looked back since then.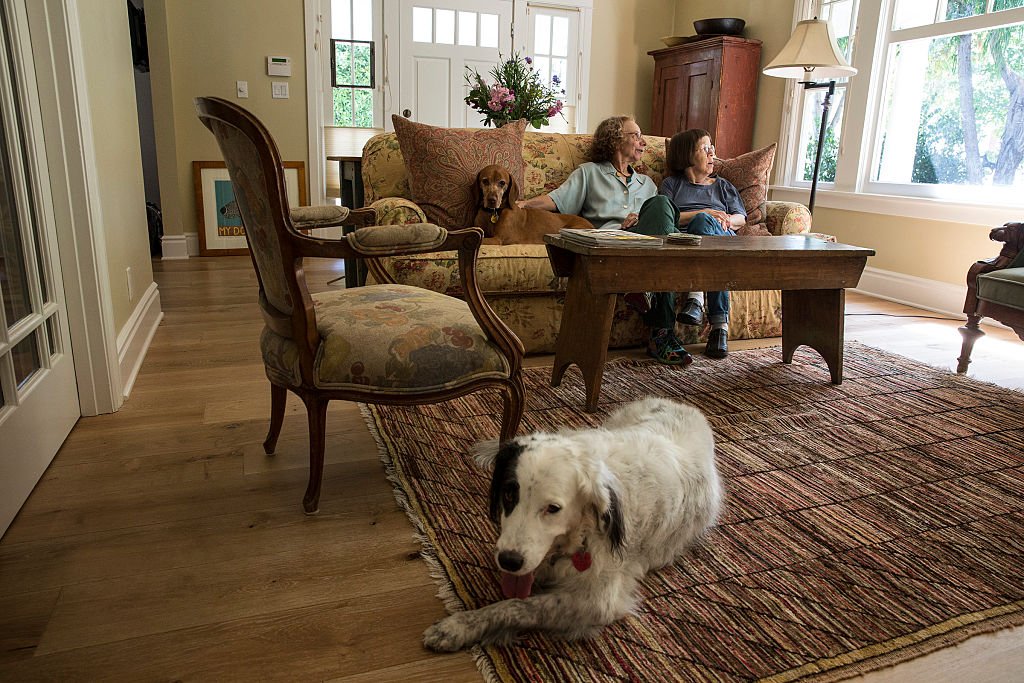 Actress Linda Hunt, right, with her partner Karen Klein and their dogs sit in the living room of their recently renovated Craftsman home on September 13, 2014. | Source: Getty Images
The "Kindergarten Cop" star and Kline have no kids, but they have three dogs. Hunt has managed to keep her life private, reminiscent of her NCIS character Hetty Mange.
However, she doesn't mind sharing tidbits when an interview calls. The star once jokingly shared that she was very forgiving of Kline because she was younger. To this, she added that she was six years older.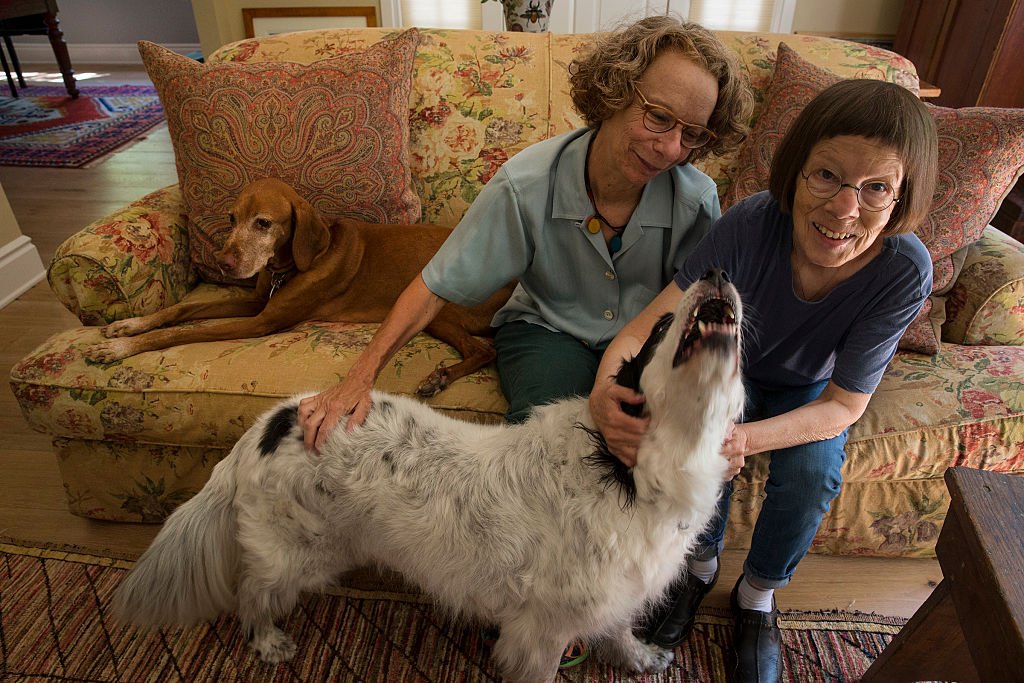 Linda Hunt, right, with her spouse Karen Klein in 2014, in their Los Angeles home | Source: Getty Images
Hunt's witty nature in movies transcends her personal life. The star is quite passionate about psychology, and being that Kline used to work as a therapist, this might have been a catalyst for how they further bonded.
INSIDE THE COUPLE'S HOME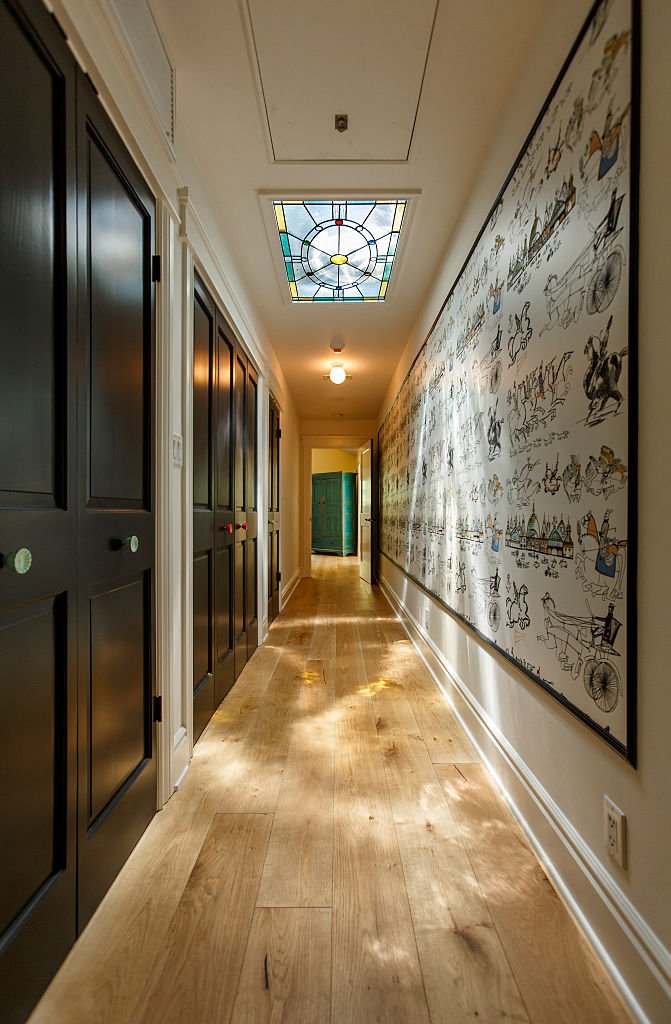 Hallway with stained-glass skylight , connecting the dining room to the bedroom at recently renovated Craftsman home of actress Linda Hunt, September 19, 2014. | Source: Getty Images
Linda Hunt's bungalow, located in Hollywood, dwells on a contrast between what it looks like from the outside and what is obtainable on the inside.
The house was built in 1919 and is still following its exterior, looking like a traditional artisan. The bungalow sits among a line of Hollywood revival-style homes, making it stand out in its potpourri of old and new.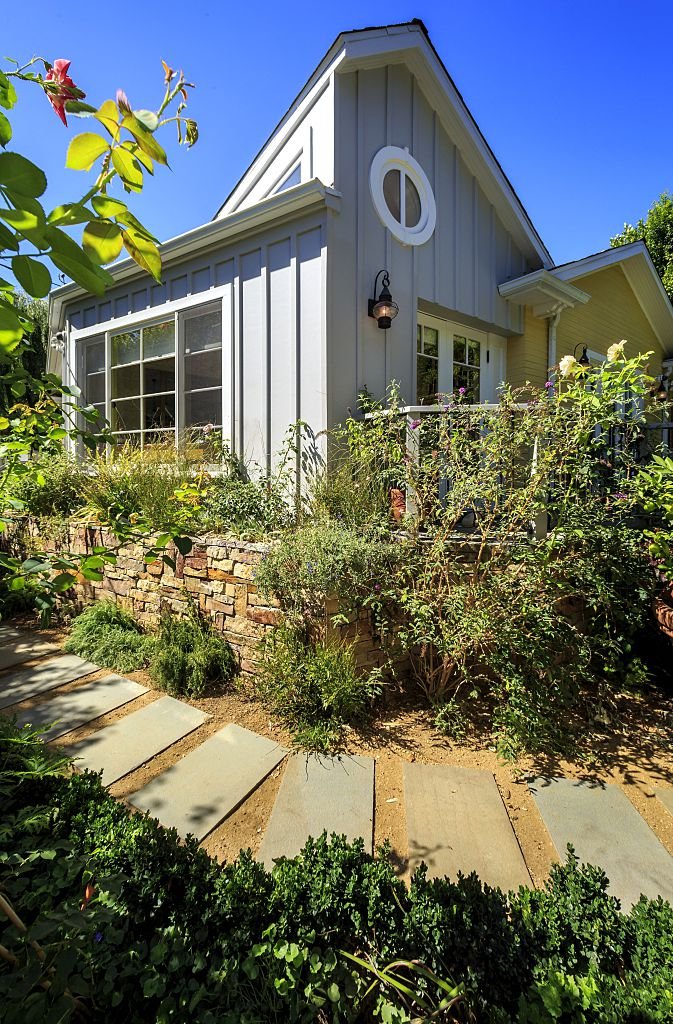 Recently renovated Craftsman home of actress Linda Hunt, on September 19, 2014. | Source: Getty Images
However, going further into its interior, it can be stated that the craftsman style ends on the exterior. Hunt's home has a splash of intricate designs and custom finishings on the doors and walls.
The two-bedroom home boasts a mix of lavender, green and purple hues, giving it a homely feel. The couple also had their walls covered in graphic finishing. Hunt said of the home:
"This house has whimsy and a special kind of elegance… it's welcoming."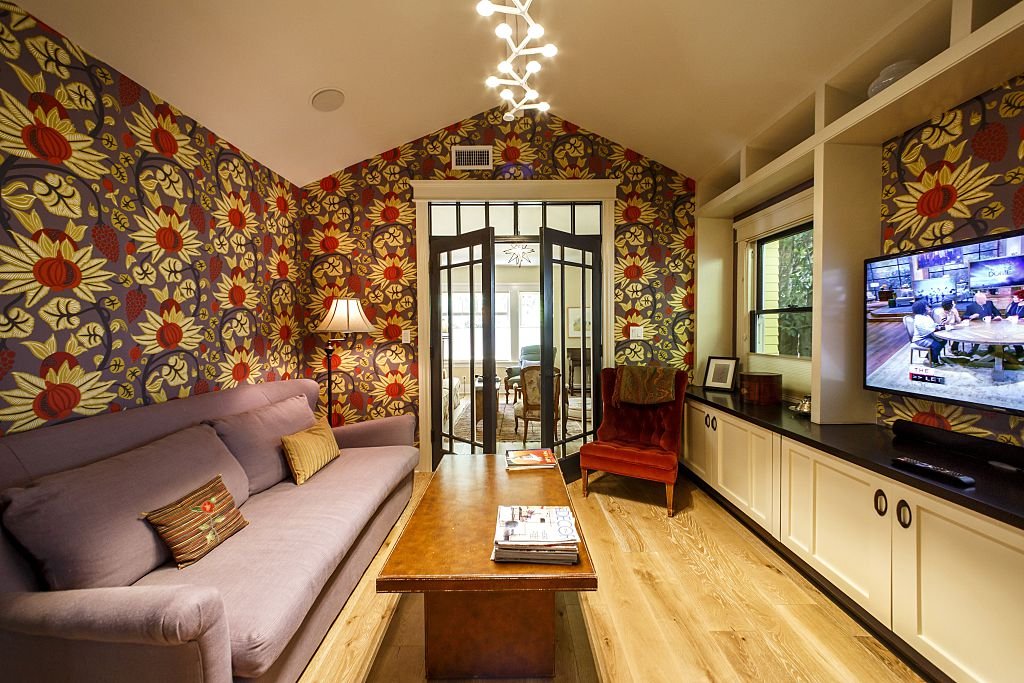 Den at recently renovated Craftsman home of actress Linda Hunt, September 19, 2014. | Source: Getty Images
When Hunt and Kline purchased the home, they had a fun-filled and lively interior in mind. Kline said they had earlier bought a craftsman-style home with a dark interior, but they only "lasted six months" there.
The couple wanted to use more of the cramped floor plan in their current home. They wanted a more spacious living space with free-flowing movements for themselves and their dogs.
After seeing the works of designer Linda Brettler on a Hancock Park kitchen, Kline and her spouse had her make some renovations in their home. Brettler began working on the central hallway, which she moved to the south wing.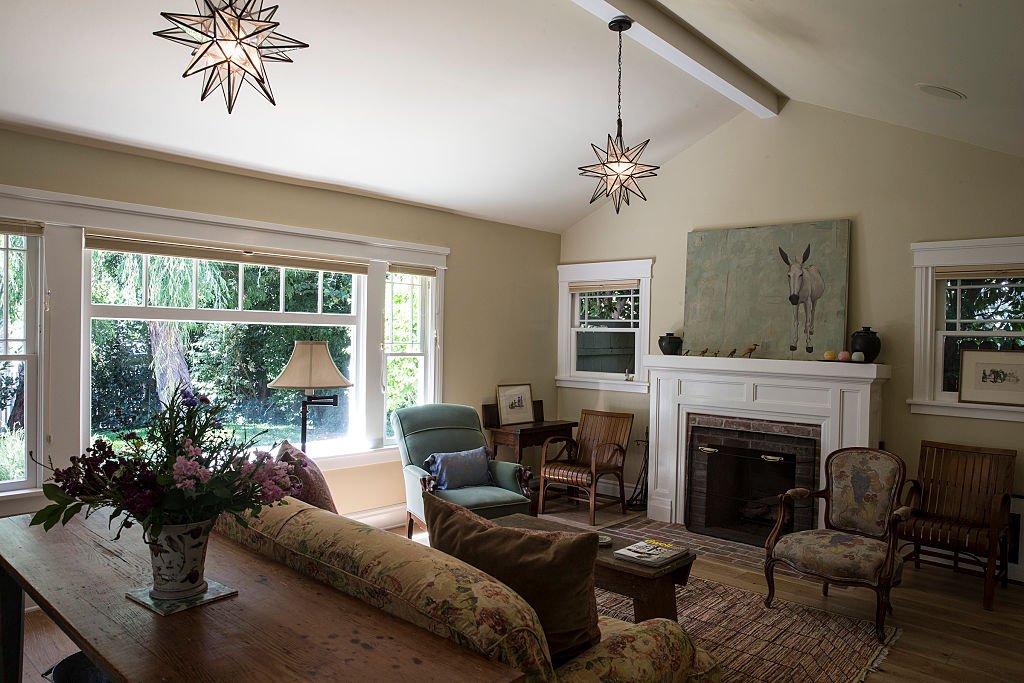 Inside the living room of the recently renovated Craftsman home of Linda Hunt by architect Linda Brettler on September 13, 2014. | Source: Getty Images
The effect of this transformed the hallway, which was a formerly dark path, into a more illuminated area with a stained-glass skylight. With the hallway reconstructed, Brettler transferred a bedroom close to it into a den and a library. This part also doubles as a guest room.
Brettler's inspiration for the den was from Art Deco and Viennese Secessionist Style. This area boasts black and white cabinets with subtle contrast from purple wall paint and sunflower wall coverings.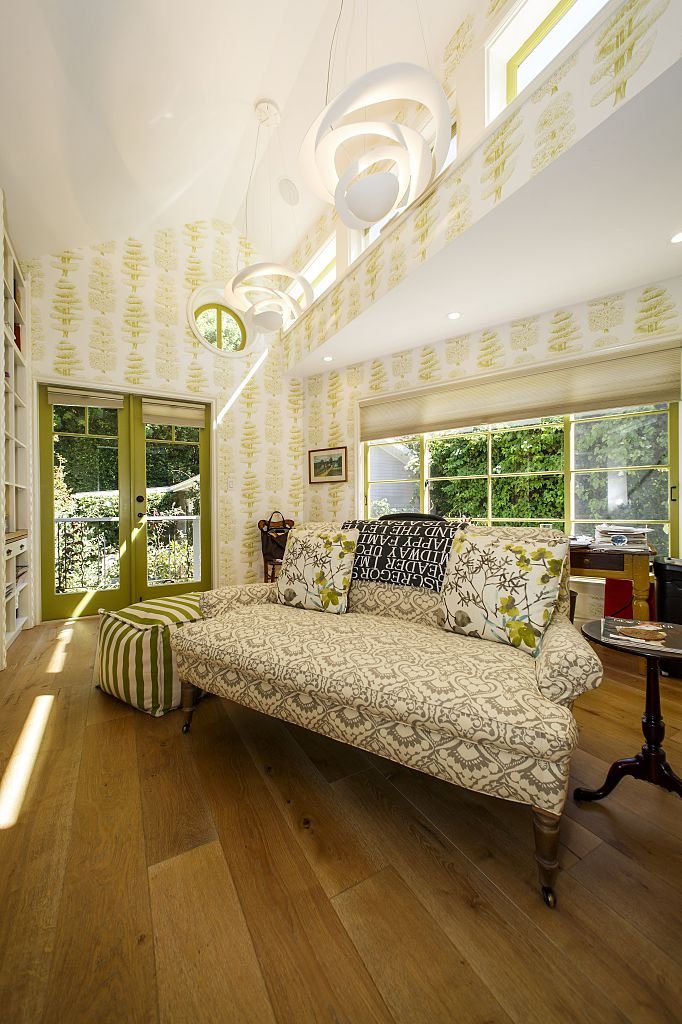 Sun room at recently renovated Craftsman home of actress Linda Hunt, on September 19, 2014. | Source: Getty Images
Hunt made some input as she worked with Brettler to incorporate some of her New York Magazine clippings on the wall ensuite the bathroom. She stated about the magazine covers:
"From the minute I started saving them, I knew I wanted to do something with them."
This input gave their home a kaleidoscopic illustration. Because the couple wanted more floor space, Brettler included an expansive sunroom with dramatic wallpapers and vaulted ceilings for natural light.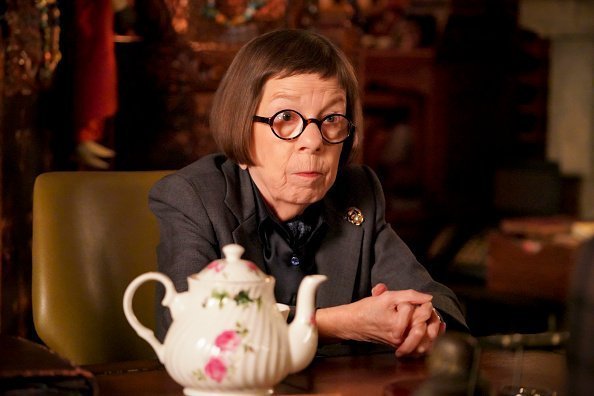 Linda Hunt as Henrietta "Hetty" Lange on CBS's hit series "NCIS: LA" | Source: Getty Images
The guesthouse served as Hunt's go-to space with its library and den when she needed to practice her lines. Since 2009, the Oscar-winning actress has starred as Hetty in "NCIS: LA."
However, she had been notably absent in season 13. Recently fans clamored on NCIS's official Instagram page, demanding to know her character's fate.
<
The social media interactions came after the franchise celebrated Hunt's 77th birthday. Many took to the comment section celebrating the veteran actress and wondering where she had been.
When NCIS was renewed, Hunt's character had a less prominent role than the constant need for her sharp wit and mysterious ways. The plot draft also showed that she might be away for most of the season.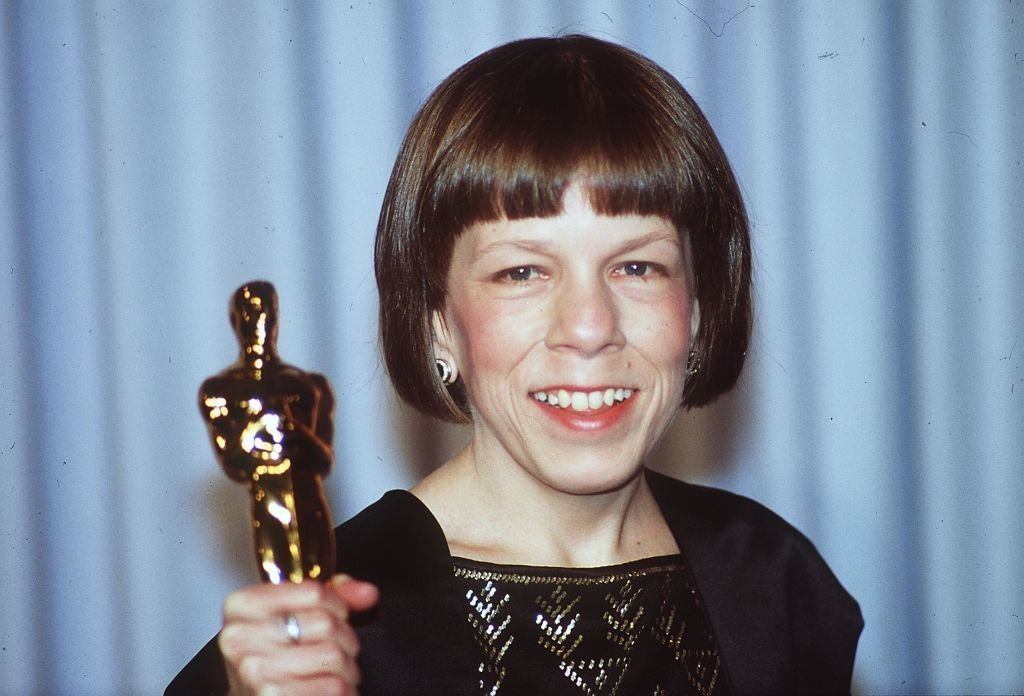 Actress Linda Hunt posing with her Oscar, won for her role in The Year of Living Dangerous on at the 56th Annual Academy Awards Show, April 9, 1984 in Los Angeles, California | Source: Getty Images
Fans have since noticed and the birthday post honoring her served as the perfect moment for many to express their concerns. Above, Hetty's admirers look forward to her return as the last heard or seen was a secret mission to Syria.