The Hilarious Story About Michael Weatherly's Split Pants On NCIS
Despite Michael Weatherly notably getting his start in the entertainment industry as Cooper Alden on the television series "Loving," he is arguably most known for his role as Tony DiNozzo on "NCIS" (via IMDb). Since the show's start in 2003, Weatherly quickly became a fan-favorite character (via Reddit), and his relationship with fellow agent Ziva David (Cote de Pablo) is an integral part of the series as a whole. Fans know that DiNozzo and Ziva finally reunite off-screen during the show's canon, even after it was thought for a while that Ziva had died after de Pablo's exit from the character during the beginning of Season 11. Weatherly left for good soon after during Season 13 and went on to star as Jason Bull in his own television series, "Bull," through its end this year.
Although "NCIS" executive producer Steven D. Binder thinks it will take some time, there is certainly a possibility that DiNozzo could return to "NCIS" (via Newsweek). While on the team, DiNozzo not only served as an agent who cared for his own, but he was also incredibly wise. He also provided needed comic relief from the ever-so-serious and intimidating Leroy Jethro Gibbs (Mark Harmon).
DiNozzo could be dubbed as the funniest character on "NCIS," and there will surely be plenty of great stories of Weatherly behind-the-scenes. However, one story surfaced about Weatherly ripping his pants while on "NCIS," and the story is hilarious.
Michael Weatherly split five pairs of pants as DiNozzo due to craft services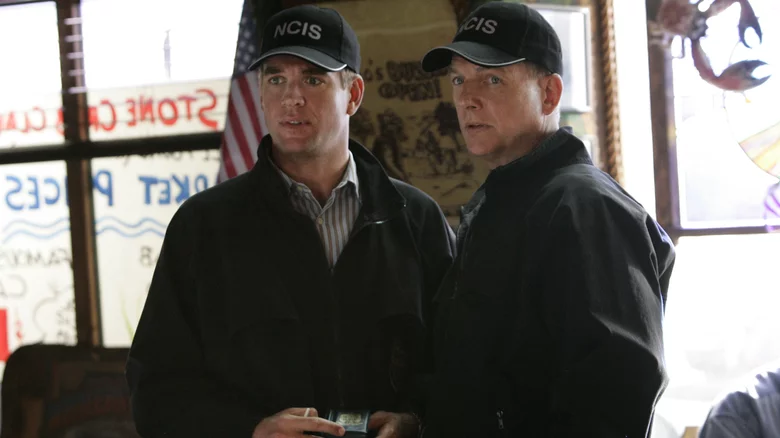 CBS
While speaking on his fitness journey with People Magazine in an interview in 2020, Michael Weatherly revealed that he had gained some weight during Season 11 of "NCIS." The actor explained that during his wife's pregnancy and the notoriously busy filming schedule for the show (via StarryMag), he often relied heavily on craft services. "This is not an excuse, but the craft-service table is not filled with a lot of super healthy options," he said. "Then you get to working late, there's pizza and Chinese food. You try to be good. But while the crew guys are lifting things and pushing things, I just tended to sit at the trough and continue to graze. That's my long-winded way of saying things did get away from me. It reached a tipping point. Even the writers made jokes about Tony needing to go on a cleanse," Weatherly continued.
This ultimately led to Weatherly noting that he "split five pairs of pants," which motivated him to hire trainer Juliet Kaska. "NCIS" is now in its 20th season, the original cast of which includes Timothy McGee (Sean Murray), Jimmy Palmer (Brian Dietzen), Leon Vance (Rocky Carroll), and brief appearances from Dr. Donald 'Ducky' Mallard (David McCallum). Hopefully, for fans, Weatherly will pop back in one of these days.