NCIS Fans Should Be Bracing For The Resolution To This Torres Storyline
Contains spoilers for "NCIS" Season 20, Episode 3 — "Unearth"
Season 20 of "NCIS" arrived with a bang during the premiere episode a few weeks ago. The Major Case Response Team had to join forces with members of "NCIS: Hawai'i" just to take down Herman Maxwell, aka Jason Hearns (Michael Weston). Now, as fans are through the first three episodes of the season, it's clear that we will be getting plenty of individual character development.
Although the premiere may have been focused on Alden Parker (Gary Cole), we also saw some focus on the relationship between Jessica Knight (Katrina Law) and Jimmy Palmer (Brian Dietzen). This was mostly courtesy of Nicholas "Nick" Torres (Wilmer Valderrama), who kept teasing Jessica about her relationship constantly. However, Torres has feelings of his own for Jane Tennant (Vanessa Lachey) from "NCIS: Hawai'i."
It will be interesting to see where that goes for Torres, or if it is addressed in future crossovers between the two teams. Any longtime fans of "NCIS" know that Torres deserves a loving relationship, as he hadn't had the best childhood, and still carries trauma from losing his first crush, Sofia, to canc3r. His father, Miguel (Steven Bauer) also left him and his sister at a young age, and even with a reunion during Season 18, Torres would lose him once again as he stood him up for dinner during the episode, "Sangre."
Season 20, Episode 3 of "NCIS," titled "Unearth," focuses on Torres' trauma once more, and fans should be bracing for the resolution to one of his big storylines.
Torres will tell the team he quit drinking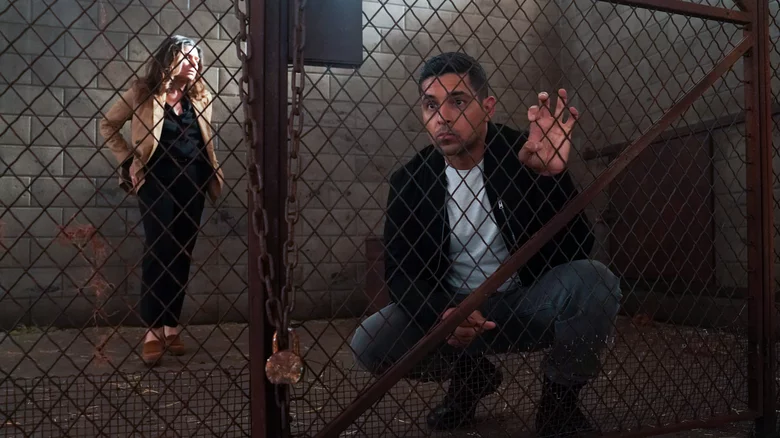 Sonja Flemming/CBS
"Unearth" follows the team as they investigate the body of a former soldier named Erik Nilsson (Laith Wallschleger) who had his internal organs replaced with stones. They slowly discover through Jimmy's autopsy and markings on the stones that it has to do with a treasure from Afghanistan that is said to be cursed. At the same time, Torres has been having therapy sessions with Dr. Grace Confalone (Laura San Giacomo) about his pain in essentially losing his father and now Gibbs (Mark Harmon). This pain ultimately led to alcoholism, which Torres is getting over with Dr. Grace's help.
Ultimately, the team's case on the treasure leads to a connection with Dr. Grace, and she and Torres are held captive by the culprits, Ezra Moretti (Billy Miller) and Nate Holt (Jonathan Kowalsky). In the end, Dr. Grace fools Ezra, giving the team enough time to find both her and Torres. However, Torres heads back to Dr. Grace's office to reveal that he's going to tell the rest of the team that he quit drinking, per her advice to open up to those closest to him more often.
This is a big deal for Torres as opening up terrifies him. He fears that he may be rejected for it, which he alludes to Dr. Grace. It will be interesting to see how the team reacts to the news in future episodes, but knowing "NCIS," they support their family.
"NCIS" Season 20, Episode 4 titled "Leave No Trace" premieres Monday, October 10 at 9/8c on CBS.
If you or anyone you know needs help with addiction issues, help is available. Visit the Substance A***e and Mental Health Services Administration website or contact SAMHSA's National Helpline at 1-800-662-HELP (4357).