NCIS Fans Are Losing It Over News Of Historic 3-Way Crossover
CBS' long-running military cop show "NCIS" is no stranger to crossovers with certain related series. In fact, "NCIS" began as a spin-off of "JAG," another military show, so connections to other TV series are a part of its very DNA. In one recent instance, for example, "Hawaii Five-0" features "NCIS" star Daniela Ruah as her character Kensi Blye at one point during its second season.
Of course, "NCIS" most commonly crosses over with its own spin-offs. For instance, some "NCIS: Los Angeles" episodes feature Pauley Perrette, who portrays goth scientist Abby Sciuto in hundreds of episdoes of the mainline "NCIS" series. While "NCIS" and its spin-offs like "NCIS: Los Angeles" explicitly take place in the same fictional universe, storylines in which characters like Abby Sciuto collaborate directly with their counterparts in other cities work to explicitly link the worlds of the franchise's cornerstones.
Now, following the premiere of "NCIS" Season 20 on September 19, 2022, CBS unveiled its plans for as crossover between the mainline "NCIS" series and its two currently active spin-offs, "NCIS: Los Angeles" and "NCIS: Hawaiʻi." After CBS' announcement, plenty of fans of the franchise shared strong reactions to this news online.
Fans of NCIS are both looking forward to and dreading the upcoming 3-way crossover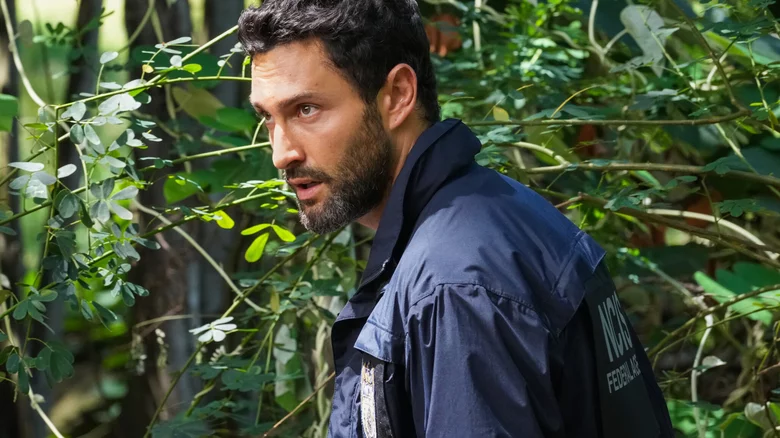 Karen Neal/CBS
On October 3, Entertainment Weekly revealed that "NCIS" will cross over with "NCIS: Los Angeles" and "NCIS: Hawai'i" simultaneously for the first time, in a storyline that will see members from the agencies featured on all three shows teaming up against a hitman. The official "NCIS" Twitter account then posted a short video hyping the upcoming crossover that includes screenshots of a number of earlier Tweets by fans suggesting that this very thing should happen. That said, responses to news that the 3-way crossover is now official are mixed, though viewers seem to be united in feeling strongly about the event, one way or another.
In one reply to the "NCIS" account's Tweet, for example, user @blyedccks wrote, "WANTED THIS FOR THE LONGEST TIME." Similarly, user @mollyk1996 replied, "Three show crossover yes please."
On the other hand, user @frostboys3 described the crossover as a jump the shark moment. Meanwhile, user @sareja86 characterized the two "NCIS" spin-offs as "the two most boring written shows ever," and promised not to watch the upcoming crossover.
From the sound of it, then, whether or not fans are excited about the three-series event depends largely on their enjoyment of each show in its current incarnation. The crossover itself is scheduled to air in January of 2023.