The Untold Truth Of NCIS: Hawaii
Procedurals are the bread and butter of American television, and when it comes to c***e solving, few shows are as popular and as enduring as "NCIS." The flagship show has been on the air for a whopping 20 seasons, and it has spawned several spinoff series, all taking place in different cities. "NCIS: Hawaii" premiered in September of 2021 and has the distinction of being the only "NCIS" spinoff that wasn't introduced through a backdoor pilot. "NCIS: Hawaii" is also the only "NCIS" series to feature a female lead, as Vanessa Lachey's Jane Tennant serves as the first female Special Agent in Charge at Pearl Harbor.
Despite its connection to the larger "NCIS" universe, it was clear from the get-go that "NCIS: Hawaii" set out to do things a little differently. Yes, there's still the c***e-fighting and team bonding we've come to expect from the franchise, but co-creators Christopher Silber, Jan Nash, and Matt Bosack wanted to make sure the show could stand on its own. The diversity of the team is frequently highlighted on the show, and many fans have latched on to the not-so-secret relationship between Lucy Tara (Yasmine Al-Bustami) and Kate Whistler (Tori Anderson), another first for the franchise.
It takes a literal village to make a show like "NCIS: Hawaii," which means there's plenty to explore in terms of behind-the-scenes details. Looking to learn more about your new favorite series? Keep reading to discover the real story behind the show.
Vanessa Lachey was the only person who could play both sides of Jane Tennant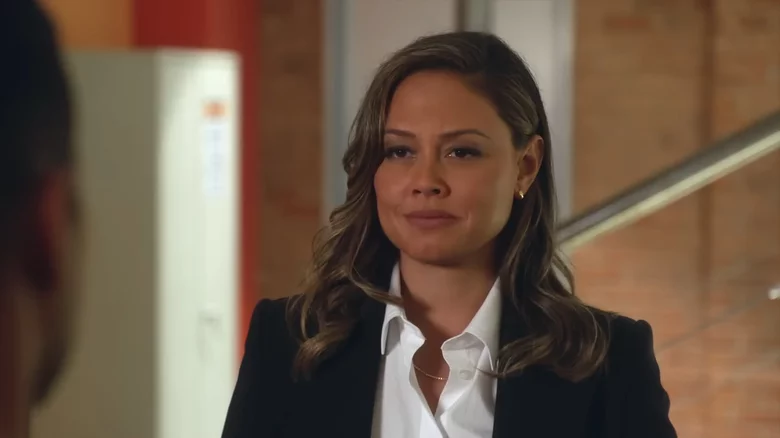 CBS/YouTube
Team leader Jane Tennant has many sides to her, and that's exactly what makes her such a compelling character. On paper, she sounds amazing. A dedicated, passionate leader and a former spy who's also a caring mother and a supportive friend? It sounds almost too good to be true. In fact, co-creators Christopher Silber and Jan Nash were worried Tennant would never come to life when they started casting for the role.
Before Vanessa Lachey was cast, the team saw "some really talented women, most of whom could do one or the other side of Jane Tennant — either the leader side or the mother side, both of which were important to us," Nash told Looper. It was at this point that Nash and Silber became concerned that the perfect Jane Tennant didn't exist.
Thankfully, the stars eventually aligned and they found the perfect person for the role. "Then Vanessa came in, and she really did manage to convey to us a leader who also happened to be a mother," Nash said. "She was able to incorporate that into the way she interpreted our material." They knew that they had to cast Lachey after she read for the role because she was the only actor that was able to successfully portray both sides of Tennant — the fighter and the mother.
The series has a connection to another iconic Hawaii show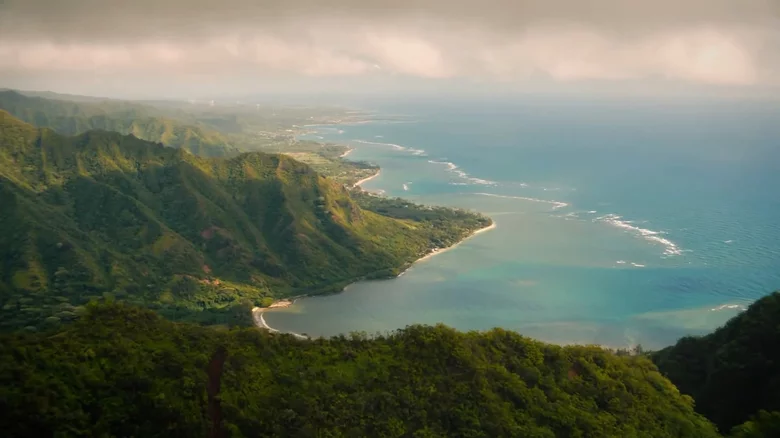 CBS/YouTube
Hawaii is one of the most beautiful places in the United States, and, despite its fairly remote location, it's also been the home of several iconic television shows over the years. One of the most popular shows set in Hawaii is the long-standing procedural "Hawaii Five-O." The original series ran from 1968 to 1980, while the reboot ran from 2010 to 2020.
Speaking with Looper, "NCIS: Hawaii" star Noah Mills (who plays Jesse Boone) revealed a surprising connection between the two series. Not only does "NCIS: Hawaii" air on the same network (CBS) that "Hawaii Five-O" did, it's also filmed on the same set. "'Hawaii Five-O' filmed on the same sound stage that we're filming on, which is really amazing and historical," Mills explained. "It's right near Diamond Head, and they have some old placards of the original 'Hawaii Five-O.' It's a very small, historic, dated sound stage, but it's really cool," he went on.
There are other reasons to be grateful about using the same sound stage, Mills said. Most of the time, sound stages are located in industrial parts of a city because they tend to be housed in enormous buildings. The "NCIS: Hawaii" sound stage is a relatively small one, which means it's located in a more residential area closer to where many of the cast and crew live. Mills said it's hard to complain about the job when your drive home from work is filled with so much beautiful scenery.
Tori Anderson's singing experience inspired Whistler's grand gesture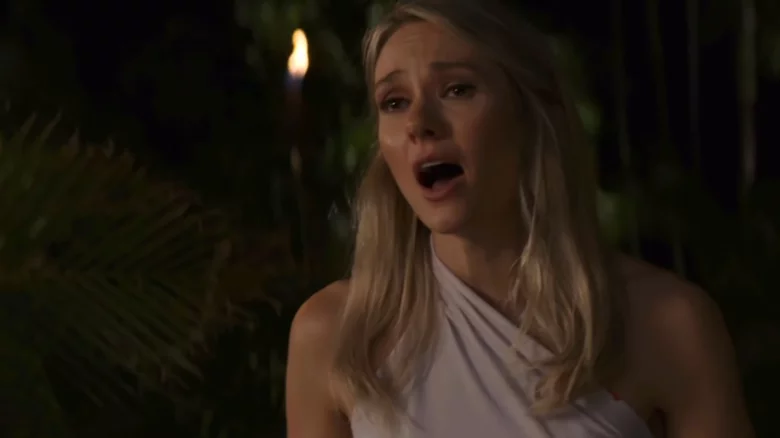 CBS/YouTube
Though "NCIS: Hawaii" is filled with plenty of life and d***h situations, one of the most shocking moments at the end of Season 1 came down to matters of the heart. Throughout all of Season 1, Kate and Lucy found themselves in an angst-filled, will-they-or-won't-they situation in regard to their relationship. Kate was hesitant to commit fully because of work conflicts, while Lucy did her best to be understanding of Kate's predicament.
After a series of hurtful omissions on Kate's part, Lucy and Kate were in a confusing place at the end of the season. So, in order to prove that she was serious about Lucy, Kate decided to sing to Lucy in front of all their friends and co-workers. It worked in the end, but it was clearly a nerve-wracking experience for Kate, and, as it turns out, it was just as terrifying for Tori Anderson.
Anderson told Pop Culture that she casually mentioned that she sang opera in university, which led co-creator Matt Bosack to write a scene that involved her singing. Speaking with TV Line, Anderson described the episode as "a nerve-wracking moment." But, like a true professional, Anderson was able to harness these feelings in service of the performance. "I don't, generally, like singing in front of people, so I was able to utilize my own fear in the moment and combine it with Kate's fear, so it was really fun," she explained.
The writers didn't know about the height difference between Kate and Lucy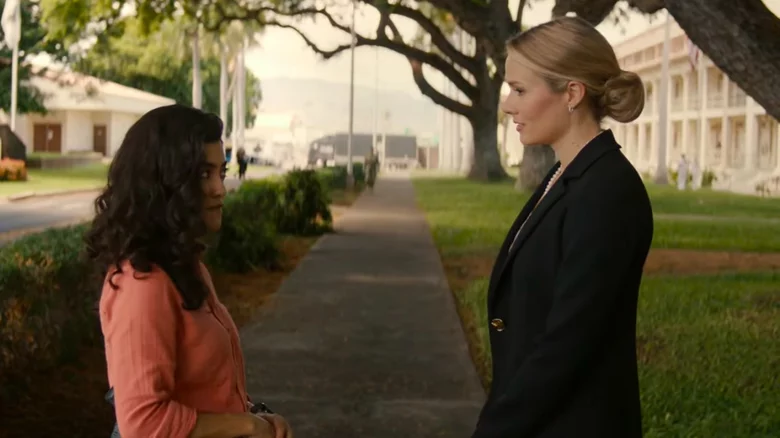 CBS
Kate and Lucy have become a popular couple on "NCIS: Hawaii," and fans love to dissect what it is that makes their dynamic so compelling. In many ways, it's a case of opposites attract. Serious and goofy, blonde and brunette, and tall and short. As it so happens, that last one wasn't something the writers planned on. Co-creator Jan Nash said Kate and Lucy's height difference wound up being a total surprise. They cast the show via Zoom, where "everybody's the size of their head and shoulders in a box, so we had no idea! [Yasmine Al-Bustami and Tori Anderson] got these roles because they were the actors who really sold the parts in their auditions, and then they showed up and we were like, 'Oh my!'" she told TV Line.
Tori Anderson, who plays Kate, has given more insight into how they manage the height difference on a day-to-day basis. She told TV Line that while she started out wearing heels, they eventually switched to flats so the height difference wouldn't be so obvious. She explained that this made it more difficult for the wardrobe department to craft Whistler's distinct look, but that it all came together in the end.
The main problem was trying to get Anderson and Al-Bustami in the frame together. "It doesn't necessarily always lend itself to on camera, because then you have crazy angles and everything. So, yeah, Yaz had to step on a few boxes, and I had to put some flats on! But we made it work," Anderson explained.
Co-creator Jan Nash just can't get enough of procedurals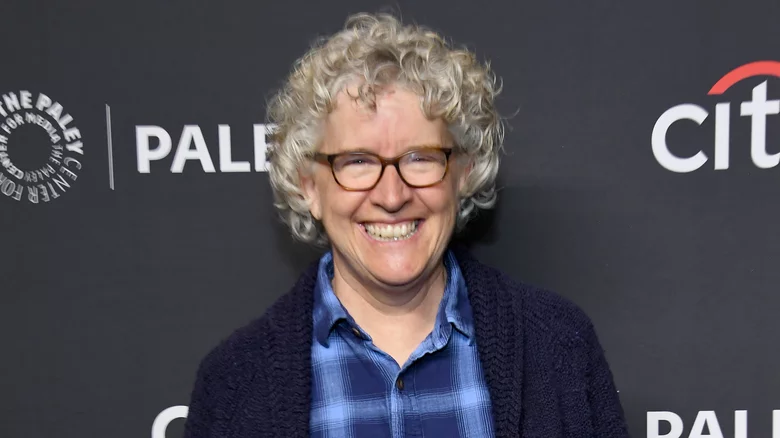 Jon Kopaloff/Getty Images
"NCIS: Hawaii" co-creator Jan Nash is a veteran of the procedural drama scene, so her involvement in the show was a no-brainer. Nash told TVBrittanyF.com that she's always loved procedural television because she loves solving puzzles. "I don't know what it is about my brain that makes it satisfying to me to try to tell these stories, but I happen to really like procedural television," she said.
Nash went on to say that what's so great about television right now is how character-focused it is. "There is an interest on the part of networks and viewers to have stories that allow the characters to be more front and center than they might've been open to in the past," she explained. On procedurals like "NCIS," this focus on the characters and their backstories tends to happen more slowly, as the audiences come to know the characters over a period of several seasons.
What's different about "NCIS: Hawaii," Nash said, is that "they let us do it from the get-go." Nash and her co-creators often work to find the balance between the procedural drama and the interpersonal drama, an exercise that helps them find the unique tone of the series.
The show's setting is just as important as the characters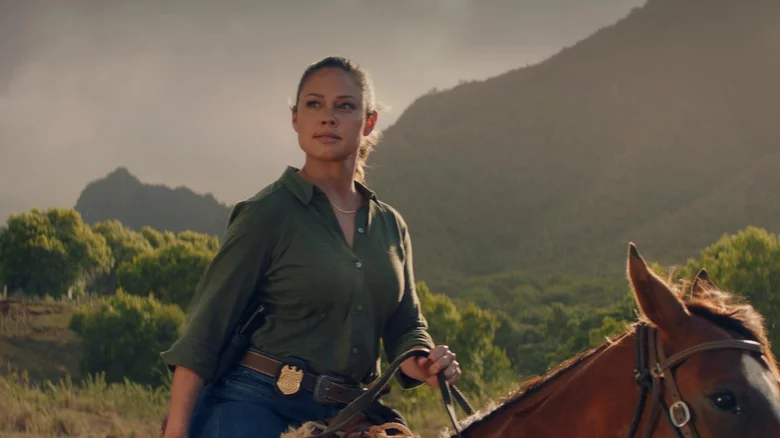 CBS
Though there are now four different shows within the "NCIS" franchise, each series has its own identity. What sets each series apart is its distinct tone, its characters, and, of course, the setting. Co-creator Christopher Silber told Arabian Moda that he began brainstorming the idea for a new series with Jan Nash, who was working with him on "NCIS: New Orleans" at the time. "What was important to us was to do a show, like New Orleans, where the place it was set in, was equally a character," he explained. While shows are often filmed in Los Angeles but take place elsewhere, "NCIS: New Orleans" and "NCIS: Hawaii" are actually filmed where they are set, which adds a lot of realism.
Once they knew they wanted to make a show set in Hawaii, they set about making sure the show felt unique within the franchise. They knew they wanted the team leader to be a woman, and they were interested in creating a diverse group of agents. Silber and Nash also knew it was important that the state of Hawaii be represented properly, meaning they needed to work with someone familiar with the area. "That is where we brought in our third co-creator, Matt Bosack. His family has deep ties to Hawaiian culture and the military, so he was the perfect partner to have on board," he explained.
Vanessa Lachey moved her whole family to Hawaii to film the show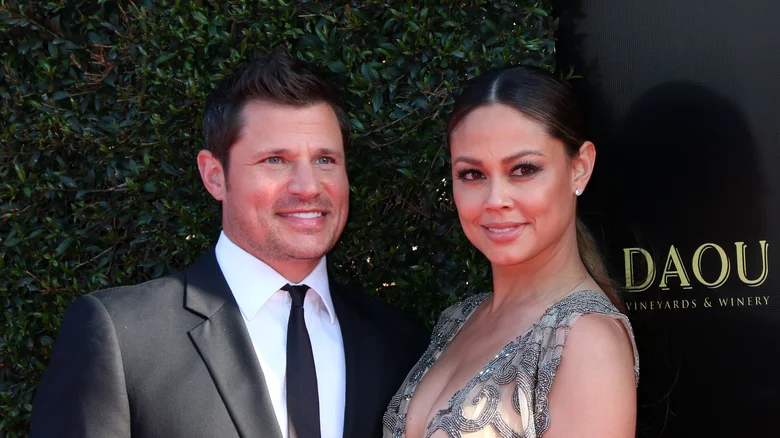 Kathy Hutchins/Shutterstock
A lot of American television shows are filmed in L.A. or Vancouver, but "NCIS: Hawaii" is a different beast. It would be nearly impossible to replicate the stunning natural beauty of the state on a soundstage, which means the series is shot entirely in Hawaii. Of course, this also means the entire cast has to live in Hawaii while the show is being shot, which, in the grand scheme of things, isn't too big of a sacrifice.
Vanessa Lachey, who is married to singer and TV host Nick Lachey, moved her husband and three kids to Hawaii to shoot the show, and she couldn't be happier about their new home. "I've never felt more at home than I do in Hawaii," she told Us Weekly. Like her character, Vanessa Lachey was a military kid who has lived in many places. "Being an air force brat, like traveling all around the world, I've never really felt like I was home until here," she explained. Nick Lachey echoed his wife's sentiment about how lucky they are to be living in such a beautiful place. The only drawback, he said, is the time difference — he and the kids are big sports fans and have to wake up very early to catch games.
Working on the show can be physically demanding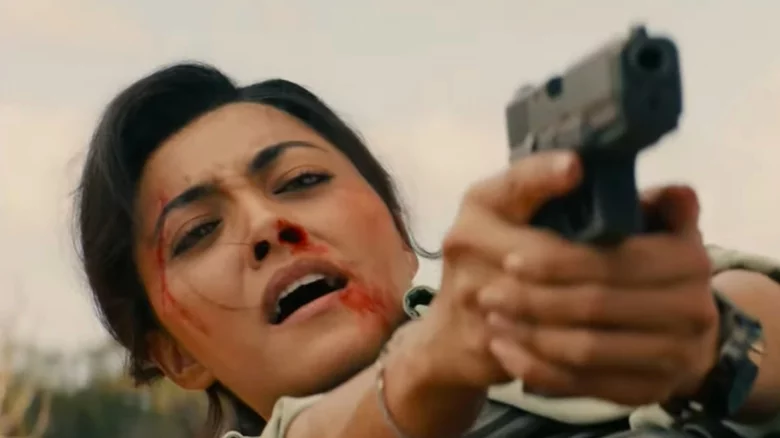 CBS
"NCIS: Hawaii" may delve more into the agents' personal lives than past "NCIS" series, but that doesn't mean there is any less action and adventure. The actors on the series have a lot of physical work to do, and no one knows this more than lead actor Vanessa Lachey. Lachey found out the hard way how difficult doing stunt work can be in the very first episode of the series. "I did my Tom Cruise run," she told Sioux City Journal, "and then I pulled my knee, my groin, both my calves and, somehow, my arm. And it was three seconds in the pilot."
As the small-but-scrappy member of the team, Yasmine Al-Bustami does her fair share of stunt work on the show as well. She told Khaleej Times that she makes sure to work out in order to keep up with the physical demands of the series. She praised the stunt team, who are always willing to work with her to make each scene look great. "Overall, it's just making sure I keep up with my general health, and working with the stunts guys and gals," she explained.
Katrina Law begged the producers to send her to Hawaii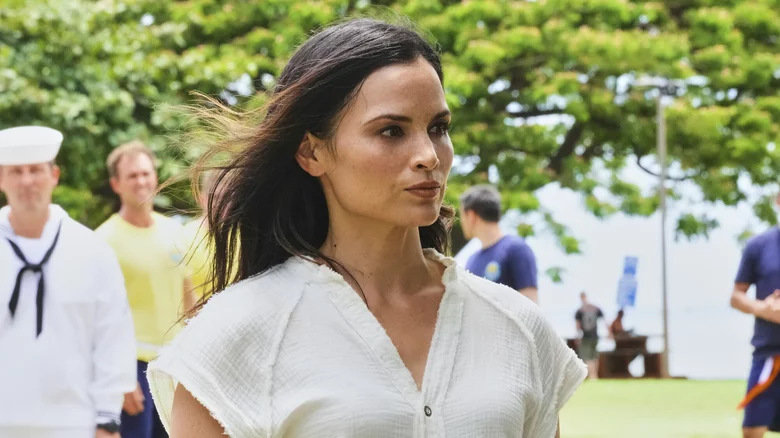 Karen Neal/CBS
It may be far from home for most, but you'd be hard-pressed to find any working actor who wouldn't jump at the chance to fly to Hawaii for a job. For Katrina Law, who stars in the original "NCIS" series, she did more than jump at the chance — she fought for the chance. After the success of the "NCIS"/"NCIS: Hawaii" crossover episode in Season 1, Season 2 of "NCIS: Hawaii" (and Season 20 of "NCIS") started with another crossover episode. Katrina Law traveled to Hawaii to film the first crossover episode, and was adamant that she be along for the ride for the second crossover as well.
"As soon as we found out that there was gonna be a crossover event, I immediately started to petition, to nag, to threaten, to write letters, to volunteer as tribute, and basically, they picked me to go in order to shut me up," she told Hawaii News Now. Law is no stranger to working in Hawaii, as she previously played Quinn Liu on "Hawaii Five-0." She told Newsweek that it was a treat to be back in Hawaii and that it "felt like coming home" because she was able to visit with many of the crew members she worked with on "Five-O."
Jason Antoon is the captain of the Kacy ship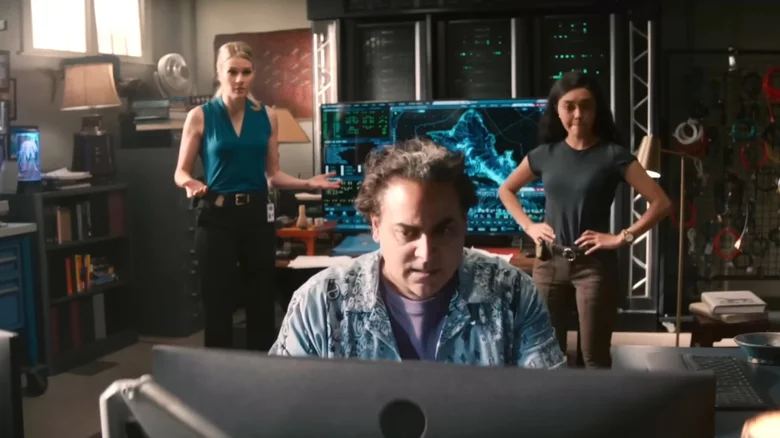 CBS/YouTube
As most TV fanatics can tell you, shipping is serious business. For the uninformed, "shipping" means the desire for two characters to be in a romantic relationship. On "NCIS: Hawaii," there is no couple more beloved than Lucy and Kate, known by fans as "Kacy." The writers and cast are well aware of fans' fervor for the relationship, as viewers have made their dedication known by posting on social media.
While everyone on the series seems quite supportive of the Kacy relationship, no one is a bigger fan than Jason Antoon, who plays Ernie on the show. In fact, Antoon has appointed himself "captain" of the Kacy ship, and he frequently posts behind-the-scenes photos of Tori Anderson and Yasmine Al-Bustami on Twitter for fans to enjoy. Fans are very grateful to Antoon for posting all of this content, with Twitter user @_allthelilies commenting "we are so blessed to have you" on one of his posts. Antoon's character, Ernie, is the biggest fan of Kate and Lucy's relationship on the show, so it makes sense he's taken on this role off-screen as well.
Tori Anderson, who also communicates with fans on Twitter, says Antoon is a great scene partner along with being a dedicated Kacy supporter. "My scenes with him are probably some of my favorites," she told TV Line. "He just brings so much light and joy to everything he does, and Ernie really is a supporter of their relationship."
The show is very meaningful to Vanessa Lachey in terms of representation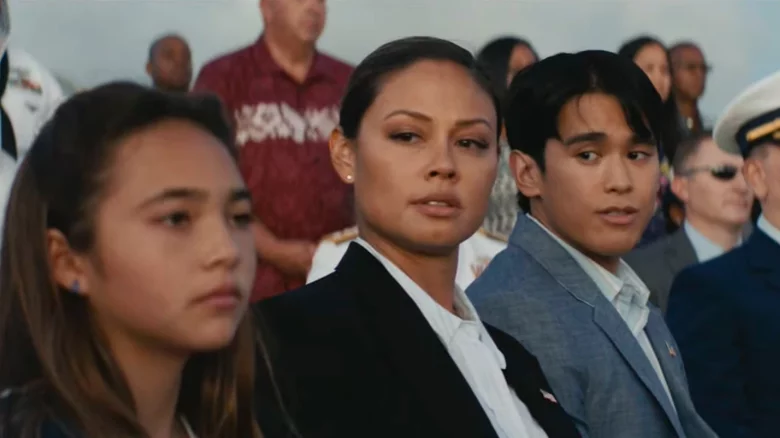 CBS
Though she may not have any supernatural abilities, Jane Tennant is kind of a superhero. A supportive leader and friend, a cunning spy, and a caring mother, Tennant is an almost larger-than-life figure. For Vannesa Lachey, the woman who plays her, the superhero analogy is actually more fitting than she initially realized.
Lachey told Insider that the importance of her role on the show didn't become clear to her until she saw her 7-year-old daughter's reaction. "For me, when my children saw it and my daughter saw it and the way she looked at me like her Wonder Woman and she saw me representing women, that hit me," she explained. She plays both the first female lead and the first Asian-American lead in "NCIS" franchise history. Lachey came to understand that her role on the show could be important not just for her daughter, but for all the kids out there who feel like they don't belong.
For Lachey, her connection to the role is personal. "I remember feeling less than growing up. Because I didn't have someone that looked like me to represent that," she shared. She explained that she hopes her role in the series will teach children that they can achieve anything they want to achieve no matter where they come from or what they look like.
Jan Nash didn't think the opening sequence of the show would ever happen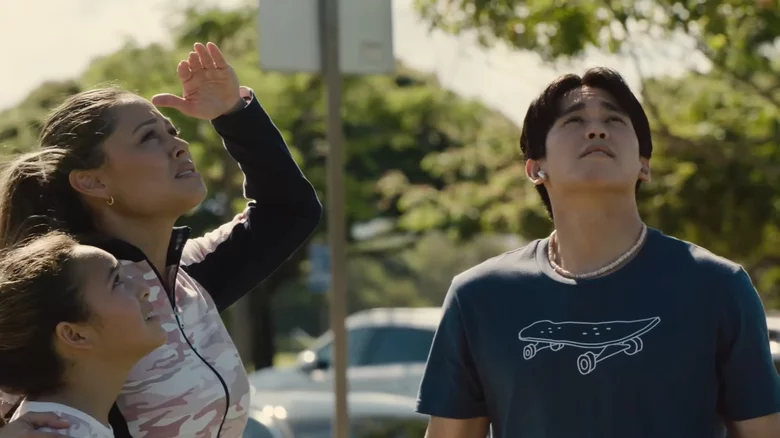 CBS/YouTube
"NCIS: Hawaii" features all sorts of exciting set pieces that are a treat for audiences to watch. We've seen our favorite agents ride in helicopters, cargo planes, and even on horseback. For co-creator Jan Nash, it was a treat to get to write these dramatic sequences, but she wasn't always sure they would make it to the screen. In an interview with Bionic Buzz, Nash explained what it's like to write television. "You have crazy ideas, you're like, 'They go to space,' you type, 'Go to space,' and then inevitably, they go to the mall instead," she joked.
In the case of "NCIS: Hawaii," the process went a little like this. "So, we did the show and we typed, you know, 'Jane is at a soccer game wearing a pink camo outfit and a helicopter lands and takes her away.' You don't actually think that's ever gonna happen, but then it did," Nash explained. She was actually on the set when they filmed the scene and she was literally jumping for joy seeing it all come to life. "It was magical, and the whole show has continued to be magical in certain respects for us," she told Looper.