NCIS' Brian Dietzen Recalls The Painful Prank Mark Harmon Once Played On Him – Exclusive
When Mark Harmon exited "NCIS" in Season 19, he left behind a legacy both on screen and off.
As Supervisory Special Agent Leroy Jethro Gibbs, the veteran actor spearheaded a highly trained team of Washington, D.C.-based NCIS agents who investigate c****s connected to Navy and Marine Corps personnel. For many fans, he was the glue that held the show together, and his departure is still fresh in their minds.
Behind the scenes, Harmon served as the de facto "patriarch" of the "NCIS" family, according to long-time series star Brian Dietzen, who has played Dr. Jimmy Palmer since Season 1. He was also a bit of a prankster — trying to keep things light on set to help make the day less taxing.
With "NCIS" now in its 20th season, which currently airs Monday nights on CBS, Dietzen exclusively told Looper about one prank Harmon played on him that almost didn't have a happy ending.
Harmon put a sandbag in Dietzen's medical examiner kit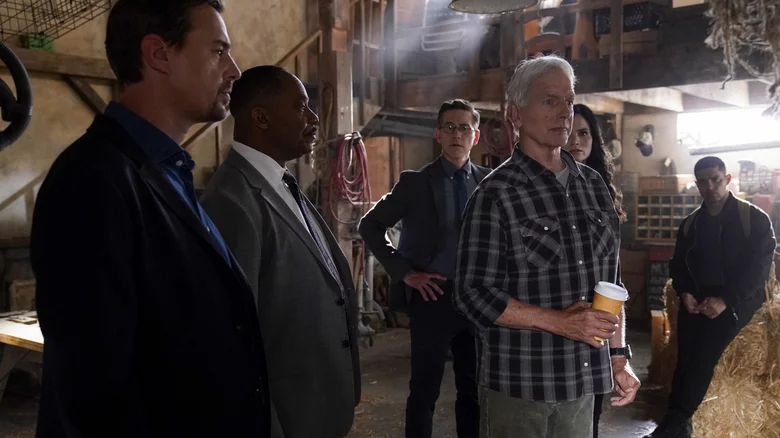 Cliff Lipson/CBS
When asked if he had any good behind-the-scenes stories he could share about Harmon, Dietzen vividly remembered a prank that could have gone wrong but thankfully didn't.
"I remember one time early on, I had dislocated my shoulder," says Dietzen. "It was the second season, and I hadn't told anyone about it because I was a recurring guest star. I didn't want to make waves and be like, 'I need time off' or 'I can't do this or that.' I was like, 'It's fine, I'm going to have surgery in a few months on it.' I could still move it and everything, but it would pop out once in a while."
Not knowing the kind of discomfort Dietzen was experiencing, Harmon thought his next move would be hilarious.
"Mark put a big 40-pound sandbag in my medical examiner kit, and I didn't know that," says Dietzen. "I went over and I lifted it up and went, 'Oh, God.' He didn't know [about the dislocated shoulder], obviously. We did the take, and afterwards, I went over and talked to him and said, 'I actually had a dislocated shoulder.' He was like, 'Oh, God, oh no!' He was very, very sweet about it."
There were absolutely no hard feelings, though. "That's the thing — on a set where you're sometimes working 14, 16, 18 hours a day, you've got to keep things somewhat light, says Dietzen. "You've got to smile a bit and play around. Not that we're goofing off the entire day, but you have to make things light, otherwise it can get a little arduous. He always has been very good at that. We've carried on in that spirit for sure."
Season 20 of "NCIS" airs Mondays on CBS at 9 p.m. ET/PT and is available to stream live and on demand on Paramount+.