NCIS' Agent Knight and Dr. Palmer Relationship Is Just Too Cute
The following contains spoilers for NCIS Season 20, Episode 4, "Leave No Trace," which debuted Monday, Oct. 10 on CBS.
NCIS Season 20 has given its agents plenty of headaches. After the CBS drama decided to walk back Season 19's cliffhanger, Nick Torres was abducted in the start of his difficult season. And in Season 20, Episode 4, "Leave No Trace," someone showed up to throw a wrench in Dr. Palmer and Agent Knight's budding relationship — which is one of the best parts of the series.
Over the years, NCIS has had a few notable almost-relationships. Tony DiNozzo was in love with Ziva David, but that didn't officially get going until they were both off-screen. Then Torres and Ellie Bishop were closing in on making it official when Bishop decided to leave NCIS and abandon her would-be lover. And Jethro Gibbs never let anyone know, but he definitely had a thing for Jack Sloane. Palmer and Knight have been the latest almost-relationship, but after "Leave No Trace," they're ready to drop the "almost."
Why Palmer and Knight Weren't a Couple Yet
When Bishop left Torres in Season 18, NCIS was devoid of a romantic relationship for viewers to invest in — so the procedural needed to find one. The series set up Palmer and Knight when Knight needed a plus-one for a wedding midway through Season 19. She couldn't find anyone else so she decided to ask Palmer, and it was clear that NCIS was testing out the idea of them as a couple. When fans responded positively, the series ran with the pairing.
Palmer and Knight then had a whole episode dedicated to their relationship. In Season 19, Episode 20, "All or Nothing," the pair helped transfer a doner organ, but the organ was nearly stolen and Jimmy was shot. Even after that, they continued to be great friends and almost-lovers, but it never materialized. In "Leave No Trace," Knight revealed why she's been so hesitant to officially get together with Palmer.
The new episode involved a bear that was high on cocaine, but the most ravaging character wasn't the bear — it was Knight's ex-boyfriend, Special Agent Gage Winchester. He and Knight had gone through agent training together, but he was too selfish to be in a relationship with her. She broke up with him and that experience was why she was hesitant to date Palmer. She didn't want their work life to be awkward if their personal life didn't work out.
Palmer and Knight Are Officially Together on NCIS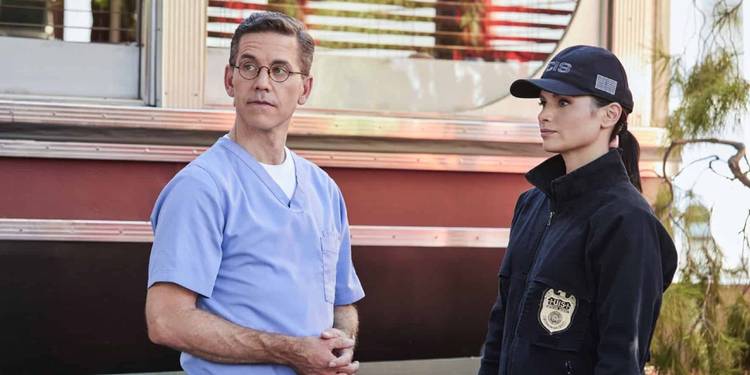 While Winchester was on hand to help with the m****r cases — as they took place at national parks and he now worked for the Parks Service — he was also trying to win Knight back. That was a little intimidating to Palmer because of the other man's physique and macho attitude. The latter was clear when he even challenged the medical examiner by saying that they would be competing for Knight… but it turned out to not be much of a competition.
Winchester caught a break in the case, but instead of sharing it with the NCIS team, he went out on his own. That's when he found the bear, which revealed that someone was air-dropping cocaine into the parks, but he was nearly k****d in the process. His selfishness once again got the better of him. When Knight told Winchester off, it was clear that she had picked Palmer over her arrogant ex-boyfriend.
As the episode concluded, Palmer apologized to Knight for wanting to put a label on their relationship. He said that all that really mattered was making Knight happy. It was a sweet moment highlighting how the two of them make a great pair. While Gibbs' "never date a coworker" rule kept interoffice relationships from becoming much of an issue on NCIS, the now Parker-led series now has that option and should definitely pursue Palmer and Knight's romance wherever it takes them.
New episodes of NCIS air Mondays at 9:00 p.m. on CBS.