Eric Christian Olsen's Family, Including Off-Screen Sister-In-Law & On-Screen Wife Daniela Ruah
In "NCIS: Los Angeles," Eric Christian Olsen wows his audience as a man who struggles to find happiness in his home. In reality, this captivating actor enjoys a seamless relationship with his perfect family, including his onscreen wife, Daniela Ruah.
Lovers of the "NCIS: Los Angeles" drama see Marty Deeks (Eric Christain Olsen) as the man who witnesses difficulties in his marriage to Kensi (Daniela Ruah). These two intriguing characters have had to deal with complexities in their love life in recent times.
However, they are great pals in real life and in happy relationships. Ruah is happily married to David Paul Olsen, while Eric is also a happily married man who enjoys a healthy romance with his actress wife of many years, Sarah Wright Olsen.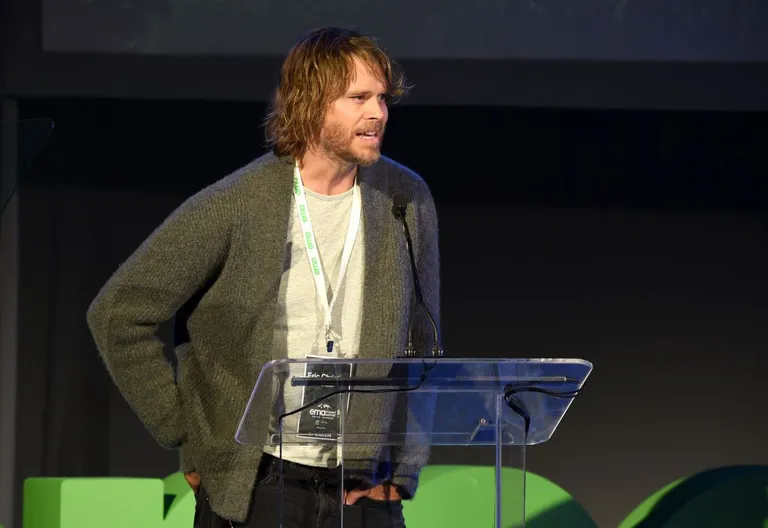 Eric Christian Olsen at the EMA IMPACT Summit at Montage Beverly Hills on May 21, 2018 | Source: Getty Images
HOW DID ERIC AND HIS WIFE MEET?
Eric and Sarah have been together for more than fifteen years, but they have been married for ten. These two first set eyes on each other in 2006, when they co-starred in a Fox sitcom titled "The Loop."
While many superpower couples often narrate their first meeting when both hearts stopped b*****g, the Olsens have a different story. According to Eric, it was never love at first sight; instead, he was mean.
The actor thought that Sarah earned her role on "The Loop" because of her breathtaking appearance. However, he did not believe she would have been on it because of her impressive talent. In response to his hostility, the actress never did like him.
Somewhere along the line, while working as colleagues, Eric found her jokes interesting and later apologized for building such an impression about her. After that, they became friends, and the rest was a memorable story!
WHEN DID ERIC AND SARAH EXCHANGE VOWS?
The entertainers dated for five years before the "NCIS: Los Angeles" star proposed with the sweetest words that showed he cherished his lover and would love a lifetime with her.
In 2012, a year after their engagement, the duo hosted a fairy tale wedding ceremony set in the evening around their mountainside home in Wyoming.
Since then, they have enjoyed their blissful romance, and the only news about their marriage revolves around the couple celebrating each other.
Two years after their marriage, they made plans to increase their family. Their first child was their son Wyatt Oliver, followed by two daughters named Esmè Olivia and Winter Story.
ERIC'S FANTASTIC LOVE LIFE
The Olsen family proves that fairytale romance exists in the movies and in real life. Since their time together, they have been committed to making lovely memories.
The couple celebrated their eighth wedding anniversary. Sarah shared a sweet wedding throwback image to honor the celebration and sprinkled it with the most compelling message.
The actress seems to have her way with words, and she never runs out of things to say when it comes to appreciating her husband. Sarah shared a montage of photos detailing the exciting journey so far to mark their ninth anniversary.
She added a heartwarming message that read, "15 years together 9 years married, 3 incredible babies.. you make it all magic …every single moment @ericcolsen." She concluded by writing:
"Thank you for all the love, all the listening, for always leading our family in thoughtful communication. For understanding that I need snacks and extra blankets… I love you. happy anniversary."
Eric reciprocated the love with a charming photo, a snap of himself, looking gleeful as he carried their youngest child and his wife leaning against his shoulders. The father of three wrote:
"Happy Anniversary to the creator of all things magical. Our lives (singularly and collectively) are so rich because of the joy, warmth, intelligence, strength, laughter, and fearless love that you lead with…"
ALL ABOUT FATHERHOOD
Singing heart-melting praises to each other is just a part of the adorable moments the couple share with their fans. Another area of their lives that often gets the "wows" is parenthood, and thankfully, it is a role the pair play exceptionally well.
A few weeks before their wedding anniversary, the father of three showcased his life as a father. Eric posted a three-slide shot of him and the kids bonding while he penned down an inspirational note, describing his years as a father.
He said, "I wrote the below post when Wyatt turned 1. Over 6 years ago. I think about it often. The philosophy of anchoring yourself in the present. In the honest and vulnerable. I think because of it; I don't just cry at milestones; I cry often."
He explained that tears pour down during joyful, sad, and even goofy times, all because he tries to pay attention and appreciate the time before it passes by. In the end, Eric compared a mother and a father.
He added, "I guess this is why (traditionally) mothers cry so much at birthdays and graduations, why fathers weep at weddings. That we appreciate what is happening in that moment, but also that we are overcome by all the singular moments… the perpetual and spectacular fleeting magic of life."
OLSEN'S REAL BOND WITH HIS ONSCREEN WIFE
While Deeks and Kensi have a sour relationship on TV, they are one adorable pair offscreen. The onscreen couple is even related! Ruah has been with Eric's brother, David, for seven years, making them brother-in-law and sister-in-law.
Both families spend time together, and Ruah often shares images of the adults and kids bonding. They appear to be a great bunch with an unusual friendship among them.
DANIELA RUAH'S PERFECT REALITY
Ruah met her now knight in shining armor through her onscreen husband. David played his stunt double, and Eric introduced the pair because, at the time, they were dating "awful" people.
Their relationship blossomed when the duo became familiar, leading to a magical wedding ceremony celebrated in Portugal. They have been married for six years and have two kids named River and Sierra.