A Look At Sean Murray From Hocus Pocus To NCIS
"NCIS," which has been going strong since 2003, aired for its 19th season what CBS Entertainment president Kelly Kahl described to TV Line as a "transition year." After all, longtime star Mark Harmon, who played Special Agent Leroy Jethro Gibbs on the show, had finally left the cast after almost two decades in October 2021. The series needed to figure out what it would look like without Gibbs around, which gave the rest of the cast a chance to step up and fill the void left by the fan-favorite series lead. In September 2022, TV Line reported that the show's 20th season seemed to finally have made a decision: the first person who shows up in the "NCIS" opening credits these days is none other than Sean Murray, who plays Special Agent Timothy McGee.
While Murray has been on "NCIS" since the first season, he wasn't a regular until Season 2. Many viewers now know and love the actor thanks to his "NCIS" character, but he's been working steadily in Hollywood since he was a teenager, even if he did spend one of his most recognizable roles trapped as a cat that was voiced by someone else. Here is a look back at the career of Sean Murray, from "Hocus Pocus" to "NCIS."
Sean Murray's influential childhood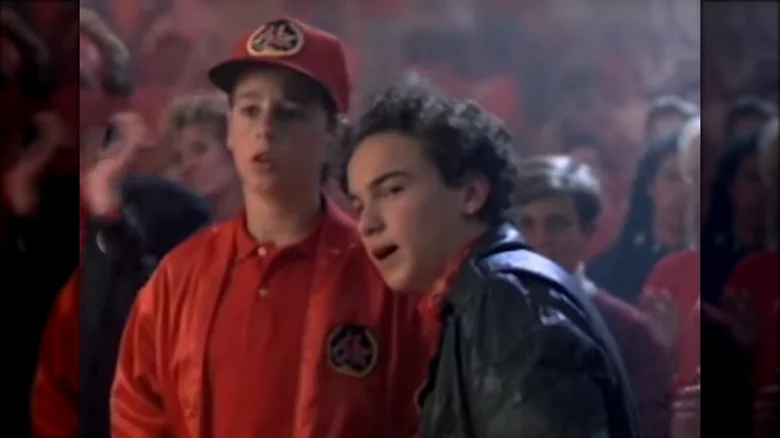 ABC/YouTube
Sean Murray was born in 1977 to an Australian mother and a father in the Navy, per his Paramount bio, which in a strange sort of way almost prefigured Murray's own career path. His relationship with his dad influenced his "NCIS" character, Timothy McGee, who also has military parents on the show. "There's a picture of me and my real father together in [McGee's] apartment set, which is kind of cool and sort of inspired the rest of the character's story," Murray later told People.
This also meant his childhood involved a lot of moving around internationally every few years. Per People, he lived in places like Singapore and London, all before he was 8 years old. However, Murray looked on the bright side of this lifestyle. "I remember very specifically being conscious of the chance to re-create yourself whenever we started someplace," he previously told The Spokesman-Review. "So it was almost like it went toward an acting kind of nature." 
His desire to act admittedly caused some friction with his parents, however. While his father often told him, "'You realize you have nothing to fall back, if this doesn't work out — and it doesn't work out for most people, statistically,'" his mom realized early on that she didn't want to be a typical stage mother, which Murray understood. Thankfully, both ultimately supported their son's acting ambition, and Murray nabbed his first onscreen role in 1991's ABC movie "Backfield in Motion," appearing alongside another future CBS star, "The Big Bang Theory's" Johnny Galecki.
He worked with Leonardo DiCaprio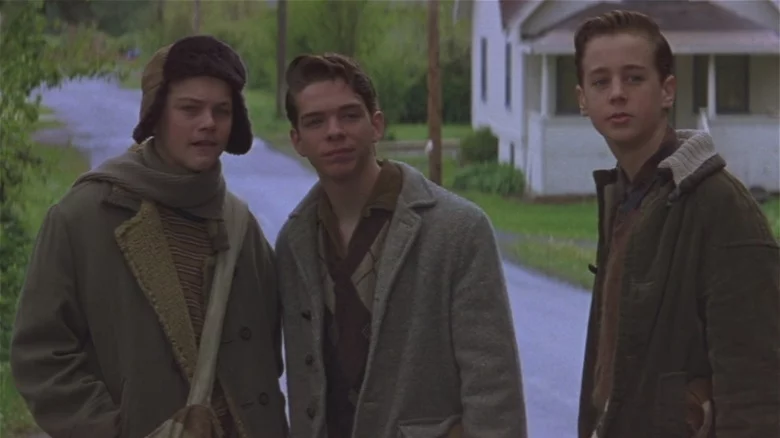 Warner Bros./Kanopy
In a short amount of time, a young Sean Murray managed to rack up an impressive list of co-star credits in the early '90s. He would soon go on to work with major names like Bette Midler, Sarah Jessica Parker, and both Beau and Lloyd Bridges, but in 1993, the young actor had a minor role in "This Boy's Life." In the film, which also starred Robert De Niro and Ellen Barkin, Murray shared the screen with none other than a young Leonardo DiCaprio.
Decades later, Murray told the Television Academy that he had his scene partner pegged as a star from the very beginning. "It was Leo's first role and I remember just in the couple scenes, the sequence we did, I remember thinking 'Oh, this kid's gonna be big, I know it,'" he said. "… And he became big, obviously. He's done all right." Understatement of the decade!
DiCaprio, too, was thinking often about the star status of his co-stars while filming the movie. When the Los Angeles Times asked him if he found working with De Niro and Barkin intimidating back in 1993, he answered, "I just tried to not concentrate on it because then I would be too involved with them and not my performance in the movie." Wise words from a future Oscar winner.
Hocus Pocus made him a millennial icon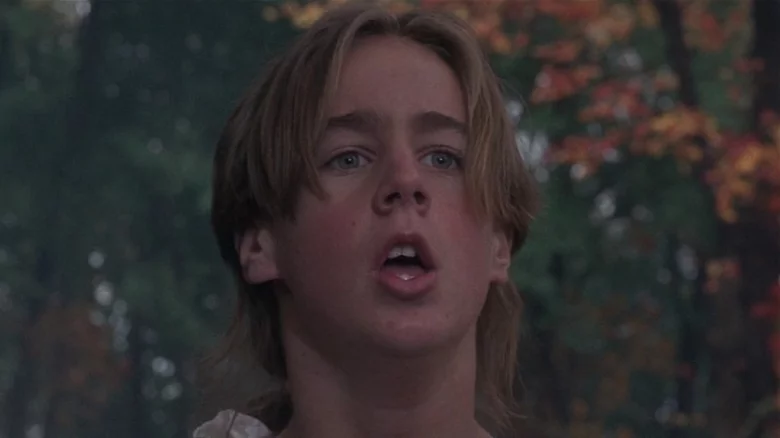 Walt Disney Pictures/Disney+
For a certain generation of moviegoing fans, Sean Murray will always be Thackery Binx first and foremost. In 1993's "Hocus Pocus," Kenny Ortega's film about three witch sisters who torment the town of Salem, the future "NCIS" star played a young boy who crosses the sisters and finds himself trapped for centuries as a cat. However, according to IMDb, Murray didn't voice his character as a cat; that honor went to Jason Marsden, best known for bringing Max Goof to life in 1995's "A Goofy Movie."
For his part, Murray told Icon vs. Icon in 2016 that he looks back fondly on his experience making the cult classic Halloween flick. "I remember all of the falls in the Fall and the twilight there where we were," he recalled poetically. "It was really special." Murray's especially proud of the way the movie has taken on a life of its own despite being a mild box office disappointment upon release. He still sometimes gets recognized by children whose parents were kids when the film was released, bragging, "I have even been told by a number of people that physically I haven't changed much!"
Murray was particularly impressed by the movie's elaborate sets, later telling ET, "I have so many memories of 'Hocus Pocus.' I remember the first time walking on that stage and seeing the witches' house … that was built on a stage!"
Sean Murray's short-lived gig on Harts of the West


CBS/Tubi
Shortly after starring in "Hocus Pocus," Sean Murray was cast on "Harts of the West," a Western-themed comedy-drama that aired for a season on CBS between "Dr. Quinn, Medicine Woman" and "Walker, Texas Ranger." Reviews, to put it mildly, were quite bad. In the 1993-1994 show, Murray played Zane Grey Hart, the teenage son of a ranch family. Other cast members included father-son duo Beau and Lloyd Bridges, and Murray even learned how to ride horses while starring on the show.
"Harts of the West" is an interesting footnote in Murray's career because it also marked his first time working with his future "NCIS" co-star, Mark Harmon. The man who would later play Gibbs appeared on the second episode of "Harts of the West," guest starring as a rodeo clown hired to work at the Hart family ranch. Murray later told Country Living that the part was originally supposed to be played by yet another Bridges boy — Jeff — but a scheduling conflict prevented "The Big Lebowski" star from making an appearance. "They got Harmon to come and do the part instead … which I'll never forget. That's where I first met Harmon. And he made an impression on me even back then," Murray recalled. 
In an interview with the Television Academy, Murray added of Harmon, "When I joined the cast of 'NCIS' he of course remembered me and was just as wonderful as when I knew him at 15."
He's spent almost two decades on NCIS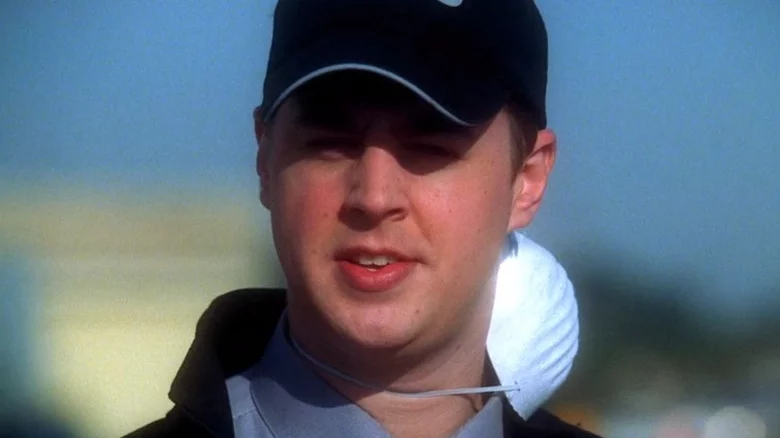 CBS/Paramount+
After "Harts of the West" was canceled, Sean Murray spent the rest of the '90s bouncing around network television. He put in appearances on shows like "ER" and "Touched by an Angel," but it was his arc on "JAG" that was a major precursor of things to come. He starred in six episodes of the Navy legal drama as Danny Walden between 1998 and 2001, but when "JAG" spinoff "NCIS" was announced, Murray joined the cast as an entirely different character: Timothy McGee. His character was initially just supposed to be a one-off appearance, but as he quipped on "The Talk" in 2016, "I wasn't shot or in prison at the end of it, so that's a plus." The powers that be brought Murray back a few episodes later, and the rest is TV history; as of this writing, he has starred on more than 420 episodes of the show and counting (via IMDb).
As Murray told Icon vs. Icon, sticking with one role for so long has been gratifying. "I've been able to have the character grow, and grow with him," he explained. "That is something not a lot of actors ever get to do. … To be able to inhabit a character for that long, some would say it's a curse but it is a blessing!" Despite a storyline in 2019 where McGee seemed to be exploring other career options, Murray insisted to Country Living that he had no plans to leave the show.
Sean Murray's family ties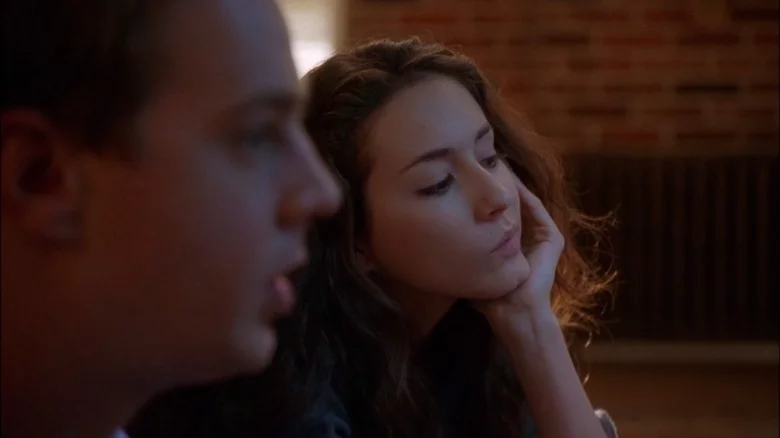 CBS/Paramount+
For Sean Murray, working in the entertainment industry means working in the family business. His stepfather is none other than Don P. Bellisario, the creator of shows like "Magnum, P.I.," "Quantum Leap, "JAG," and, of course, its far more successful spinoff "NCIS." Bellisario, though, didn't want the two series to be connected; he later told the Archive of American Television that he argued with CBS' head honcho at the time, Les Moonves, about it, asking for his name to be taken off the billboards and for the connection between the shows to not be advertised. Bellisario explained that he wanted "NCIS" to capture a younger audience than "JAG" had, and he worried that younger viewers would write it off if they knew the shows were tied together. CBS went ahead with promoting the spinoff connection, however, and Bellisario was admittedly upset. "It was a mistake, because exactly what I said would happen, happened," he said. 
Bellisario stepped aside as showrunner after Season 2, per TV Guide, thanks to a behind-the-scenes feud with Mark Harmon … the same season his stepson became a series regular. And if the last name Bellisario sounds familiar, it might be because Donald's daughter is "Pretty Little Liars" star Troian Bellisario! That makes her Murray's stepsister, which is fitting, considering Troian played the younger sister of Murray's "NCIS" character, Timothy McGee, on a Season 4 episode called "Twisted Sister" (pictured above). The episode saw Troian's character reach out to her brother after she fears she might have k****d someone, putting his investigative skills to work.
The NCIS star got married in 2005


Instagram
Sean Murray married Carrie James in November 2005. They tied the knot on what James later called "a windy, Saturday afternoon at Lakeside Golf Club" on Instagram, as she marked their anniversary in 2020. "Happy 15 years, Lovebug! Here's to more laughs, more fun, more love and more moments like these," she added in the sweet caption.
While James used to be a teacher, she told VoyageLA in 2018 that she eventually left the profession to instead run her own school. However, it didn't get off the ground in the way the entrepreneur had hoped. "The business side of running my own school was overwhelming and although I was making a positive impact in the lives of my students, I wasn't necessarily loving what I was doing even though I was really good at it," she said. 
Instead, James ended up co-founding and running the Business Relationship Alliance, or BRA for short. The women's group is made up of likeminded so-called "solopreneurs," who give one another tips, hiring opportunities, networking chances, and more. "BRA is now a powerful network of professional women from all walks of life starting businesses from conception to launch and beyond," she explained.
Sean Murray loves making music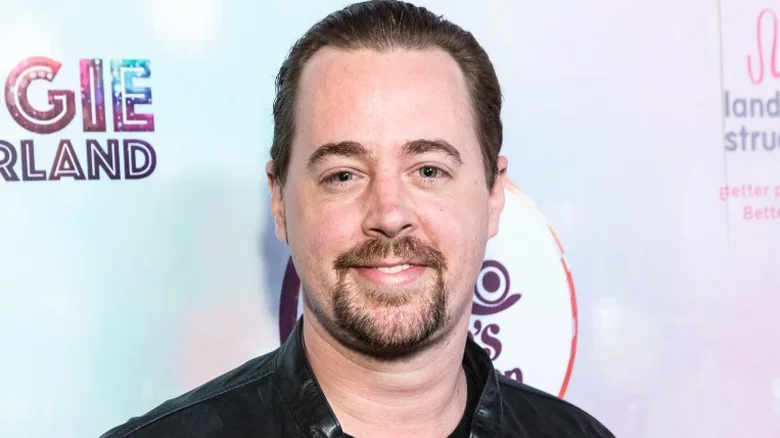 Greg Doherty/Getty Images
When he's not on set playing a member of the Naval Criminal Investigative Service, Sean Murray has another passion: music. "I'm basically a music nerd, especially when it comes to electronic music," he told Forbes in 2017, while in a prior interview with Icon vs. Icon, the actor gushed about his love of rap and hip-hop. "Any hip-hop fan who is not listening to Earl Sweatshirt yet should be!" Murray insisted. "… He is doing hip-hop on another level." He added that the best live show he'd ever been to was a Jay-Z concert in Los Angeles, which he watched from the seventh row.
Perhaps unsurprisingly, then, in his spare time, Murray also makes his own music — but he hasn't released anything publicly. He taught himself how to play guitar, but he explained to Forbes that his musical talents don't stop there. "I have actually got a lot of equipment that I muck around with creating sounds," the star said. "I can also play a little piano, drum machines and synthesizers." Murray even showed off his home studio in his 2021 home tour with People. 
"Music will always be a vastly important part of my life," Murray told Icon vs. Icon. "I would love for people to hear some of the sounds I can make, so [releasing] it is a possibility!"
He's a family man now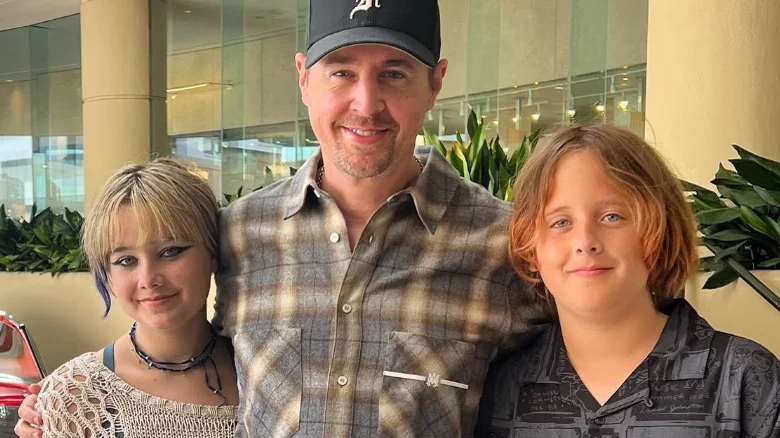 Instagram
In addition to being a husband, Sean Murray is also a father. He and his wife, Carrie James, have two kids together, Cay Ryan (born in 2007) and River James (born in 2010). "Carrie and I are pretty Zen'd out right now," the second-time dad told People upon the birth of their son. "[But we know] our 3-year-old will bring us back to reality soon enough!" His wife shouted him out on Father's Day in 2022, writing on Instagram, "We are a great team and our kids are fortunate to have you as their dad and I'm fortunate to have to you by my side during this wild ride." Aww.
For his part, Murray isn't shy about showing off his kids in frequent snaps on social media, such as a 2020 Instagram photo of his daughter making everyone some chocolate brownies. The actor also shared a photo of his lookalike son that April, writing proudly, "my boy River is TEN YEARS OLD today!! happy birthday, buddy." More recently, Murray revealed on Instagram in March 2022 that he'd taken his daughter to see System of a Down perform. "One of the best times of my life," he wrote in part. "Head banging for two hours with your child is one of those things you don't get to do often. highly recommended."
Sean Murray is into home renovation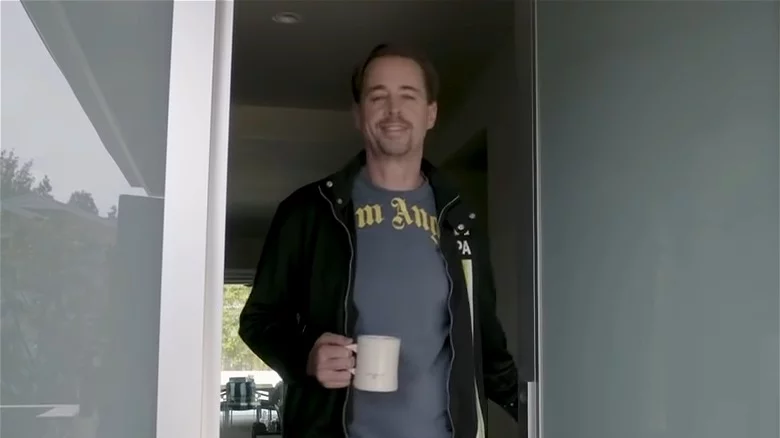 People/YouTube
As previously mentioned, Sean Murray's childhood involved moving around a lot because his father was in the Navy, and as a result, the future star often felt like he never really had a home. Now grown up and married, Murray has concentrated on making sure his kids don't feel the same way, and he told People in 2021 that he spent 10 years designing the home they share in Los Angeles. The overhaul initially started with things like fixing a drainage issue, then redoing the landscaping, adding a Jacuzzi, tearing out a glass-block entry wall, and more. However, as Murray recalled, "It got to the point where my wife even said to our designer, 'Just talk to Sean about the details.' I totally fell in love with it."
He gave the magazine a home tour on YouTube at the time, showing off his handiwork and his eye for design as he pointed out things like new wood paneling, family photos, the dining room, and more. "The bar! I gotta show the bar off!" he exclaimed, standing in front of a built-in bar cart complete with stocked shelves. "I don't drink, but I do like to show a good bar for those that do. … We keep the bar packed very well."
For her part, wife Carrie James proudly shared the People article on Instagram, writing in the caption, "Sean gave a great interview and shared the story of how we made this house, a home."
He cares about the oceans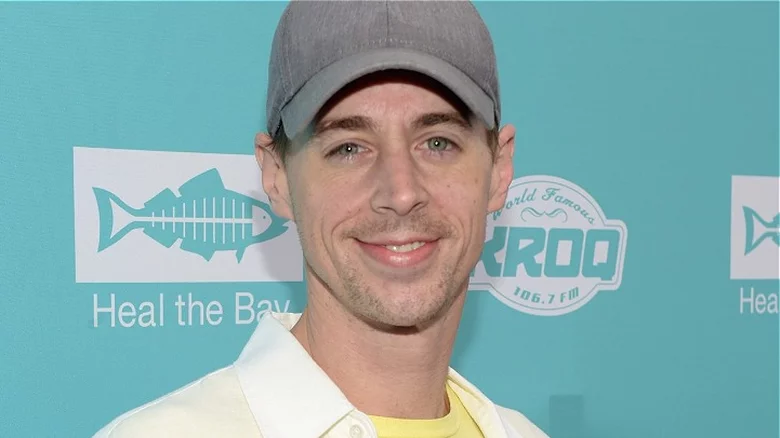 Jason Kempin/Getty Images
When he's not solving naval c****s on television, Sean Murray still likes to spend time with the oceans. He has worked extensively with a California-based foundation called Heal the Bay, which works to clean up the Pacific off the beaches of Los Angeles. While talking to Icon vs. Icon about the foundation's push for laws to change ocean pollution regulations, Murray noted, "When I was younger, I spent most of my time in Australia and was raised on beaches. I'm a beach kid and that is how I have always been! It's funny because you come to LA and the worst beaches in the world are here. The place is a mess and it is disgusting."
According to Forbes, Murray doesn't just support the organization from afar; he's actively involved in how the nonprofit is run as a board member. "It's important to bring awareness to taking care of our oceans, locally and globally," the actor said, explaining of the foundation itself, "They have all kinds of clean-up events and work to mobilize communities to protect our coastline."
Heal the Bay also operates the aquarium at the Santa Monica Pier, and Murray gave Celebrity Page a tour of the marine animals available to view in 2016. He showed off sea stars, jellyfish, and sharks, making sure to point out the importance of cleaning up their environment so that they can survive and thrive.
The actor's daughter guest starred on NCIS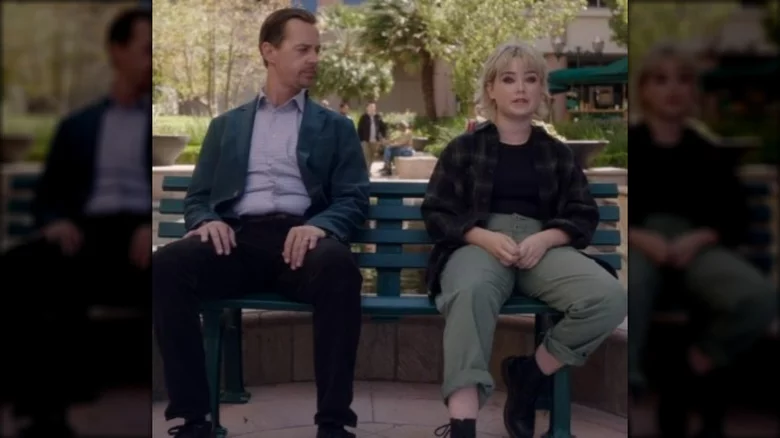 CBS/Paramount+
In 2022, as the 19th season of "NCIS" was drawing to a close, Sean Murray marked a milestone: his then-14-year old daughter, Cay Ryan Murray — who wasn't even born when her famous dad began acting on the show! — appeared in an episode with him. In the episode titled "The Brat Pack," Cay played Teagan, a girl who comes to realize that her online boyfriend is involved in a string of c****s … and might be trying to pin the whole thing on her.
While this episode of television is Cay's only IMDb credit, as of this writing, Parade noted that she attends a magnet school for Music & Performing Arts in Los Angeles, and she also acts at the Youth Academy of Dramatic Arts. "When you're hanging out between filming … and you're sitting in your chairs in your little room waiting during the setups, I'd be there with my daughter, and it didn't feel like I was hanging with my daughter. I felt like I was with another actor," Sean told the magazine.
The happy dad also shouted out his daughter's television debut on Instagram that April, writing in part, "I couldn't be more proud." As Express marked, many "NCIS" fans were happy to see her act onscreen, commenting positively about her guest spot on social media. "Fantastic work tonight with your daughter. She hit every mark," one fan wrote.
Sean Murray didn't return for Hocus Pocus 2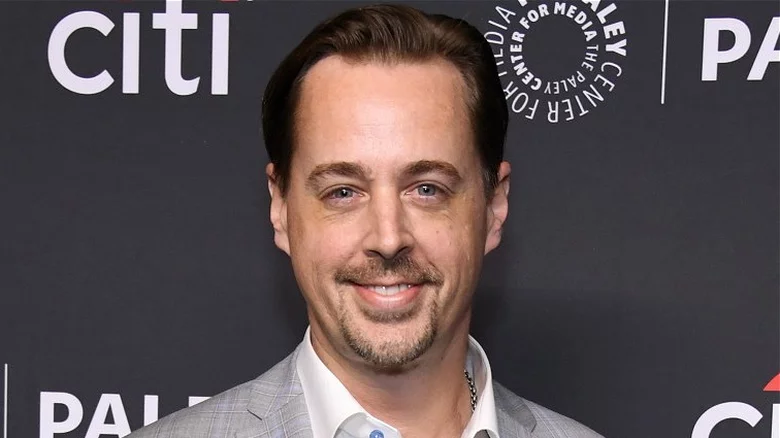 Jon Kopaloff/Getty Images
Even though he's been on television for hundreds of hours as Timothy McGee, Sean Murray still gets regular questions about his childhood role as Thackery Binx in "Hocus Pocus." In the long run-up to the sequel, "Hocus Pocus 2," Murray was asked numerous times whether he would return to the franchise that launched him into the hearts of millennial teenagers everywhere. 
When Bette Midler first ginned up sequel speculation in 2014, Murray told E! News, "If they wanted me to be involved with it in some sort of way, I would probably say yes. 'Hocus Pocus' has a great following and was a great part of when I was a kid." He also co-hosted an episode of "ET" in 2021, at which point the impending sequel had already been confirmed. ET correspondent Kevin Frazier asked if he was interested, and Murray answered that it would depend on what the part was, adding that he might be open to a cameo. Then he joked, "Please call me. I've been doing one job for a long time."
However, to the disappointment of Thackery Binx fans everywhere, Sean Murray was nowhere to be found when "Hocus Pocus 2" finally premiered on Disney+ in September 2022. Some fans expressed their disappointment online, such as one who wrote on Twitter simply, "I honestly just wanted to see Thackery Binx."