NCIS' Pauley Perrette's Iconic Jet Black Hair Is All Fake
Abby Sciuto's (Pauley Perrette) style, as featured on "NCIS," may seem to clash with her chipper personality. But the forensic scientist is ultimately a goth at heart. Abby loves not just d**th, but the supernatural, tattoos, and black clothes and jewelry.

Agent Tony DiNozzo (Michael Weatherly) even implies in one episode that she sleeps in a coffin, something that doesn't seem out of character for the morbid NCIS employee.
However, part of executive producer Donald Bellisario's intent with Abby was to create a positive depiction of a person with tattoos and piercings. Perrette commented, "I think, after all these years, an older generation might look at someone with tattoos and instead of thinking they're a thug, they maybe think they're a scientist" (via CBS). She also remarked about how many girls followed in her character's footsteps, taking up math and science courses in college because of how Abby made these topics fun. Outside of work, Abby has "weird" tastes, but she's also a competent, plucky, and kind-hearted human being.
Part of Abby's ensemble is her striking black hair. However, that isn't Perrette's real hair color.
In fact, she's a natural blonde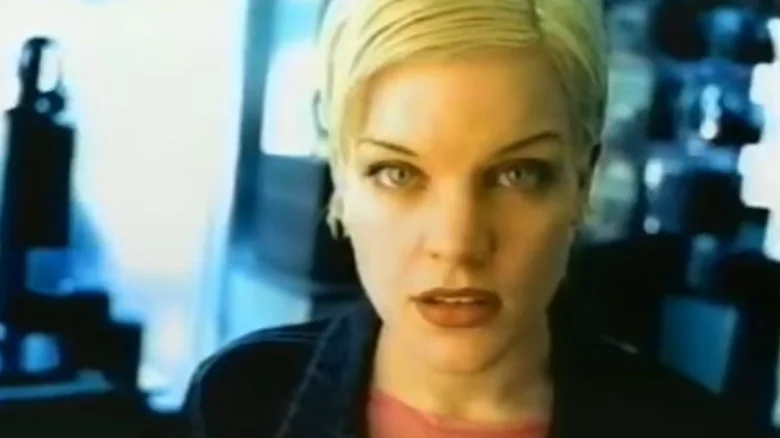 Pauley Perrette's brunette locks may have become iconic on "NCIS," but the actress' hair is actually blond. Perrette regularly dyed it black with the help of hair and make-up assistants while filming the series, telling CBS Sunday Morning, "I end up with blond roots."
The actress tweeted in 2013, "I dye my own hair black at home for #NCIS with store bought dye. I'm absolutely NOT a salon girl!" However, Perrette revealed on "The Queen Latifah Show" that this has led to health complications. She developed a PPD allergy, a condition that can happen when you've been dyeing your hair black for a long time. During filming on "NCIS," she woke up with her head swelling and had to be rushed to the hospital. Afterward, the actress only used black hairspray — as she admitted on The Queen Latifah Show — until she left "NCIS" during its 15th season.
More recently, Perrette revealed a new, very colorful hairdo on Twitter that's the exact opposite of Abby's goth look. It does seem like regardless of the project, Perrette has a truly unique sense of style.