NCIS' Pauley Perrette's Impressive Music Career Often Goes Unnoticed
Before the cast of "NCIS" Season 20 was around, the Major Case Response Team looked very different during the series' first season back in 2003. Alden Parker (Gary Cole) is the recent replacement for Leroy Jethro Gibbs (Mark Harmon), Nick Torres (Wilmer Valderrama) has filled the role originally played by Anthony "Tony" DiNozzo (Michael Weatherly), Jessica Knight (Katrina Law) had Caitlin "Kate" Todd (Sasha Alexander) in her chair, and Timothy McGee (Sean Murray) is still around. As fans know, Dr. Donald "Ducky" Mallard (David McCallum) still appears from time to time, although it's Jimmy Palmer (Brian Dietzen) who's graduated from his assistant position.
Season 1 also notably had Abby Sciuto (Pauley Perrette) as the team's Chief Forensics Scientist. Fans have explained that they particularly liked the Season 1 version of Abby, as well, and were overall sad to see her leave the show. Perrette exited "NCIS" after the episode "Two Steps Back" during Season 15 (via Deadline) and has since claimed on Twitter that there was an issue involving a dog on set between her and Harmon that would prevent her from returning. Nevertheless, Perrette became so iconic in her role of Abby that she has remained most often recognized for the character to this day.
However, Perrette is certainly a multi-talented artist. Not only does she have an extensive acting resume, including a notable supporting role in "Almost Famous" alongside the late Philip Seymour Hoffman, but she also boasts an impressive music career that often goes unnoticed.
Pauley Perrette created music for the NCIS soundtrack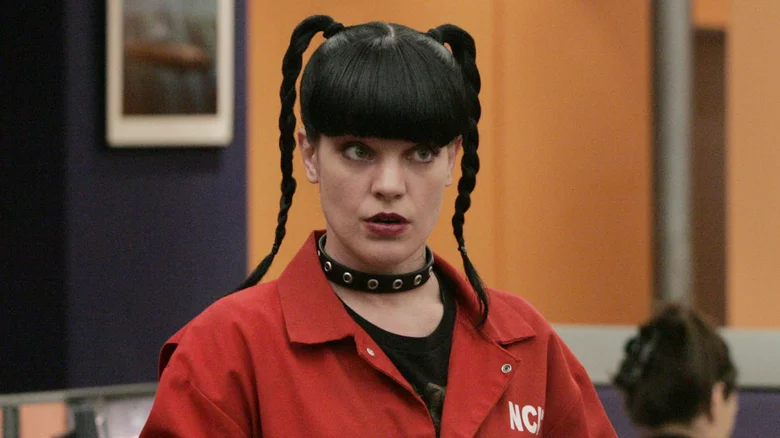 Robert Voets/CBS
During the early 2000s, around her appearance for the first time as Abby Sciuto on "NCIS," Pauley Perrette was also making music. She actually was part of an all-women band in Los Angeles called Lo-Ball, who notably released the song "Can't Get Me Down," which became popular from being on the "Legally Blonde" soundtrack (via Spotify). However, Perrette also created music on her own and would help write and perform the song "Fear" as part of the official "NCIS" television soundtrack, which dropped in 2009, per Apple Music. The actor was also featured on multiple songs in the 2010s: For example, musician B. Taylor had Perrette appear on the tune "Fire in Your Eyes" in 2011, and the star also featured on "God's Breathing Ark" by She.
In 2015, Perrette appeared on Entertainment Tonight to promote another song called "Beautiful Child." She explained that the music video was specifically directed toward young members of the LGBTQ+ community in partnership with The Trevor Project — a non-profit that offers 24-hour counseling and support. As of this writing, Perrette has yet to release more music, although her time was likely taken up by "NCIS" until her 2018 exit, and then by her short-lived sitcom "Broke" in 2020. 
In the meantime, it will be interesting to see what direction Pauley Perrette's career will head in next, and if more music or another television series is on the way.