NCIS' Pauley Perrette Despised How Dehumanizing Her Fame Was
"NCIS" is cruising its way through Season 20, and the Major Case Response Team has had quite an eventful few cases thus far. In fact, the season premiere started out moving fast as they had to quickly find 'The Raven' — the man responsible for framing Alden Parker (Gary Cole) at the end of Season 19. Ultimately, the "NCIS" team does what they always do and went to great lengths to protect a member of their family. However, Cole's Parker is a relatively new member of that family, replacing the iconic Leroy Jethro Gibbs (Mark Harmon).
Harmon's Gibbs had notably been around since the beginning of the series in 2003 and was part of many fans' favorite "NCIS" team lineup (via Reddit). This main cast included Gibbs, Anthony 'Tony' DiNozzo (Michael Weatherly), Timothy McGee (Sean Murray), Ziva David (Cote de Pablo), Dr. Donald 'Ducky' Mallard (David McCallum), Jimmy Palmer (Brian Dietzen), and of course, Abby Sciuto (Pauley Perrette). The relationship between Gibbs and Abby was portrayed as special on the show, sort of like father-daughter. Harmon quickly became known for his portrayal of Gibbs and Perrette, the same with Abby.
However, Perrette left the role of Abby suddenly during Season 15 due to a dispute she had with Harmon over him bringing his dog on set, which ended up biting a few crew members. Although, it seemed to have been building up for the actor, as she has notably despised how dehumanizing fame from a television role can be.
Pauley Perrette says that fame made her feel like a commodity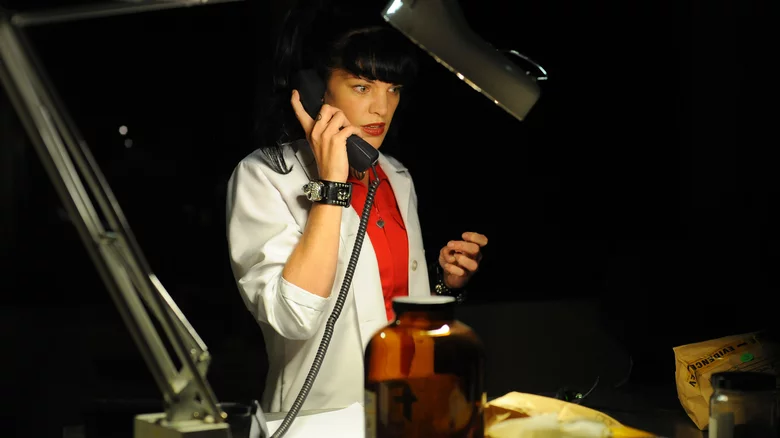 Ron P. Jaffe/CBS
In a conversation with CBS Sunday Morning back in 2018 discussing her departure from "NCIS," Pauley Perrette explained that the fame from "NCIS" felt a little dehumanizing for her at times. "It's, you know, it's being a commodity," she said. "It's being a…it's just very dehumanizing, so I think, I mean, I hope I'm not wrong, but I think that I have earned a little bit of time to myself," Perrette continued. Based on the entire conversation, it seemed that Perrette valued being able to get time to do what she wants in every way after "NCIS." Not to mention, the "NCIS" filming schedule is notoriously b****l, as her co-star, Sean Murray, pointed out during an interview with Starry Mag.
Murray's McGee and Perrette's Abby notably have a romantic relationship near the beginning of their time together on "NCIS," although they would remain just friends during the seasons leading up to Perrette's departure. Murray told Cinema Blend in early 2019 that it was hard without her at first, but they all supported her decision to leave. "We love Pauley to d***h, but it was her decision and everyone has their right to make a decision," he said. "It's hard to not work with your friend. It's sad. You know, you have moments, but you make new friends and it's all good."