Chris O'Donnell Put 'The Brakes' on His Promising Career for His Wife & Mother of His 5 Kids
Popular Hollywood actor Chris O'Donnell, who is also a very likable person, opted to get married at 26 years old instead of living a playboy life.
Chris O'Donnell is popularly known as one of the lead characters in CBS's "NCIS: Los Angeles." The actor has been a prominent figure in Hollywood since he made his movie debut in the 90s.
The Chicago-born star exchanged vows with his then-girlfriend, Caroline Frentess, and he doesn't regret how marriage transformed his life and impacted his career.
His decision to tie the knot was influenced by the family values instilled in him by his parents, which he now instills in his five children.
EARLY LIFE
Born in St. Louis, Chris is the youngest of William O'Donnell's seven children, and he grew up in the outskirts of Chicago.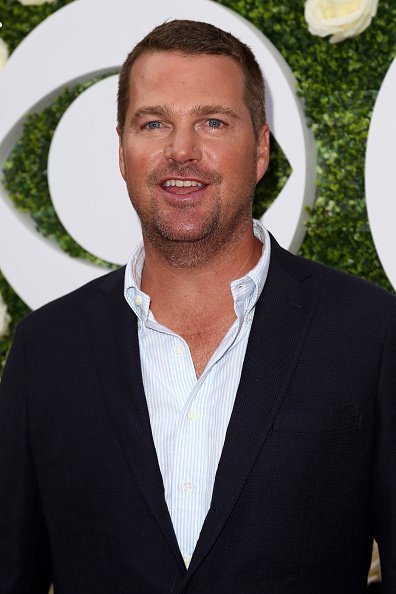 Chris O'Donnell at CBS Studios – Radford on August 1, 2017 | Photo: Getty Images
The actor was born into a large Catholic family, and he had what is called the altar-boy values instilled in him as a child. This experience influenced his decisions further in life.
At 13, he decided to try modeling when he discovered models were being paid $65 an hour. His sister then introduced him to the agent Maureen Brockman at a wedding.
Brockman was so impressed by his looks that she described his lovely personality and wonderful smile as some of what made him perfect.
Starting in commercials, O'Donnell famously appeared as a fast food server who served breakfast to basketball legend Michael Jordan in a McDonald's commercial in 1987.
In the early 90s, he featured in movies such as "Fried Green Tomatoes" and "Men Don't Leave," and his performances showed he had much more to offer than just being a model.
Surprisingly, as his acting career took off, O'Donnell left for Boston College to study marketing. He was not convinced about being an actor yet. While in college, he landed more acting gigs and realized acting was what he wanted to do.
MOVIE CAREER
At 24, O'Donnell landed his first significant role in 1992 when he starred alongside Hollywood legend Al Pacino in "Scent of a Woman." The youngster bagged his first Golden Globe nomination for his performance.
He starred in 1995's "Circle of Friends" and played Robin the Boy Wonder in "Batman Forever." The actor was offered the lead role in 1997's "Men in Black" but rejected it for personal reasons.
The Chicago-raised actor has also appeared in "Vertical Limit" as well as the hit TV series "NCIS: Los Angeles" and "Grey's Anatomy."
ROMANCE AND MARRIAGE
O'Donnell met his wife Caroline when she visited her brother Andrew who lived in the same apartment as the actor. They soon found out they liked each other, which led to a kiss, but nothing serious happened.
They did not see each other again for the next three years until this fateful day when the actor asked his neighbor and friend Andrew to call her so they could have a chat.
After this, O'Donnell and Caroline kept in touch and dated for three years before their marriage in April 1997. The ceremony was held at St. Patrick's Cathedral in New York.
THEIR CHILDREN
O'Donnell and Caroline are parents to five children. The couple had their first child Lily on September 3, 1999, the same year O'Donnell returned to making movies.
The following year, they welcomed their second child and first son Christopher Eugene, nicknamed Chip. The third child, Charles, was born on July 11, 2003. In 2016 they had Finley, with Caroline later giving birth to their youngest son, Maeve Frances.
O'DONNELL SPEAKS ON FAMILY
In an interview with RedBook Magazine, O'Donnell explained he was offered multiple movie roles after his performance in "Batman," but he rejected them.
As a Hollywood actor, he had the opportunity of living a playboy lifestyle, dating different celebrities without ever tying the knot or having a traditional family life.
O'Donnell went with the latter; he took a break rejecting all the movie offers he got at the time to focus on his wife and marriage because this was more important to him.
He declared this move has made it easy for him and Caroline to stay together since her family also shares the same values and traditions he holds dear.
Speaking of his kids, the father of five admitted he had not shared his time adequately with his last borns Maeve and Finn, the way he did when Lily and Chip were their age. It also makes him feel a bit sad.
O'Donnell travels everywhere with them and admitted it is sometimes very tricky getting tickets for everyone.
He also explained that they were not planning on having a fifth child even though they wanted another girl. However, when Caroline found out she was pregnant, they decided to have the baby.
MEET CAROLINE
Chris O'Donnell's wife Caroline worked as an elementary school teacher. According to the actor's wife, she had always found her husband attractive.
The first time they met, she saw him playing with his nieces and nephews, and she knew he would be a great dad. This trait is also one that attracted her to the blue-eyed actor.
She explained that being a father has toughened O'Donnell up. He previously could not stand the sight of injuries or blood, and he fainted during the birth of their first kid. After that incident, the actor has managed to stay conscious at the birth of their other children.
FOLLOWING IN THEIR FATHER'S FOOTSTEPS
O'Donnell's wife Caroline filmed an episode of the show "Command & Control" alongside their daughter Maeve in 2015. Maeve, who was seven years old at the time, took this role very seriously, rehearsed her lines frequently, and made sure to give it her best shot.
His eldest daughter Lily has also co-starred alongside her father in the CBS series "NCIS: Los Angeles." She portrayed the character, Amy.
Her younger brother Charlie O'Donnell also played a younger version of their father in the series' season two finale and the season three premiere.
Charlie made another appearance in the drama as a character called Michael Donnelly. He has also starred in the movie "Past Life."