The Transformation Of Tom Selleck From Childhood To Blue Bloods
Tom Selleck might be 77 years old, but this hard-working actor can still manage to pull in an audience. "Blue Bloods," Selleck's police drama on CBS, had a whopping 6 million viewers early in 2022, an impressive feat for a show about to enter its 13th season in a Friday night primetime spot. As Frank Reagan, New York City's Police Commissioner, Selleck plays the family patriarch and a dignified man of the law — but obviously, this isn't his first time playing law enforcement.
Fans of Selleck will know him, and his iconic mustache, as Thomas Magnum in the '80s Hawaiian crime-drama, "Magnum, PI." However, Selleck's penchant for playing a police officer doesn't stop there, since he's also starred in the popular Hallmark/CBS made-for-TV film series "Jesse Stone."
For "Friends" fans out there, Selleck will always be Dr. Richard Burke, one of Monica's most memorable boyfriends. While things didn't work out for Monica and Richard, Selleck's lengthy career in Hollywood (he's been working in the film industry for over 40 years now) has solidified into legend. Read on to see how Tom Selleck became the Hollywood star he is today.
He was raised in the Valley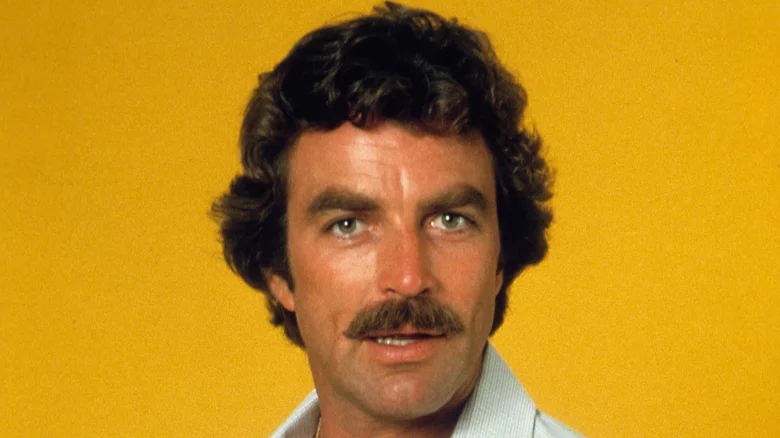 Although Tom Selleck was born in Detroit, Michigan, in 1945, Selleck spent most of his life living in Los Angeles. When he was only three years old, the Selleck family moved to Sherman Oaks, where eventually, his two younger siblings were born. Ever the proud and supportive mother, Martha Selleck served as the president of the Motion Picture Mother's organization from 1998-2016, a Los Angeles charity that contributes to the Motion Picture and Television Fund.
Growing up, Tom's father, Robert Selleck, was a prominent local businessman working in real estate development, even becoming the director of the Los Angeles Olympic Organization committee. Later on, Robert Selleck and his son Daniel formed a real estate company, developing retail areas throughout Los Angeles. Naturally, Tom joined the family business ventures, investing in and assisting with development projects.
His father's business acumen would influence Tom throughout his life, contributing to Selleck's ability to amass a net worth of $45 million.
Sports was his passion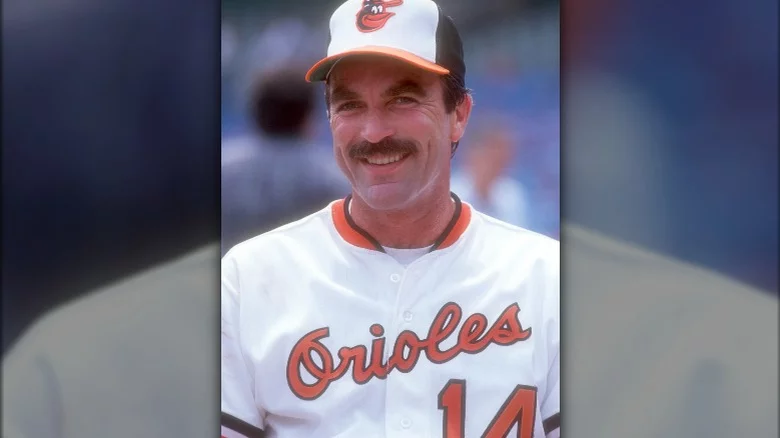 Despite growing up in Los Angeles, surrounded by Hollywood and film stars, the 6-foot-4 Tom Selleck leaned more towards athletic pursuits than the arts. In fact, Selleck was so focused on playing basketball for the University of Southern California (USC), that he turned down a scholarship to play at Montana State University, preferring to wait for his dream school.
And his gamble paid off. After two years of living at home and attending Los Angeles Valley College to save money, Selleck transferred to USC as a junior, received a scholarship, and played for the USC Trojans. During the 1965-1966 season, Selleck played seven games and was noted for his toughness on the court.
This love of sports and natural athletic ability would serve him when he was cast in "Mr. Baseball" and spent weeks at a baseball boot camp, training with the Detroit Tigers and playing in a spring training game. He even confessed to The Athletic that he had a childhood love of the game, and that he dreamt of being a "professional baseball" player when he was young.
He fell into acting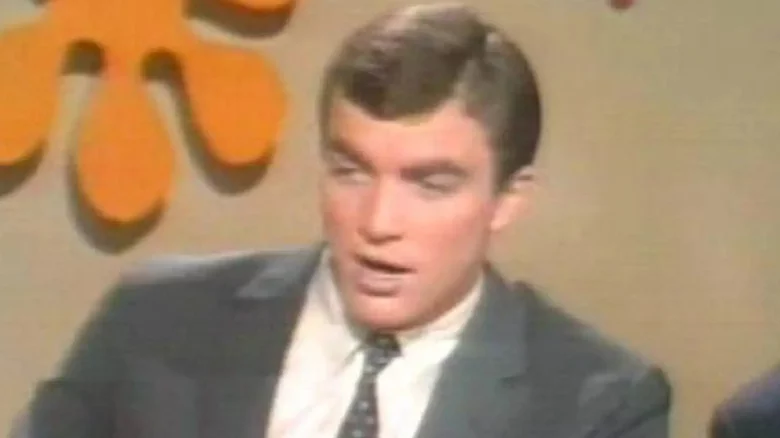 Tom Selleck's college years in Los Angeles sound like a lot of fun. He was on "The Dating Game" in 1965 and again in 1967. His rugged good looks (pre-mustache) and athletic ability garnered him a few commercials, including one for Pepsi in 1967, where he showed off his basketball skills. He also worked for United Airlines while getting a degree in Business Administration at USC.
At this point, minus the occasional commercial, Selleck was still new to the entertainment industry. According to an interview with Variety, Selleck said that he had "never done a play in my life. My acting experience was zero."
Yet even without serious acting experience, Tom Selleck clearly had a special something to help him stand out. During his final semester at USC, Selleck's commercial agent encouraged him to see acting as a serious option for a possible future career. According to Tom, both his parents "encouraged taking risks." So, in keeping with his parent's advice, Selleck dropped out of USC to pursue acting full-time.
He was part of Fox's New Talent Program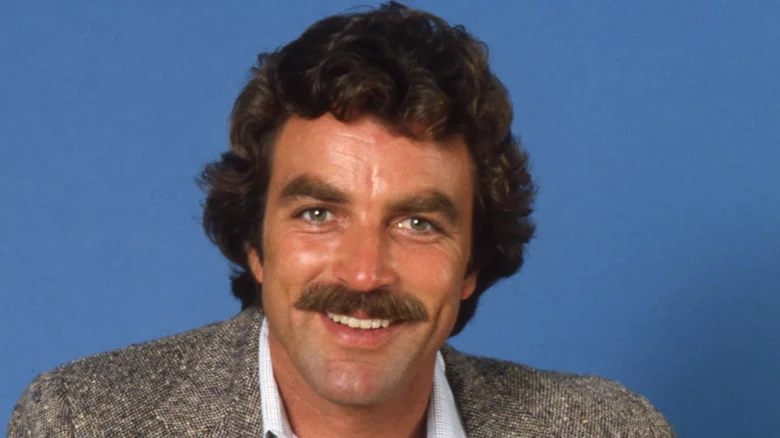 Even though Selleck had captured the attention of his agent, Don Schwartz, breaking into acting still required a lot of work and a few more contacts. Luckily, Selleck's experience playing basketball turned out to be useful in getting acting jobs. Schwartz sent Selleck to Fox, which had a New Talent program at the time. However, Tom still needed the approval of Richard Zanuck, producer and then-president of 20th Century Fox.
Zanuck was a fan of UCLA basketball, and once he learned about Tom Selleck's basketball career with USC, he was happy to bring him on board the Fox team.
Tom Selleck might have been a part of Fox, but he was still a fairly green actor. During the late 1970s, Selleck attended the Beverly Hills Playhouse, a staple of the Los Angeles acting community. At BHP, Selleck studied under Milton Katselas, a famed acting teacher. While actors in the New Talent Program reportedly only made about $35 a week working for Fox, Selleck's risk-taking paid off in the end.
His return to civilian life came with hardship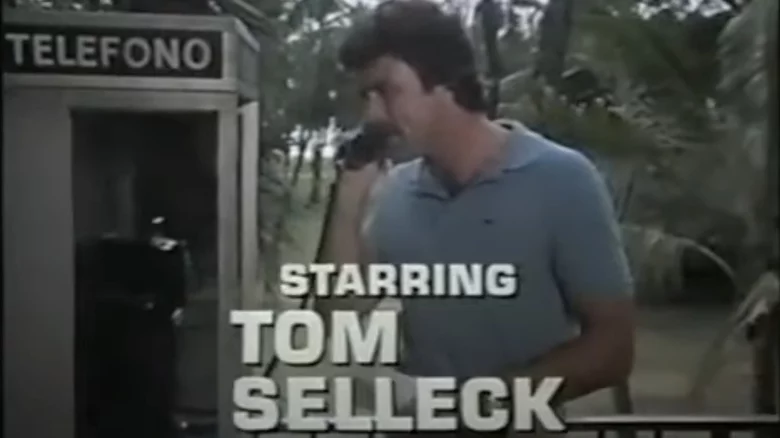 Tom Selleck served in the National Guard from 1967 to 1973, during which time he also married actress and model Jacqueline Ray and adopted her son Kevin. While Selleck didn't see combat during his time in the National Guard, he is proud of his experience in the military and his veteran status. Since then, Selleck has appeared on recruitment posters for the National Guard and has been generous in his donations to the Vietnam Veterans Fund.
However, he didn't have an easy time returning to civilian life in 1973. He was dropped from Fox's New Talent program only a few months later, leaving him to rebuild his career from scratch. During this period he filmed six different pilots, none of which were picked up, until "Magnum, PI." came along in 1980.
He guest-starred in TV series, working slowly back up to a successful career. Looking back, Selleck doesn't regret the struggles of his early years. In fact, if he could give his 25-year-old self some advice, according to an interview with GQ, it would be, "savor things, even the failures, a little more."
A slow start to his career wouldn't be the only difficulty during this period: His marriage to Jacqueline Ray was rocky, especially once Selleck moved to Hawaii to film "Magnum, PI." (Though Selleck has since clarified that it wasn't his success with "Magnum, PI." that caused the end of the relationship.) In fact, Ray guest-starred in several episodes of "Magnum, PI." However, by 1982, Ray and Selleck announced their separation and eventual divorce.
James Garner had a big influence on his acting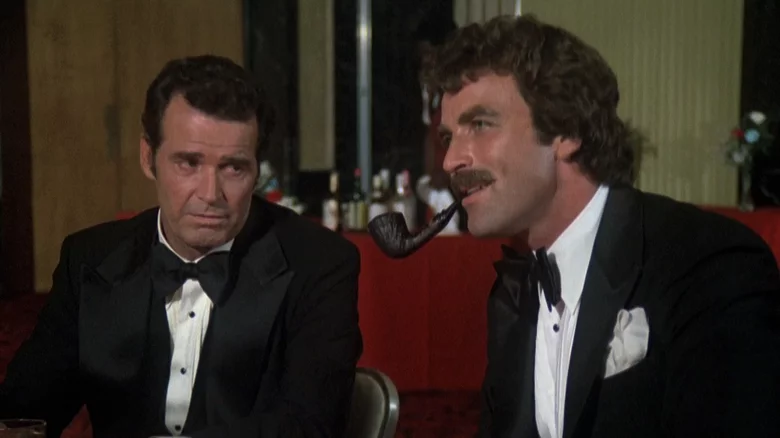 Back in the late '70s, Tom Selleck was still struggling to find his big break. He'd done smaller parts on "Charlie's Angels" and "Taxi," but it was James Garner's TV series, "The Rockford Files," that Selleck would cite as being the most influential.
"The Rockford Files" starred Garner as an ex-con-turned-private-investigator. While Selleck would only star in two episodes of the show, the environment Garner created and the example he set as a leader impressed young Selleck. In an interview with GQ, Selleck discussed the experience he gained from his mentor. "I watched Garner, because I'd been on a lot of shows where everybody was walking on eggshells and there were battles about who was coming out of their dressing room first…to work with Garner—who I think people, if they could, still take star lessons from. He understood that leads in a show like a television series involved leadership."
Since then, Selleck has cited his time on "The Rockford Files" and James Garner's screen presence as helping to develop the iconic role of Thomas Magnum. Even more than that, he's emulated James Garner's on-set behavior; According to Will Estes, his co-star on "Blue Bloods," Tom Selleck is "a consummate professional and the best leader you could hope to have."
He was a Hollywood film star in the '80s and '90s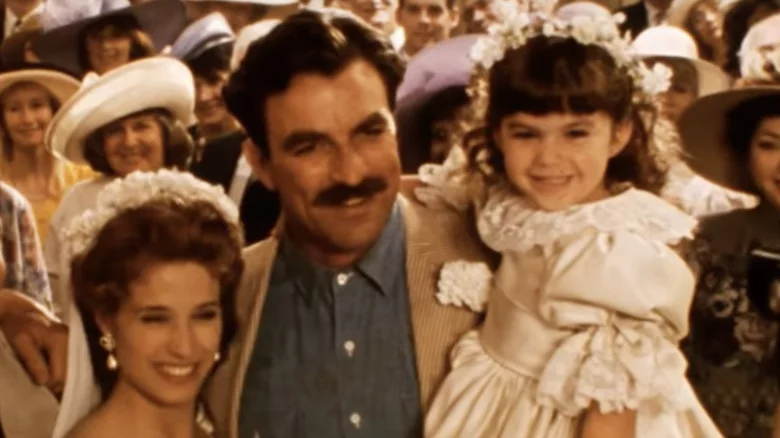 The instant success of "Magnum, PI." in the '80s, as well as his rugged good looks, made Tom Selleck a popular film actor. Selleck recently spoke about the "Indiana Jones" rumors on The Rachael Ray Show, clarifying that he was actually offered the part and never turned it down: The only reason Selleck wasn't Indy was due to CBS's refusal to allow him to do both "Magnum, PI." and "Raiders of the Lost Ark." Watch Tom Selleck's screen test for "Raiders of the Lost Ark," and you'll understand why he was in the mix.
However, the rolling train that was Selleck couldn't be stopped, and the actor went on to star in one of the biggest films of the '80s, "Three Men and a Baby." The film was so successful (it was the highest-grossing film of 1987) that Selleck, Danson, and Guttenberg all returned for a sequel in 1990, "Three Men and a Little Lady." He starred in romantic comedies like 1998's "Her Alibi," westerns such as "Quigley Down Under" (1990), and showed off his athletic abilities in "Mr. Baseball" (1992). He also guest-starred in a 1984 episode of "Muppet Babies," and if that isn't stardom, what is?
He's a long-time NRA member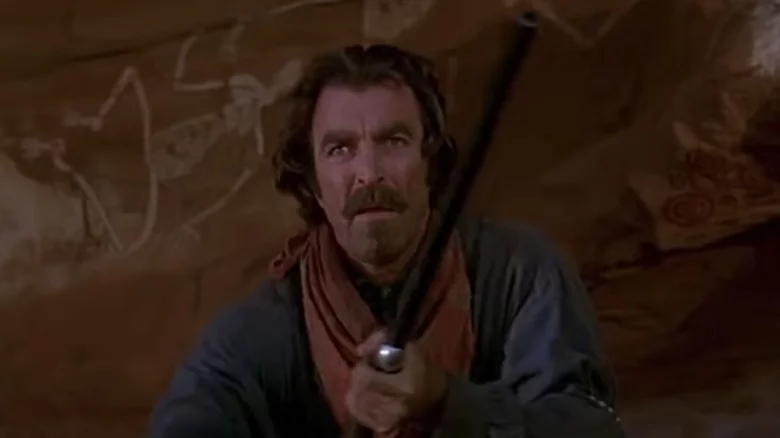 Tom Selleck has actually been a member of the NRA since he was 8 years old, and served on the board of directors from 2005 to 2017. While Selleck was an unpaid board member, he did sell almost half a million dollars worth of guns (mostly collectible pieces) to the NRA in 2018. In fact, as an avid gun collector, Selleck has brought his personal knowledge to his film career, often advising on the historical accuracy of the pieces used on set.
His experience as a collector ties into his fascination with the Western genre, since he's starred in nearly a dozen Western miniseries and films over the course of his long Hollywood career. In 1979, Selleck starred in an adaptation of Louis L'Amour's "The Sacketts," and was even considered for a role in "Lonesome Dove," which he declined due to his "Magnum, PI." schedule.
In "Quigley Down Under," it was apparent to other cast members, such as San Giacamo, that Selleck had a love for the time period and an enthusiasm for "the props and guns."
His role on Friends marked his return to primetime TV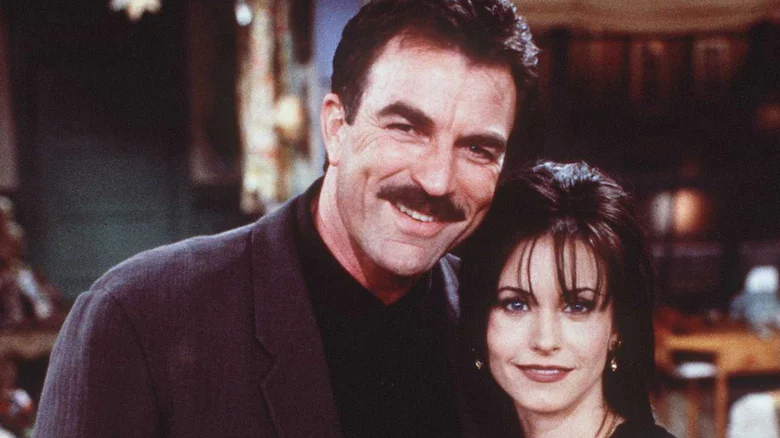 In 1996, Tom Selleck was offered the chance to make a small, three-episode appearance on "Friends" as Monica's boyfriend. According to an interview with the Chicago Tribune, Tom Selleck's agent was hesitant, unsure about him playing small roles for less money. Selleck has also admitted on "The Kelly Clarkson Show" that he was scared to death of guest-starring amongst such a tight-knit group of actors. However, all the concerns would be for naught, as Tom Selleck ended up being nominated for an Emmy for the role.
Selleck was wary of taking the role on "Friends," as he didn't want to signal a return to full-time TV, according to an interview with the Washington Post. But two years later in 1998, he was offered a starring role in a new sitcom, "The Closer." Originally, Selleck's part on "Friends" was meant to be a one-off which, of course, wasn't the case. Not only did he end up extending his role on "Friends" to 10 episodes, but he would do a full season of "The Closer," and 13 Seasons of "Blue Bloods."
It's got to be said: The small screen loves Selleck.
He finds fulfillment working on his ranch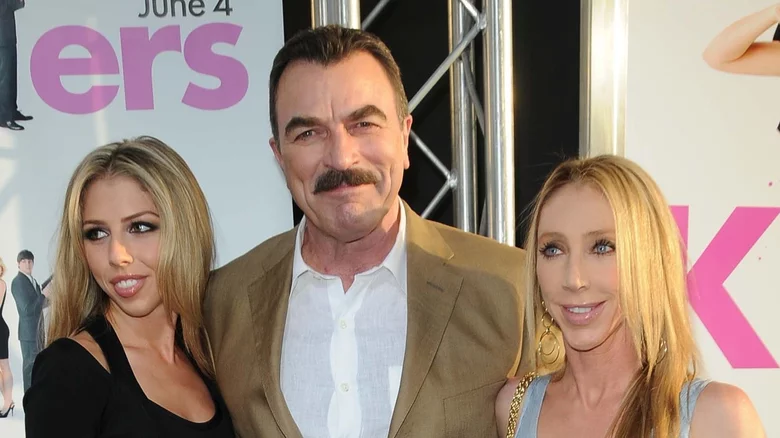 Selleck has always been an avid outdoorsman, enjoying hunting, shooting, and fishing. This love for the outdoors has translated to a love for working on his 1,500-acre avocado farm in California. While Selleck doesn't like the taste of avocados, he finds the action of planting a tree and watching it grow to be one of the most fulfilling experiences in his life. According to an interview with Closer Weekly in 2018, Selleck discussed the peace he finds in ranching: "You dig a hole and plant an oak tree — and I've probably planted a thousand of them — it's real. It's there, and you can watch it grow. It's a lot different from being famous, and it keeps me sane."
In 1988, after eight years of filming "Magnum, P.I.," Tom Selleck and his wife, Jillie Mack, purchased the ranch, which had once been owned by Dean Martin. Despite the popularity of "Magnum, PI.," Selleck was tired after years of filming and quit the show in order to rest and enjoy his new home, according to an interview with People.
Playing law enforcement characters is his forte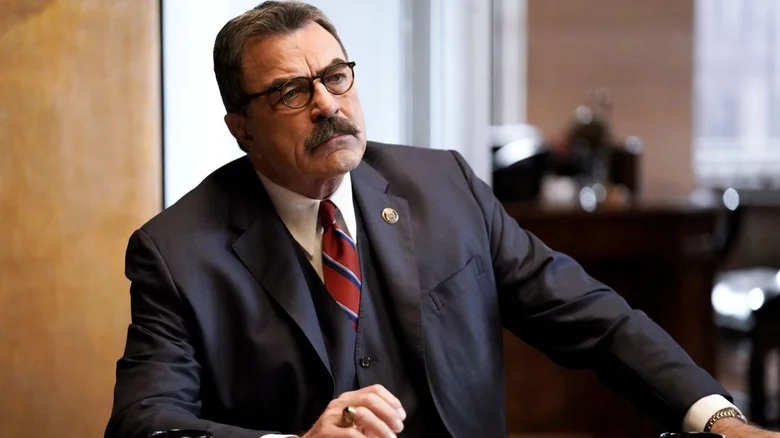 After the lukewarm reception for "The Closer," which was canceled after only 10 episodes, Selleck seemed to struggle to find the right projects. He'd deliberately avoided getting entangled in a drama series, finding the long days of filming needed for hour-long episodes too demanding with young children. He'd settled on 1998's sitcom role in "The Closer" since it would allow him more time with his family, he told The Washington Post. "The Closer" was a comedy, where Selleck would play a publicist starting his own marketing firm, but the sitcom fell flat with audiences.
That's when Selleck went back to his roots: the lawman. Since 2005, Selleck has played Jesse Stone in the made-for-TV series, a down-on-his-luck officer who becomes the police chief of a small town in Massachusetts. The role of Stone fit Selleck perfectly, meshing nicely with his admiration for mentor James Garner and the justice-driven man of the law.
In 2010, Selleck began filming for his longest-running TV show role: Frank Reagan on the CBS crime drama,"'Blue Bloods." Its loyal fan base has soaked up the law enforcement family drama, with Tom Selleck at the helm as patriarch.