Why Olev Kozlov From NCIS Looks So Familiar
Despite losing three of its central protagonists over the years — including Mark Harmon's Leroy Jethro Gibbs, Michael Weatherly's Anthony DiNozzo, and Pauley Perrette's Abby Sciuto — CBS' "NCIS" is still plugging along and still drawing in viewers, albeit far fewer than it has in past seasons (via The Hollywood Reporter). Though even big "NCIS" fans wouldn't be sad if the show finally ended, it appears the prime-time mainstay won't be going anywhere anytime soon (via Deadline).
Of course, a series doesn't stay on the air for two full decades without knowing how to reel its restless viewers back in, and if Season 20, Episode 7 is any indication, the most-watched show on television still has some tricks up its sleeve. In "Love Lost," a familiar and long-beloved face of the "NCIS" universe reemerges, and though he appears as a different character entirely, the man behind nefarious bookie Olev Kozlov undoubtedly conjured up feelings of nostalgia for both the series' and its predecessor's former glory, and for good reason. The actor, whose career spans nearly five decades, has been tied to a number of well-known projects over the years.
Patrick Labyorteaux was a Little House on the Prairie star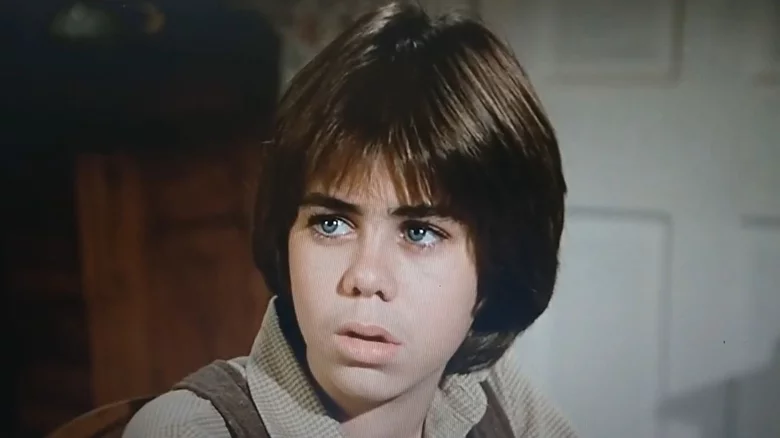 NBC/YouTube
In 1974, NBC struck gold with "Little House on the Prairie," an adaptation of Laura Ingalls Wilder's celebrated children's books about her experiences growing up in a pioneer family in the late 19th century. If you remember the show, you undoubtedly remember Laura's (Melissa Gilbert) friend Andy Garvey, portrayed by Patrick Labyorteaux.
The nine-season series was a cultural touchstone and remains a kind of TV comfort food for those who grew up watching it despite its occasionally dark and twisted storylines (via New York Times). As Vulture's Wendy McClure writes, "One moment you're recalling Laura and Mary walking to school through the prairie swinging their lunch pails and the next your mind is screaming AND THEN MA ALMOST CUT HER OWN LEG OFF. Because it's true: Ma almost cut her own leg off. And Pa built a stone altar to bring Jason Bateman back to life. And there was anthrax in Walnut Grove. It all happened."
It did, and Andy was at the center of one of the show's darker storylines. After his mother d13s in a fire and his father begins drinking heavily, Andy stays with the Ingalls for a short period of time before eventually reuniting with his father and moving on. Labyorteaux appeared in over 40 episodes across four seasons, and though his other well-known roles are a far cry from the adorable Andy, there are elements of the character's quirk and humor in each.
He grew up to star in Heathers and Ski School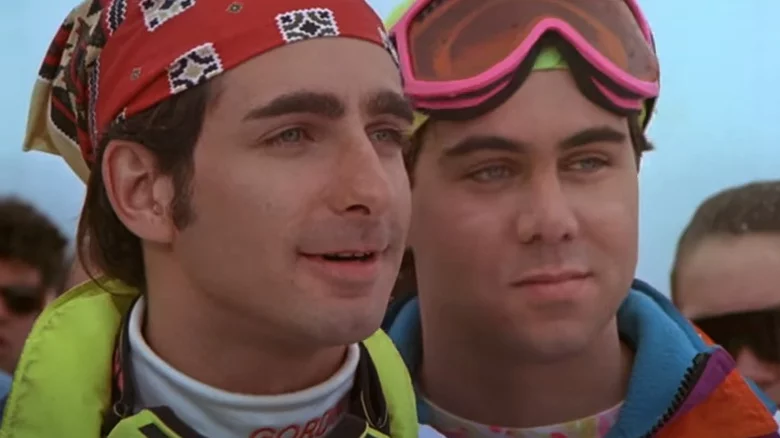 Moviestore Entertainment/YouTube
In 1988, Patrick Labyorteaux nabbed a key role in another era-defining cult classic, Michael Lehmann's "Heathers." The dark comedy sees Winona Ryder's Veronica Sawyer fall for Christian Slater's unbalanced bad boy Jason "J.D." Dean after becoming disillusioned with the teenage in-crowd. Labyorteaux portrays Ram Sweeney, an archetypal dumb jock bully whom Veronica and J.D. lure into the woods and k1ll.
Two years later, the actor found himself in another "of its time" comedy, "Ski School." There are shades of the so-early-'90s-it's-'80s teen sex comedy in the franchise, and though its portrayal of women is cringeworthy even for the time, its "ragtag group of athletes take on the slick, rich pros" storyline is now a well-known formula. Like most characters in "Ski School," Labyorteaux's Ed Young is a horny and dull-witted 20-something-year-old who skis and wears lots and lots (and lots) of neon.
Labyorteaux played a major role in JAG's success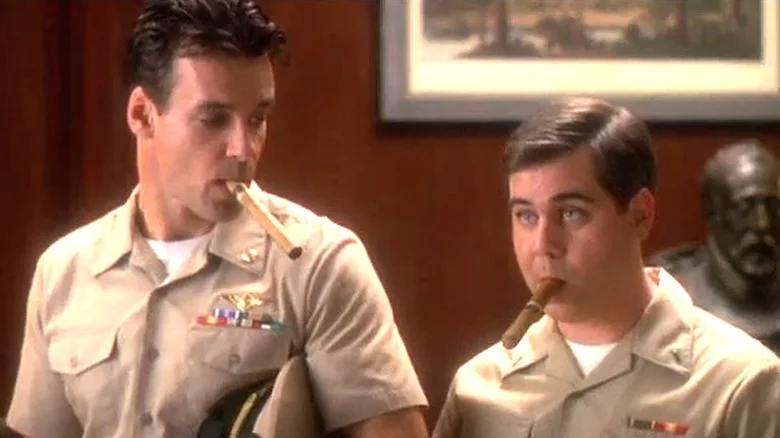 CBS/YouTube
From 1995 to 2005, Patrick Labyorteaux starred as Bud Roberts, Jr. in the series that would spawn an entire military procedural universe, Donald P. Bellisario's "JAG." Bud — a somewhat socially awkward public affairs officer and eventual JAG lawyer — is the comedic inverse of his superiors: the more traditionally heroic and debonair Harmon Rabb, Jr. (David James Elliott), and the witty and sophisticated Sarah "Mac" MacKenzie (Catherine Bell).
Labyorteaux starred in over 200 episodes of the storied series, whose lifespan and ratings were a thorn in NBC's side after the network dropped it, only to have CBS scoop it up, turn it into viewership gold, and transform it into the ever-expanding machine that is "NCIS." Though the conclusion of the series was not, it turns out, the conclusion of Bud Roberts (who'd later become Captain Bud Roberts), it was the last time fans have seen Labyorteaux in a regular series role.
He starred as JAG's Bud Roberts several more times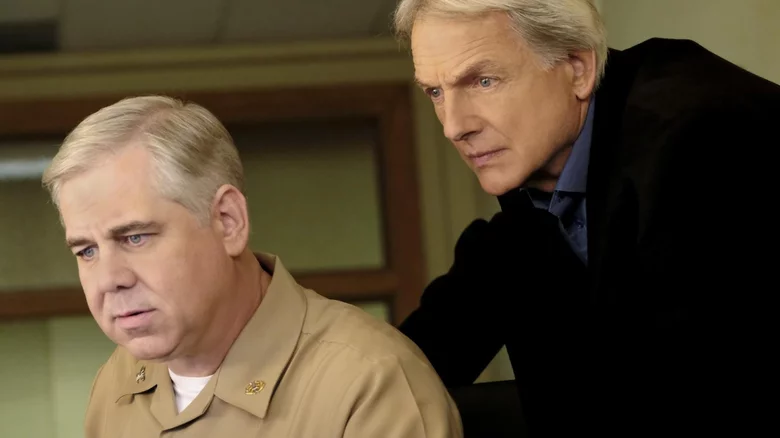 Eddy Chen/CBS
Patrick Labyorteaux's beloved Bud Roberts, Jr., has also appeared in a number of "NCIS" episodes. He is first seen in Season 1, Episode 2, "Hung Out to Dry," perhaps as a way to bridge the gap between "JAG" and the start of its first (and most successful) spin-off. Gibbs tricks him into signing some search warrants he needs for a case. It's a short scene but one that both establishes Gibbs as a skilled manipulator and ties the fledgling series to its popular predecessor.
Bud also appears in Season 14, Episode 1, "Rogue," and Season 15, Episode 12, "Dark Secrets." Although "JAG" had been off the air for over a decade by this point, tapping him for assistance helped further flesh out the procedural's universe. "NCIS" may be responsible for "NCIS: Los Angeles," "NCIS: New Orleans," "NCIS: Hawai'i," and whatever "NCIS: Red" almost was, but it all started with Donald P. Bellisario's "JAG," a series to which Labyorteaux's Bud Roberts lends both levity and charm.
Labyorteaux has appeared on a wide range of TV series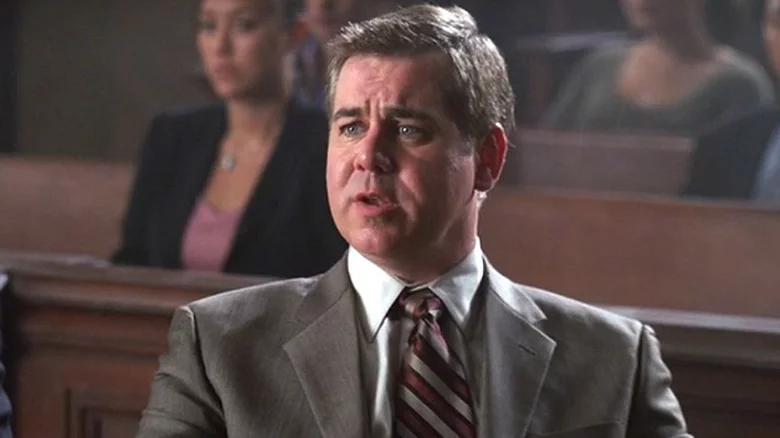 CBS
Throughout Patrick Labyorteaux's career, he's found steady work guest starring on a number of TV series. While his appearances and roles are small in each, they are, to say the least, plentiful. Following "JAG" and his initial appearance on "NCIS," he showed up briefly as William Broeder in 2007's Season 5 finale of CBS' "Without a Trace" and later appeared as Jeffrey Crockett in Season 4, Episode 16 of "Ghost Whisperer" and as Wilson in Season 3, Episode 6 of Nickelodeon's "iCarly" in 2009.
After taking a beat from television to pop up in the little-known independent thriller "In My Sleep," Labyorteaux returned to prime time with a small role in Season 1 of "American Cr1m3 Story" (as National Enquirer columnist and author Mike Walker) and hit the ground running with single-episode appearances on "Castle" and "Scandal" in 2016, "Rebel" in 2017, and "The Offer" and "For All Mankind" in 2022.
The actor's sheer number of roles suggests that "NCIS" fans are likely to have seen him, however briefly, at some point in the last 15 years. It's his place in the "JAG" universe, however, that undoubtedly made him a household face for fans of the procedural powerhouse.