The Life And Career Of NCIS Actor David McCallum Through The Years
Depending on who you ask, David McCallum may be best known for "The Great Escape" or "The Man from U.N.C.L.E." Of course, he's also found great success in more recent years, thanks to "NCIS." There's also his music career, as well as his work in literature. Whatever the case may be, his talent is undeniable and his career in the industry extremely respectable.
McCallum was born in Glasgow and he grew up in an artistic family. Classical music was a very big deal in his home, as his mother played the cello and his father a conductor. He recalled to The Scotsman, "Father was unique in that his hands were really the centre of his life, and keeping his hands safe and in perfect condition was paramount. … He would practise his violin incessantly, so we had the sound of the music throughout the house all the time."
Starting on the other side of the pond and then making the jump to America, McCallum built himself a memorable career with unforgettable roles. From voice acting to the Army to drama school and writing a book, he has done it all.
He grew up during World War II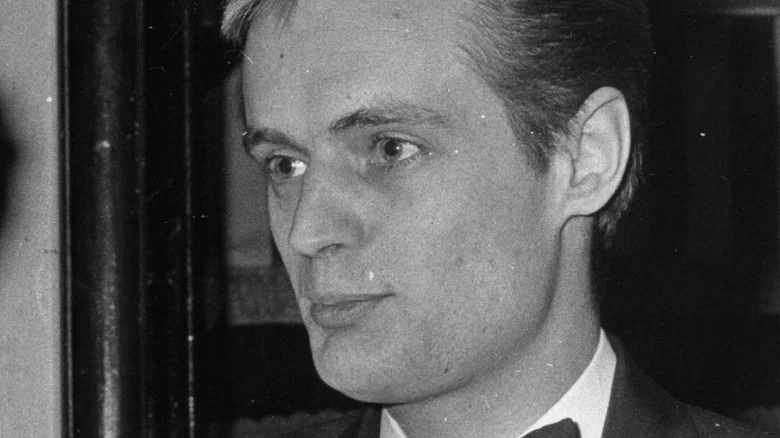 Evening Standard/Getty Images
When he was still a kid, David McCallum's family left Scotland for England because his father had taken a job with the London Philharmonic. However, things changed drastically during World War II. As he told The Scotsman, "At the end of 1939 or the beginning of 1940, I was evacuated. I always seem to think it was with one of the little brown boxes with a gas mask and a piece of string and a label tied on my coat, but probably my mother took me up in a more civilised manner." In a separate chat with the Daily Mail, he shared that his family headed back to Scotland after they evacuated. Some years later, the family ended up back in London. 
Unsurprisingly, living through a war stuck with McCallum. In an interview with the Television Academy Foundation, he said, "I used to dive into my mother's bed before [bombs] blew up. My father used to sit and watch the bombs coming down in the window." He shared other specific memories, like going to school one day after an explosive had knocked out all of the windows in the building, and hiding behind a wall from a V1 missile.
He went to University College School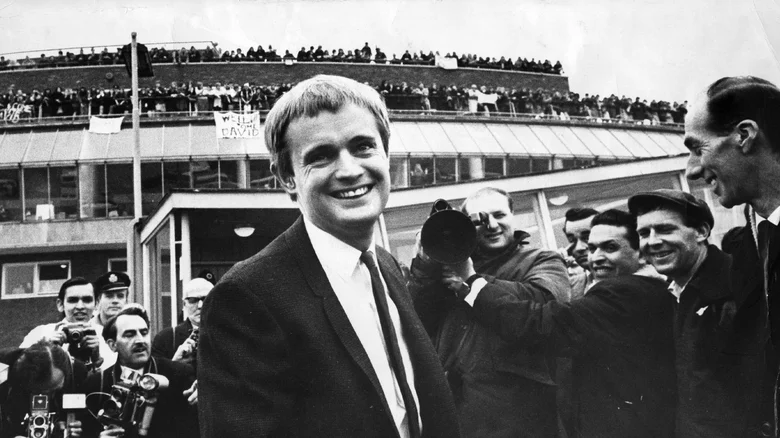 Evening Standard/Getty Images
David McCallum did not always have his sights set on an acting career. Given his parents' love of classical music, it seemed obvious that he would follow in their steps. He once said in the Daily Mail, "At home, music was omnipresent, and my parents both assumed at first that I would follow them into the family business." His father hoped he'd grow up to become a professional oboist, and so, the oboe lessons began when he was in grade school. One time, he was even asked to sub in for his mother during a performance, but as he told the Daily Telegraph Weekend Magazine (via David McCallum Fans Online), he had his sheets out of order and ended up playing the wrong thing at the wrong time. "Years later my mother told me she felt she'd really let me down," he said. "I said she'd taught me the best lesson of my career–never appear in public unless you know precisely what you're doing." 
McCallum started attending the University College School in Hampstead when he was 10 years old. "I was in the school orchestra and gave the odd recital," he said in the Daily Mail. "But I was also involved in amateur dramatics." As he shared with Stay Thirsty Magazine, he parted ways with the academic institution when he was 16, as he was ready for the next chapter. However, that chapter was not all about music.
He began doing voice work for the BBC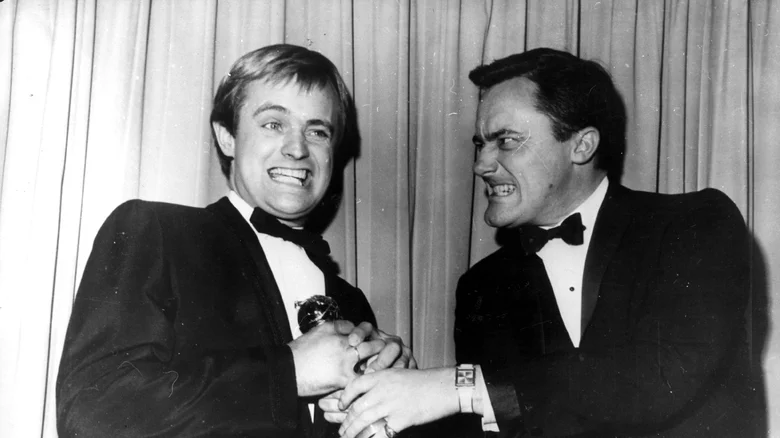 Keystone/Getty Images
Long before he became Ducky on "NCIS," David McCallum fell in love with acting while participating in a stage production at his local church. "My life as an actor started when I was about 10 years old," McCallum said at "The Great Escape" 50th anniversary screening, as reported by Cinema Retro. "I did this in a very small theater in a church, and at the end I got a standing ovation. The scene got a standing ovation, but I assumed it was for me. At that moment I realized I had come home, I had found the place where I was going to be for the rest of my life." From then on, he was all in on theater. 
As per The Press and Journal, in addition to honing his skills as an actor on the stage, McCallum began doing voices for BBC Radio in 1946 — when he was still a tween. As he told the Daily Mail, though this work earned him his Equity card, he apparently kept the gig under the radar. "Nobody really knew about it at school," he shared. 
He joined the British Army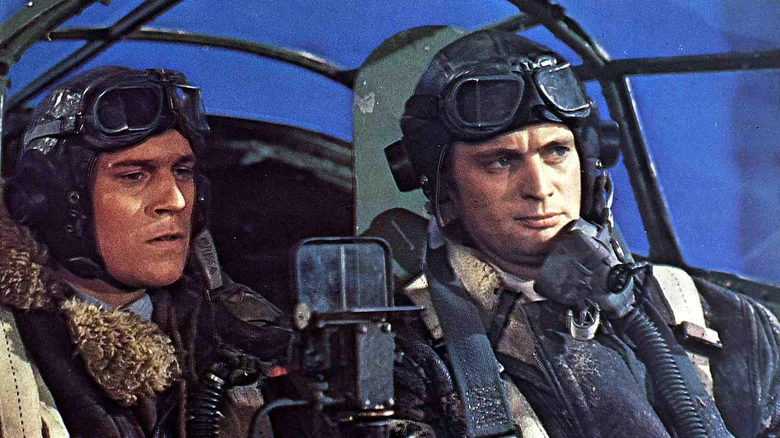 United Archives/Getty Images
Before his acting career would really take off, David McCallum served in the military. "Back in the fifties, I was commissioned into the British Army and went immediately to C Company of the 3rd Battalion, Gold Coast Regiment which was part of the Royal West African Frontier Force," he told Stay Thirsty Magazine. 
Years after he served in the British Army, McCallum appeared in war-themed films, including "The Great Escape," "Mosquito Squadron," and "The Ravine." As it would turn out, his experience in the military ended up being solid training for these roles. According to Cinema Retro, he said at a 50th anniversary event for "The Great Escape," "The wonderful thing about being in the British Army is you learn how to put the uniform on, how to march, how to salute, and that all came in very useful later on, on several occasions, 'The Great Escape' being one of them." Needless to say, he looked like he knew what he was doing because he really knew what he was doing. 
David McCallum attended RADA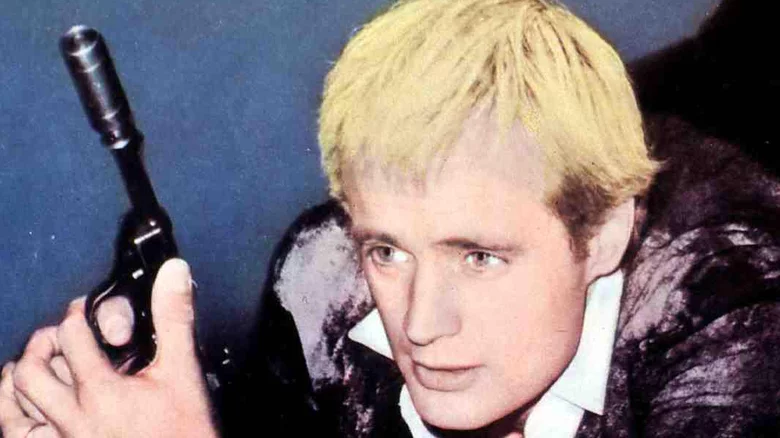 United Archives/Getty Images
After his time serving in the British Army, David McCallum headed to the Royal Academy of Dramatic Art. According to The Scotsman, while he was at RADA, he got involved with both acting and stage managing. "It was interesting, and I was there with Joan Collins, but it seemed a little silly in some ways compared to just doing the job," McCallum recalled to the Daily Mail. "I started in repertory theatre as soon as I left." He told the Mirror that he and Joan Collins also happened to be in the same fencing class. "She wasn't that good a fencer but, boy, she looked good," he quipped. 
Looking back at his time as a stage manager, McCallum told the Television Academy Foundation that he had actually been tipped off about the job opportunity at the theater before he started his stint in the military. He looked forward to working with the theater the entire time he was away, and he jumped on the gig as soon as he was back. "After World War II, every young man who was an actor or who wanted to be an actor came back and flooded the repertory theaters," he recalled. In addition to doing electrical work behind the scenes, McCallum also took whatever odd roles that might've popped up. "If there's a delivery man who brings something, you get the part," he said. 
His first well-known role was in The Great Escape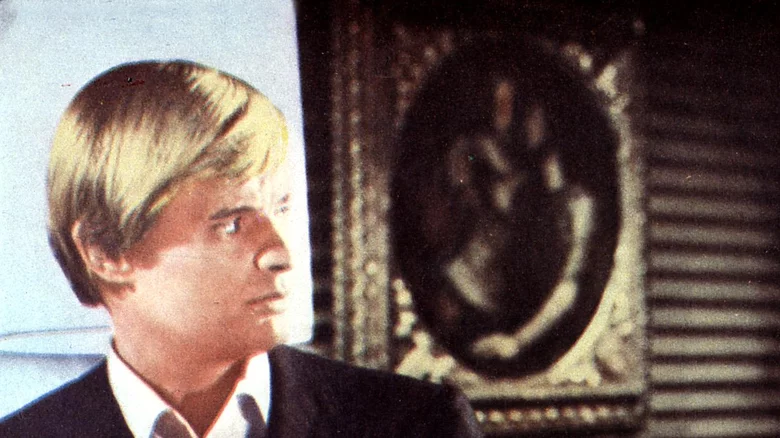 United Archives/Getty Images
The 1963 film "The Great Escape" tells the story of a group of POWs' plan to escape from a German camp during World War II. McCallum played Eric Ashley-Pitt, also known as "Dispersal," and it would become his first world-renowned role. "I had been doing an awful lot of television, and working in the theater. [Agent Derrick Marr] called me and said that I'd gotten a request to meet with the casting director of the film," he recalled to Media Mikes. That call would change McCallum's career trajectory in a major way.
Still a green actor at the time of production, "The Great Escape" gave McCallum a chance to work with actors who were already famous and established in the industry. Though sharing a call sheet with Hollywood legends like Steve McQueen and Charles Bronson might intimidate a new actor, McCallum was made to feel right at home. As reported by Cinema Retro, he told the crowd at a 50th anniversary screening of the film that the director reached out straight away to make sure he was made to feel at ease while working on the project. "When I arrived on set, John Sturges, the director, gave me a letter, and in the letter it said, 'Let us know what you want, do you need a babysitter, where would you like to live, would you like a car, would you like a driver?' Which was welcoming in a way which I never thought possible," he recalled. 
He was on The Man from U.N.C.L.E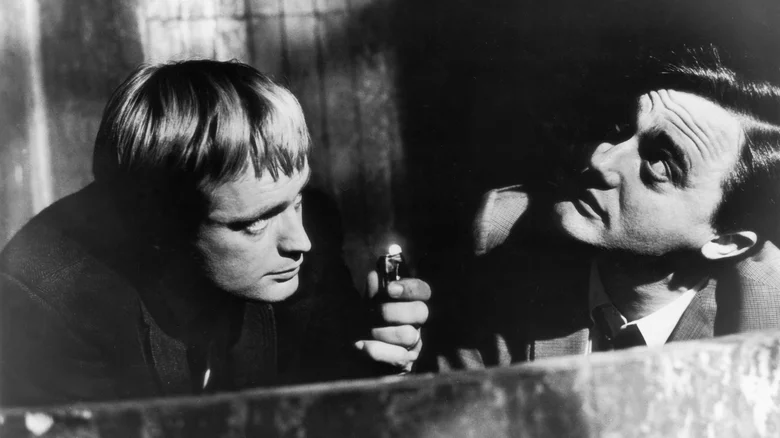 Evening Standard/Getty Images
"The Great Escape" became David McCallum's first well-known movie, and "The Man from U.N.C.L.E" his first TV series. In the spy series, he played the role of Illya Kuryakin from 1964 to 1968 and starred opposite Robert Vaughn. And as he told My Weekly in 1986 (via David McCollum Fans Online), he continues to look back on the program with fondness. "I never saw the series at the time because we were always working, but I've seen some of them since and they're very stylish, and also very funny," he said. And while he didn't have time to watch the show because he was busy making the show, he sure enjoyed the process of making it. "I loved doing 'U.N.C.L.E.' –the company and crew were wonderful," he said. In 1983, McCallum and Vaughn reunited for the made-for-TV movie "Return of the Man from U.N.C.L.E." In 2007, Vaughn told MovieWeb he'd be open to returning to the franchise in some capacity; McCallum, on the other hand, has apparently long moved on. 
Though he may not be interested in reprising the role, the show clearly means a lot to McCallum. He told the Television Academy Foundation, "There was an old lady and she was in a bed, it was probably in a hospital, and she said she was so happy cause she could look forward to every Monday night … [The series] made her week and it made her feel better. That's really why we do it."
He became an important part of NCIS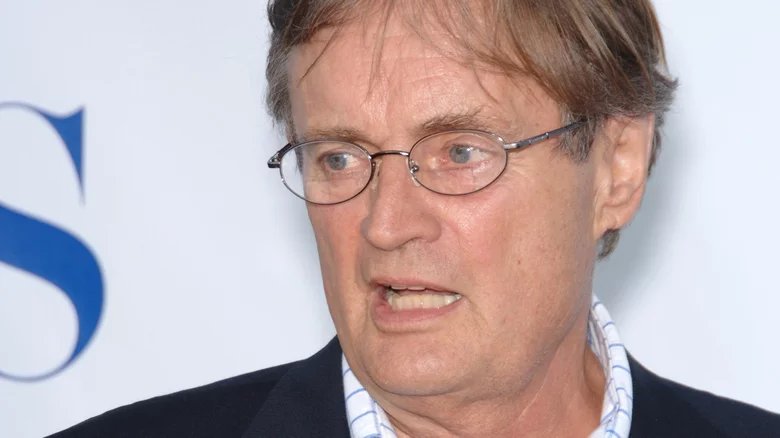 Featureflash Photo Agency/Shutterstock
In 2003, David McCallum made his debut as Ducky on "NCIS." This beloved character has not only been with the show since the beginning, but is without a doubt an integral part of the tight-knit ensemble. As reported by Newsweek, producer Frank Cardea once said at a CBS event, "It feels like a family, both on camera and off camera. I think that comes through. You feel comfortable with these people, and you know these people like each other. But I think it's that little touch of humor that makes us a little different." 
Ducky is a fan-favorite character because of what McCallum brings to the screen, but also for the relationships he has created with the characters around him. As executive producer Steven D. Binder told TV Insider, one of the character's strongest connections happens to be with Gibbs (Mark Harmon). "Gibbs is someone who has trouble with relationships and is not the most social of people," Binder said. "That's where Ducky comes into play. We get into a lot of Gibbs' psychology."
At the beginning of 2022, McCallum seriously considered exiting "NCIS," but the powers that be had a different plant for him. "I sort of decided to leave the show," he said, per Express, "and they said, 'No, we'd like to make you the historian so you're still a part of the show.'"
He has a career as a musician and an author


Andrew H. Walker/Getty Images
Although David McCallum is nowadays mostly known for his acting career, he has always stayed close to the music that got him started in the world of art. "I always knew that I could turn to music if I failed as an actor," he told 16 Magazine back in 1966 (via David McCallum Fans Online). While he most certainly did not fail as an actor, he did end up turning to music anyway. He has released a handful of albums, and there's a good chance you're familiar with his song "The Edge." As noted in The Press and Journal, the Dr. Dre and Snoop Dogg track "The Next Episode" features a sample of the track.
But music wasn't the only other artistic venture he's taken on. McCallum decided to dip his toes in the literary world by becoming the author of "Once A Crooked Man." "I've been doing [the book] for a long time," he shared with Herald Scotland. "I sat down and started to write, and over the years, literally, it gathered together until maybe three years ago when I decided it was time to stop being foolish, and I sat down and finished it." The years of writing turned into a novel that includes suspense, espionage, cr1m3, and drama.
His grandkids call him 'grand-ducky'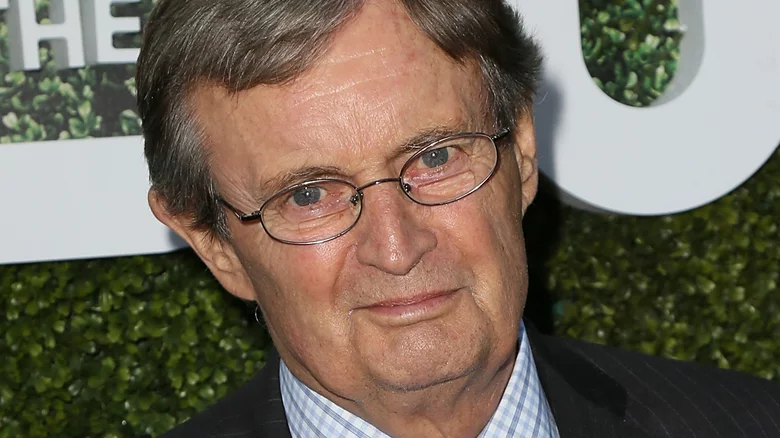 David Livingston/Getty Images
"I decided to keep 10 percent of my life to myself. I think an entertainer is entitled to that much," David McCallum told Woman's Day in 1966 (via David McCallum Fans Online). Outside that 10 percent of privacy, his fans learned he was married twice: first to Jill Ireland and then to Katherine Carpenter. In total, he has five kids. Sadly, one of his children d13d in 1989. As he shared with Belfast Telegraph, "You never come to terms with the d3a th of a child. The pain is very real, but it's like an ache that turns into anger."
McCallum is also a proud grandfather. As he told the Los Angeles Times in 2015, "We have six boys in New York and two girls here. I keep the boys and the girls on different coasts so I can keep them straight." As he shared in the aforementioned Belfast Telegraph interview, they all call him "grand-daddy," but a few have adopted a name that's a wink at his "NCIS" character. "And some of them have the cheek to call me grand-ducky," he said.