NCIS: LA Fans' Hearts Are Melting Over That Tender Deeks And Rosa Moment In Season 14 Episode 7
The CBS procedural "NCIS: Los Angeles" has become a staple of television over the course of its run, which has gone for 14 seasons and counting. Created by Shane Brennan, the show began as a spinoff of fellow procedural "NCIS," co-created by TV legend Donald P. Bellisario. Often shortened to "NCIS: LA," the show's cast includes Chris O'Donnell, LL Cool J, Eric Christian Olsen, and Daniela Ruah as members of the LA branch of the Naval Criminal Investigative Service, specifically in a top division known as the Office of Special Projects, or OCP.
Episode 7 of the show's Season 14, titled "Survival of the Fittest," saw the character of Deeks (Olsen) juggle helping the team figure out how a Private First Class got sick from gene modification, while also trying to take care of his adopted daughter, who has the flu. The interactions between the two characters left a lot of fans teary-eyed, and they felt their hearts melting, as they expressed on social media. Here's what the fans had to say about the episode.
Deeks being fatherly touched many viewers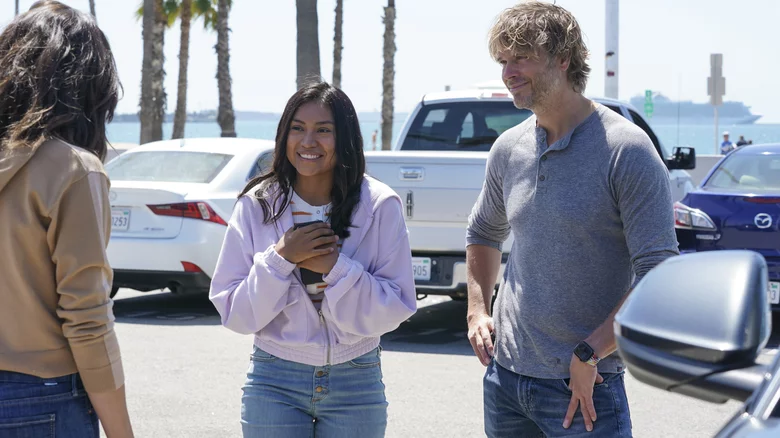 Sonja Flemming/CBS
On Twitter, fans of "NCIS: Los Angeles" expressed their appreciation for the parent-child relationship between Marty Deeks, played by Eric Christian Olsen, and Rosa Reyes, played by Natalia del Riego. User @KRC1977 was succinct in their praise that "Deeks as a dad is everything I hope for," a sentiment to which @FanNcislanola responded with enthusiastic agreement. @KrystleManning2 offered support for Eric Christian Olsen's character, writing, "Awe Deeks you're doing a good job it's not easy being a parent and balancing a job on top of it." In a second tweet, they also expressed fondness for Deeks' mention of his hair being "styled by a pillow."
In a tweet of their own, user @rollinschen noted that Deeks kissing his hand and pressing it to Rosa's forehead was subsequently mirrored by his mother, Roberta Deeks (Pamela Reed) doing the same gesture to get Marty to sleep. The user noted that the parallel proved Deeks got the action from his mother, calling it "a Deeks thing." 
@elizabethl36 summarized the fandom's sentiments on the relationship's portrayal in the episode, saying that "seeing Deeks in worried dad mode and mama Deeks being there for both him and Rosa was enough to rip my heart in two."
Deeks' fatherly instincts could suggest that he is trying to give Rosa the loving childhood he didn't quite have growing up. In a 2013 interview during that year's Festival de Télévision de Monte-Carlo, Eric Christian Olsen said that his character is interesting because "he's obviously come from a very tumultuous relationship with his father and maybe no relationship with his mother." He added that despite these challenges, Deeks found success as an adult; first as a lawyer before changing course and becoming a detective.