NCIS' Diona Reasonover Initially Envisioned A Much Different Storyline When Co-Writing Her First Episode
Contains spoilers for "NCIS" Season 20, Episode 8 — "Turkey Trot"
"NCIS" Season 20 has given fans exciting new episodes before the upcoming Thanksgiving break. The latest episode from Monday, November 21 was even holiday-themed and titled, "Turkey Trot." Fittingly so, the Major Case Response Team attends a local Turkey Trot 5K to provide discrete protection for Navy Admiral Martha Stock (Gillian White) while Kasie Hines (Diona Reasonover), Jimmy Palmer (Brian Dietzen), Jessica Knight (Katrina Law), and Nicholas 'Nick' Torres (Wilmer Valderrama) trot. Timothy McGee (Sean Murray) and Alden Parker (Gary Cole) are specifically the agents on protection detail when an explosion occurs while Admiral Stock fires the starting gun for the event. The team quickly discovers that it wasn't a bomb, but a bullet that hit a gas tank that set off the explosion, and it appeared to have been aimed directly at the admiral.
During their investigation, Kasie and Knight get caught at gunpoint by the new boyfriend of Knight's sister, Robin (Lilan Bowden). The team simultaneously figures out that Robin's boyfriend Charlie (David Blue) was the shooter at the Turkey Trot, but appeared to be aiming for Knight instead due to a complicated event from her past. "Turkey Trot" keeps tensions high, and you might not have known that it was co-written by Diona Reasonover herself. Although she may be known for her acting, Reasonover has written for multiple projects before, including "I Love You, America" and "Adam Ruins Everything" (via IMDb).
However, Reasonover recently revealed that she envisioned a slightly different storyline for "Turkey Trot."
Reasonover's original plan involved Knight and Jimmy being held hostage at dinner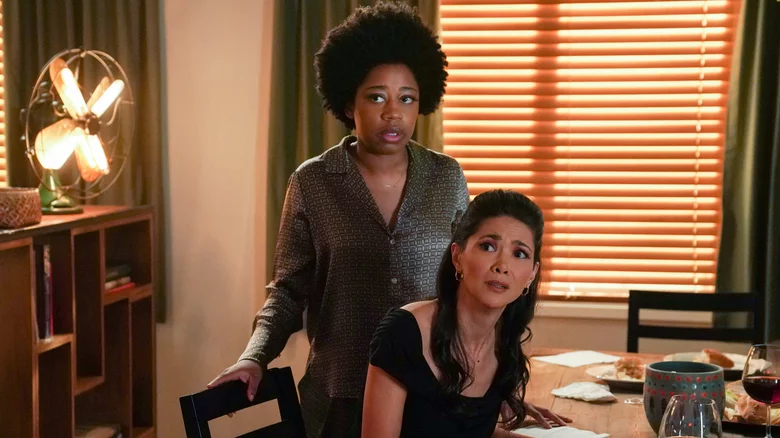 Sonja Flemming/CBS
While speaking with Parade about "NCIS" Season 20, Episode 8, Diona Reasonover explained that the script that she co-wrote with executive producer Scott Williams was originally a little different. At first, Reasonover desired to focus the story around Jessica Knight and Jimmy Palmer. The two have notably had a budding romance since the end of Season 19, and the gunpoint situation involving Knight and her sister, Robin, would have featured Jimmy there in place of Kasie. "At that time, that was still very much in development, and we weren't sure where that was going to go," Reasonover said of the dinner scene. "So, Scott was like, 'We've got to do someone other than Knight and Jimmy.' And I literally begged him. I said, 'Please not Kasie, she's been through so much.' And he said, 'Baby, it's Kasie or it's nobody.' So here we are," she continued.
Williams' notion that they had to do someone other than the new team couple came from the episode that already featured tensions in their relationship with Episode 4 of Season 20, "Leave No Trace." This notably featured an ex-boyfriend of Knight's (Caleb Alexander Smith) and made Jimmy and Knight discuss the seriousness of their relationship. After ultimately deciding to use Kasie, Reasonover said that she had to give Kasie a different and humorous reaction to being at gunpoint this time, given that it has now happened to her often on the show.