NCIS' Rocky Carroll Will Always Hold His Very First Episode As One Of His Favorites
"NCIS" Season 20 is about to reach its holiday break in a few weeks, and so far, the season has been eventful. The premiere featured a resolution in Alden Parker's (Gary Cole) framing and led to the capture of Herman Maxwell (Michael Weston), thanks to some assistance from "NCIS: Hawai'i." Other than that, Nicholas Torres (Wilmer Valderrama) puts himself in a troubling situation during Episode 3, "Unearth," where he is nearly k1ll3d protecting Dr. Grace Confalone (Laura San Giacomo). Cole is a recent addition to the team, but Torres was brought on during Season 14. Neither yet have the veteran experience of Timothy McGee (Sean Murray), who's been around since the first season of "NCIS," or Leon Vance (Rocky Carroll), who's been the NCIS Director since Season 6 after the d3ath of Jenny Shepard (Lauren Holly).
Carroll is a highly experienced actor. One of his first roles was even a small part in 1989's "Born on the Fourth of July" starring Tom Cruise (via IMDb). He would even go on to be part of "Chicago Hope" for over 95 episodes in the 1990s, where he developed a friendship with fellow cast mate Mark Harmon. After Harmon began leading "NCIS" in the early 2000s, Carroll auditioned for Leon Vance, and the actors were side-by-side on the series until Harmon's recent exit as Leroy Jethro Gibbs during Season 19.
After being part of over 300 episodes on the show, however, Carroll has revealed that he holds two episodes as Vance in high regard.
Rocky Caroll says his first appearance in Season 5 of NCIS remains his favorite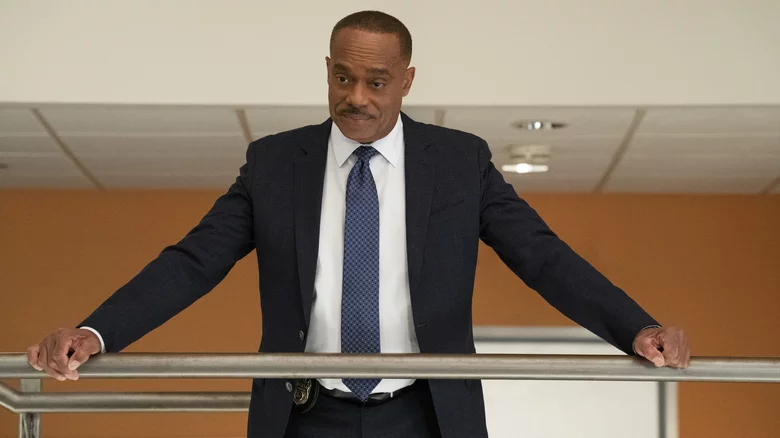 Robert Voets/CBS
While speaking with Assignment X in 2018 about everything "NCIS," Rocky Carroll was asked about his favorite scenes or episodes over the seasons. "Oh, man. We have done so many. I think I'd really have to sit and dissect them because it's such a blur, because when you do twenty-four [episodes] in a season, the moment you finish one, you go into another," Carroll said. "But I still remember my first episode [Season 5's "Internal Affairs" in 2008] where my character was introduced, which is one of my favorites, and there is an episode called "Knockout," where we first got a sense that my character had a life that went above and beyond just being the Director of NCIS," he continued.
Vance's introduction isn't necessarily a positive one for the Major Case Response Team. Nevertheless, this sticks out in Caroll's mind, along with the Season 6 episode, "Knockout," which focuses on Vance's former boxing career. As Carroll detailed in the interview, it's one of the first times fans were introduced to Vance on a more personal level, which must've been satisfying as an actor.