Maria Bello: An Inside Look At Her Life And Career
We may receive a commission on purchases made from links.
Maria Bello is a gifted Hollywood actor, producer, and writer who has been gracing both big screen and small for decades with her charismatic and intelligent performances. She kicked off her career in the '90s with a stint on the era-defining medical drama "ER," then transitioned into movies like "Coyote Ugly," "The Cooler," and "A History of Violence" in the '00s. She bounced back to television with star-turns on network television series like "Prime Suspect" and the CBS megahit "NCIS," where she played Dr. Jack Sloan. While she was building her top-notch Tinseltown resume, Bello was cultivating an impactful career as a global humanitarian activist, working in Darfur and Haiti.
Bello has been an open book, literally, about her personal life, penning a now-famous "Modern Love" essay for The New York Times that ignited her passion for vulnerable, through-provoking public conversations. Bello doesn't shy away from speaking about her mental health or her untraditional approach to her love life, but there are plenty of facts that even the most ardent Bello follower might not be aware of. From her special bond with a priest to her surprising lack of Oscar love, read on get an inside look at the inspirational life and career of the very talented Maria Bello.
One of her closest relationships was with a priest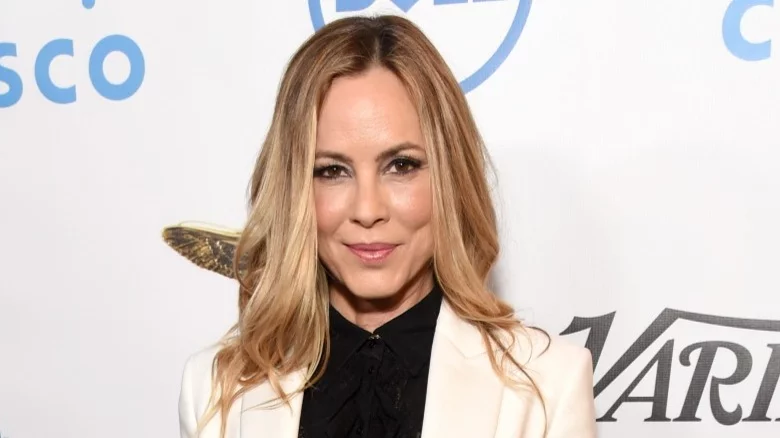 Michael Kovac/Getty
Like many young scholars, Maria Bello found lasting inspiration from a beloved college mentor. Bello didn't always want to be an actor. Before she was starring in movies like "Thank You For Smoking" and TV shows such as "Prime Suspect," she had legal aspirations. At Villanova University, Bello studied to become a women's rights lawyer, but taking an acting elective class changed her life. In an interview with Villanova University, Bello says she enjoyed performing, but pursuing the thespian life conflicted with her law trajectory. Confused by her artistic revelation, she sought counsel from her mentor and close confidant, Rev. Ray Jackson.
Bello recalled to Oprah Magazine that she first took Rev. Jackson's Introduction to Peace and Justice Education as a freshman. They spoke daily and shared meals together, with Bello telling NPR they bonded over their mutual passion for justice and peace. So when Bello went into crisis mode about her future in acting, Rev. Jackson was there with sage advice. As Bello recalled to the Delco Times, "The thing that Father Ray told me changed my life. That is, 'You serve best by doing the things you love.'" Their relationship had a profound impact on her life, so much so she named her son Jackson after him.
Her role in Coyote Ugly came naturally to her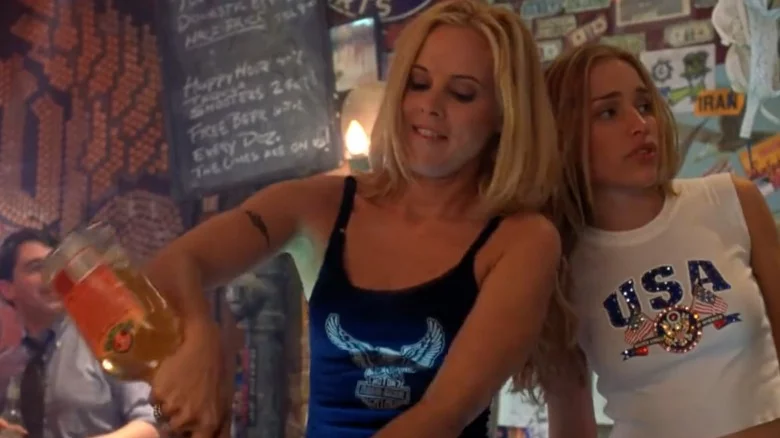 Buena Vista Pictures
Like many aspiring young actors, Maria Bello left her hometown for the Big Apple after college. She recalled to NPR, "And so two trash bags filled with clothes and $300, I made my way to New York City." But how do you pay the rent when your luggage is a Hefty sack but your dream is a Louis Vuitton trunk? Sling liquor, naturally. As she recalled to The New York Times, early in her career, Bello was bartending and auditioning nonstop. Bello honed her drink-slinging skills at a number of New York City watering holes, telling Craig Kilborn on "The Late Late Show" that she even worked at a karaoke bar where she sang on stage. What she didn't know was that experience was an inadvertent precursor to her role in the 2000s movie "Coyote Ugly."
In "Coyote Ugly," Bello's character runs a bombastic New York City Bar where sexy bartenders strut their stuff for raucous patrons. In a behind-the-scenes video for the movie, veteran bartender Bello quipped, "I've been training my whole life for this job." Looking back on her experience making the movie, Bello once wrote on Instagram, "Proud to have been a part of a film that celebrated women's dreams and friendships." In a separate post she recalled, "I'm thinking about 30 years ago when I was bartending in the West Village, dreaming of being me one day."
Maria Bello's secret affair with a married actor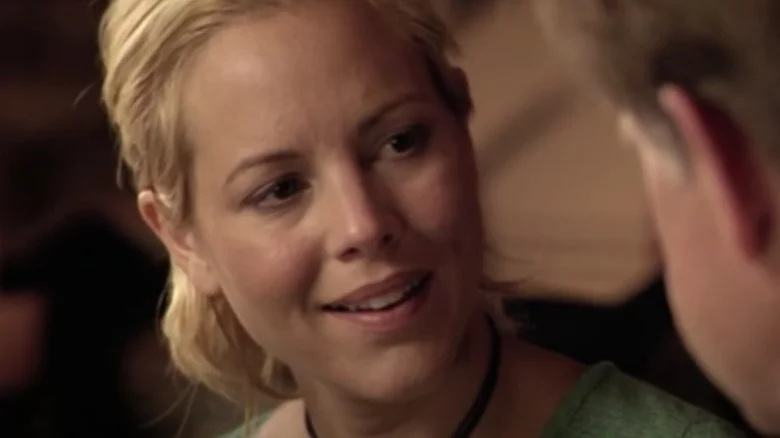 Lions Gate Films/YouTube
For many people, a years-long affair with a married man might be something kept off the record, but for Maria Bello, it served as a starting point for frank conversations about infidelity. In her 2015 book, "Whatever…Love is Love," she details her passionate love affair with another actor. She never names him, but she pens intimate details about their time together, all while noting their clandestine affair wasn't meant to last. Bello writes, "As much as I liked the secrecy, passion, and the drama, I liked living life in the open much more."
Of the relationship, Bello said to NPR, "You know, I'm not proud to say I had an affair, but I don't negate it either." Seeing her former flame acting on screen the same way he did with her in real life made her cringe. "He was playing a Harlequin romance," she mused. "But I want to take responsibility too and say, I was too." Despite any queasy feelings she may have about her affair, Bello has used the experience to contemplate the deeper meaning of the behavior. Talking with HuffPost, Bello said a bigger conversation about extramarital affairs needs to be had and she hopes sharing her personal story does just that.
Her bumpy takeover of Rachel Weisz's role in The Mummy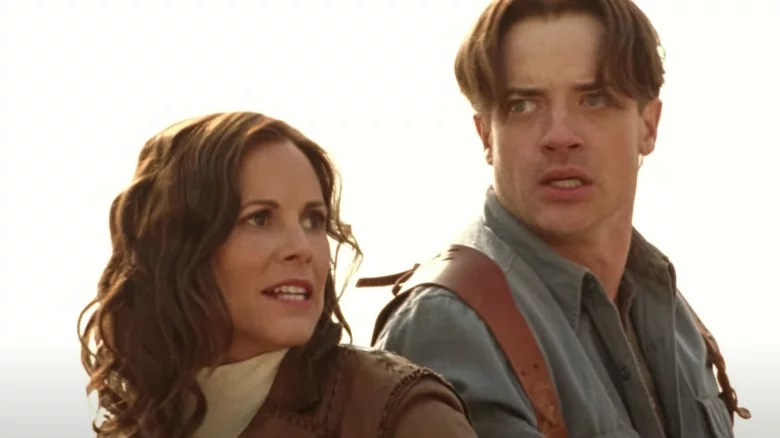 Universal Pictures/YouTube
Taking over a role from another actor can be a tricky proposition, just as Maria Bello found out in "The Mummy: Tomb of the Dragon Emperor." Bello took over the role of adventuring librarian Evelyn O'Connell from Rachel Weisz in the third installment of "The Mummy" franchise. The Hollywood Reporter cited the official reason Weisz dropped out of the 2008 action yarn as "scheduling conflicts." A source later told CinemaBlend she left because the script was bad.
Bello saw starring in "Tomb of the Dragon Emperor" as her opportunity to be an action star. She said in The Guardian, "I've been telling my agent for years that I wanted an action movie, but no one saw me like that." Director Rob Cohen was one of the people who didn't see her like that. He recalled to the outlet, "She told me that after seeing 'Raiders of the Lost Ark,' all her friends wanted to be Karen Allen, but she wanted to be Harrison Ford. I knew that was the way I wanted to go."
Bello told MTV News she loved playing the part so much she signed on for a trilogy of sequels. As much as she enjoyed it, the movie wasn't received so well. In their review, The Hollywood Reporter wrote, "Coming off far worse [than Brenden Fraser] is a newly brunet Bello, who appears distinctly uncomfortable in the action sequences and who sports an unfortunate British accent to boot." Ouch.
She's been candid about her bipolar diagnosis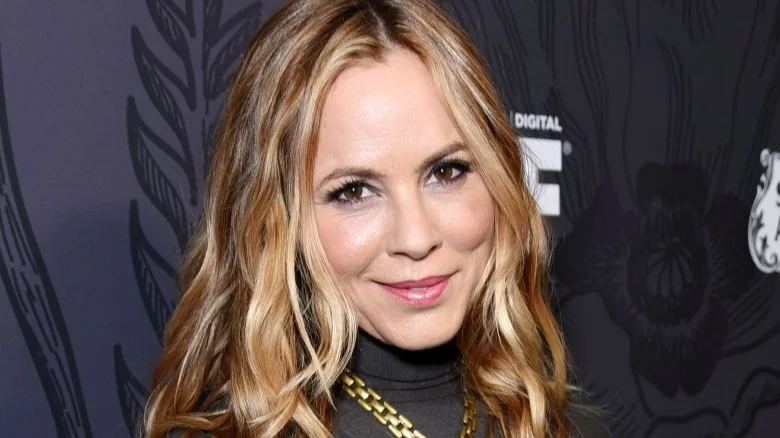 Presley Ann/Getty
Maria Bello never shies away from frank discussions about her personal life. Her book "Whatever..Love is Love" details intimate moments from her life as a catalyst for meaningful cultural conversations. She chronicles her family's mental health journey, writing not only about her father's bipolar diagnosis, but her own. Bello says she received her bipolar disorder diagnosis as an adult and after experimenting with different medication regimes, she found one that worked for her. Rather than seeing her diagnosis as a hindrance to her life and her career, Bello embraces it. She told ET, "I think that my disease since I'm medicated is a gift. … I think that I'm more empathetic because of it."
In an interview with The Guardian, Bello reflected how her bipolar diagnosis impacted her work on the 2016 horror film "Lights Out." "I feel fortunate in that I was able to put something on the screen in a real way that came from my gut, and my own experience," she shared. In the film, Bello plays Sophie, whose mental health is questioned after she starts conversing with a shadowy figure. As she told JoBlow Movies, "I'm fortunate to have bipolar disorder so that I understood what that was."
If you or someone you know needs help with mental health, please contact the Crisis Text Line by texting HOME to 741741, call the National Alliance on Mental Illness helpline at 1-800-950-NAMI (6264), or visit the National Institute of Mental Health website.
Her impactful global activism work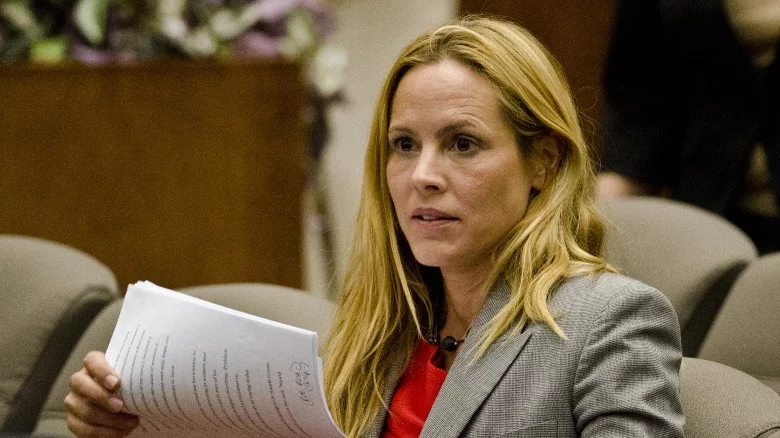 Kris Connor/Getty
When she's not acting, Maria Bello travels the world with her activism work. Bello always desired to integrate her passions for peace and justice and acting. As she told Villanova University, "I realized quite early on that actors, the media, people in entertainment had a really wide reach and we could be a larger voice for smaller voices to be heard." Bello is a noted activist, leveraging her fame to serve the global community. In the '00s, she worked with the Save Darfur Coalition to awareness about the Darfur genocide. Of her work, Bello told Variety, "Power isn't about how much your movie makes, but it's about the little gifts you're given and how you give back." She also serves on the board of Darfur Women Action Group.
In addition to her work in Darfur, Bello has worked extensively in Haiti. According to the UN News, the 2010 Haiti earthquake k1ll3d 220,000 people and left millions unhoused, devastating the country. At an APB Speakers event, Bello said that We Advance, the nonprofit she cofounded with Haitian and American women, came about as a reaction to the inadequate distribution of aid after the disaster. According to Look To The Stars, the nonprofit organization aims to advance women's causes in Haiti. Per Robinson Speakers, in addition to her work with We Advance, Bello has worked with other Haitian NGOs like Femmes en Democratie and joined the Advisory Council on Investing in Haiti.
The role that is most like her in real life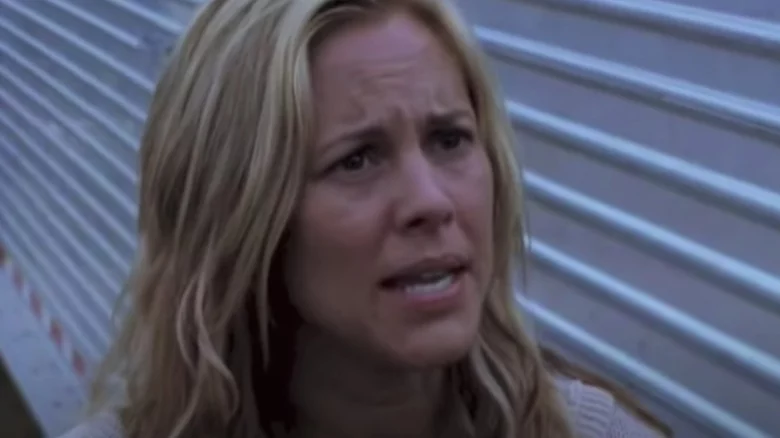 20th Century Fox/YouTube
Maria Bello's acting resume is filled with tough women who get it done. From playing Jane Timoney in "Prime Suspect" to psychologist Dr. Jack Sloan in "NCIS," she's become a Hollywood go-to for smart, insightful characters. Even during the early days of her career, Bello said to Today in 2006, "My other roles … were always, I think, full women." In an industry that's often rife with ageism, Bello defied the odds. As she told the outlet, "I feel like the roles I'm doing are just getting better and better."
Given her penchant for playing fierce ladies, it might come as a surprise that Bello's gone on the record to say the role most like her in real life is one of her more understated ones. In a conversation with Women's Health, Bello said out of all her roles, she related to matriarch Nell McLaughlin in the 2006 movie "Flicka" the most. Of playing Nell, she said, "I play a mother who handles the finances on a ranch and loves gardening, cooking, kids, and animals. And I'm like that. I'm into the simplicity of life."
Penning a popular column inspired her to write a book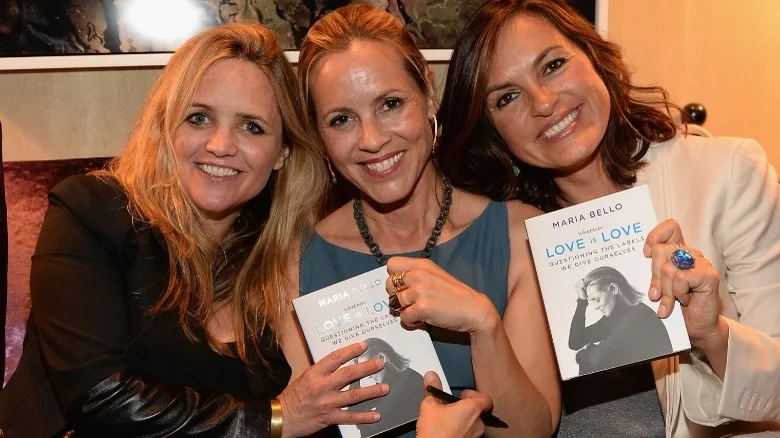 Kevin Mazur/Getty
Mario Bello has always wanted to be a writer. In conversation at the Los Angeles Times Festival of Books, she confessed that she'd hoped to write a book one day ever since she was a kid. Turns out, the genesis of her book would be a wildly popular column published in The New York Times. In 2013, Bello penned a "Modern Love" guest column titled "Coming Out as a Modern Family." In it, she chronicles her trepidation about telling her son Jackson about her burgeoning romantic relationship with her female friend. Her son's simple reply — "Mom, love is love, whatever you are" — resonated with her in a major way. As she told NPR, "[F]rom that little nugget grew this entire concept and revolution, really, of being whatever."
Bello expands on her concept of "whatever," identity, and much more, in her 2015 book "Whatever…Love is Love." In an interview with NPR, she explained, "[M]y book is a series of questions, really. It's personal essays, but they lead to the larger conversation and questions that we all seem to be asking now." As for Jackson, Bello gushed to the Los Angeles Times Festival of Books, that he's proud that he came up with the "Whatever..love is love" concept and at some point, he'll get around to reading the book.
How she pitched The Woman King to Viola Davis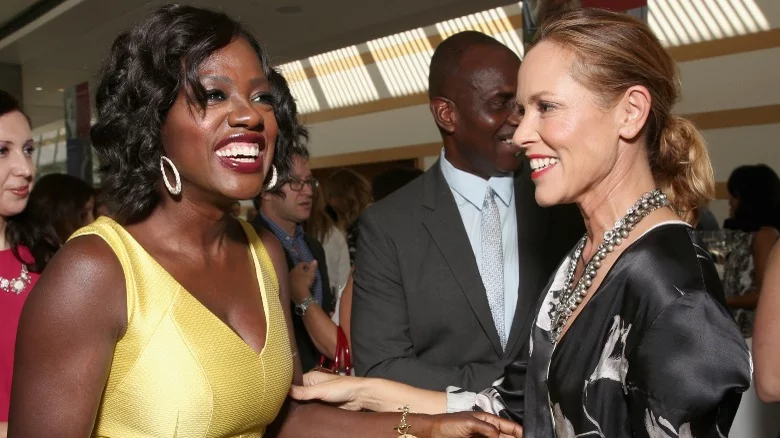 Todd Williamson/Getty
Sometimes in life, you just have to shoot your shot and that's exactly what Maria Bello did when she pursued actor Viola Davis to star in her passion project, "The Woman King." Instead of going through an audition process or a formal negotiation, Bello asked Davis to star in her movie in a very unorthodox way. As noted in Vanity Fair, while Bello was presenting Davis with an award at the Skirball Cultural Center's National Women's History Museum in Los Angeles in 2015, she used it as an opportunity to pitch Davis on a project that would eventually become 'The Woman King." When Bello described the project and said, "Wouldn't you want to see Viola Davis in a role like that?" Davis said the crowd's positive response kicked "The Woman King" into high gear.
Based on historical events, "The Woman King," stars Davis as an African warrior named Nanisca, the leader of the all-female warriors, the Agojie. The Rotten Tomatoes Critics Consensus praises the film by simply saying "All hail Viola Davis! 'The Woman King' rules"; Davis told The Washington Post that playing Nanisca is her career "magnum opus." As for Bello, she not only produced the project, but also earned her first movie writing credit for the film's story.
She's been snubbed by the Oscars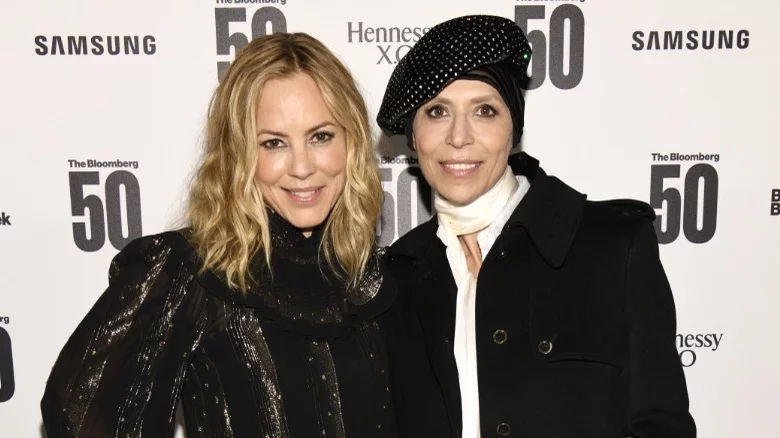 Kevork Djansezian/Getty
Maria Bello has starred in many critically acclaimed films and her performances have been recognized by major awards organizations. In her decades-long Hollywood career, she's had roles in movies like "A History of Violence," "Thank You For Smoking," and "The Cooler," all of which received heavy award accolations. Even Bello herself was nominated for Golden Globes for her turns in "A History of Violence" and "The Cooler." While her co-stars like William Hurt and Alec Baldwin earned Oscar nominations for their performances in those films, Bello did not. In fact, she has never been nominated for a single Academy Award in her storied acting career.
That she hasn't been recognized for her excellent work by the Oscars hasn't been lost on people. When Academy Awards nominations rolled out for 2005, EW reported Bello was a frontrunner for her performance in "A History of Violence." Alas, no nod arrived for Bello. IndieWire called her performance in "A History of Violence" the best supporting performance of 2005 and deemed her snub one of the biggest in recent Oscar history. Bello is in good company though, as she keeps ranks with other actors like Emily Blunt and Steve Buscemi who also have been ignored by the Academy. Winning a Blockbuster Entertainment Award probably doesn't have the same cache as a coveted Oscar, but perhaps her movie rental late fees were canceled.
Her bond with her fiancée only gets stronger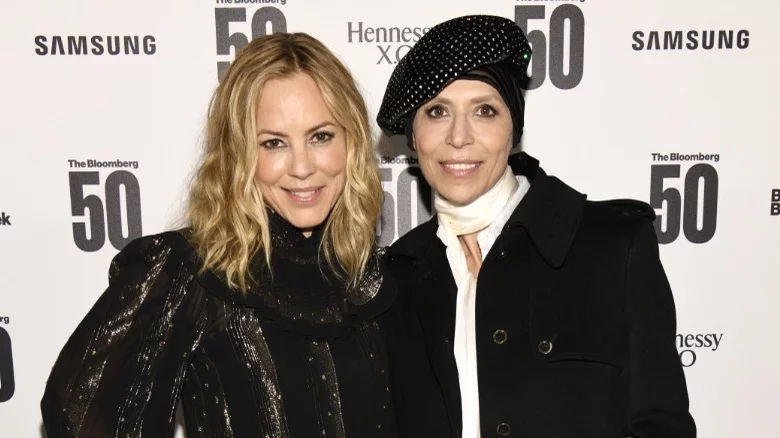 Clint Spaulding/Getty
Usually, a couple's engagement is a fun, happy time full of celebration and excitement about the future. For Maria Bello and her partner, Michelin-star chef Dominique Crenn, solidifying their commitment to each other was a happy event. Bello revealed the good news to ET while walking into the Elton John Oscar party in 2020. "It was surprising, but meant to be," the actor gushed. However, shortly after their Parisian engagement, their relationship was put to the test when Crenn was diagnosed with breast cancer.
The couple shared with People how Crenn's cancer diagnosis initially challenged their relationship, with Crenn warning Bello of what it could possibly mean for their burgeoning love. But Bello stayed by Crenn's side. "You really learn how someone rolls when they're sick," Bello said in People. "And I loved the way she rolls through life and dances through life even when she's really sick." Not only was Crenn supported by Bello, but she continued to work while receiving cancer treatment, telling Yahoo! Life, "I was very honest with my team, and they were so supportive. … The love and dedication of the people around me is how I got through this." Crenn underwent treatment in 2020 and has been in remission since.
Her 'happy place' is Nairobi, Kenya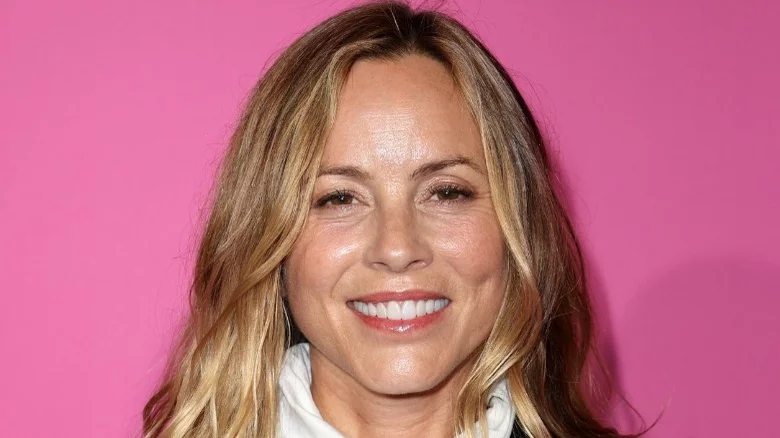 Kevin Winter/Getty
For decades, Maria Bello has been captivated by Africa. In a profile for The Hollywood Reporter, Bello shared that she spends a lot of time in Nairobi, Kenya. She calls the city her "happy place" and she has made it her part-time home. Not only does Bello personally love to spend time on the continent, but she also is an advocate for Hollywood to embrace African filmmaking. As she said in The Hollywood Reporter, "I would love to see Hollywood really coming to explore African stories and meeting different filmmakers in Nigeria and Ghana, too." She keeps to her word, having co-starred in and executive produced "The Journey Is the Destination," a 2016 feature filmed in South Africa, and she produced and received a story credit on 2022's "The Woman King."
Bello's connection to Africa has inspired her life. She told Today that her big-screen aspirations were in part influenced by a passage about a gazelle in the book "Out of Africa." "I think I've led my life trying to capture that — to become more genuine, to become more authentic," she said. Bello doesn't hesitate to share the emotional impact her time on the continent has on her. "My dreams have d13d and been reborn on this sacred continent," she once wrote on Instagram. "Great joy, great sorrow, great change always seem to be themes of the journey."