NCIS' Mark Harmon Utterly Dominated His Fellow Actors On The Battle Of The Network Stars x`
Actor Mark Harmon remains synonymous with the role of Leroy Jethro Gibbs from NCIS, and for the better part of two decades and 18 seasons, he fought crime for the Naval Criminal Investigative Service. While Harmon's prolific career spans nearly 50 years, acting wasn't even a blip of an option on Harmon's radar of prospects when he played quarterback at UCLA in 1972.
To the outsider looking in, it probably seemed logical that the future thespian would pursue a professional career in sports. He certainly had the pedigree for it. Harmon's father, Tom, played college football at Michigan and won the 1940 Heisman Trophy for his contributions as a running back. Meanwhile, Mark Harmon excelled in his own right as an option quarterback running the wishbone formation for UCLA, and he led the team to a 17-5 record during his two seasons of play (via the National Football Foundation).
Surprisingly, despite his athletic prowess, Harmon planned to try his luck in law school rather than professional football (via Biography). Fortunately, for Gibbs fans, Harmon's sister dated — and later married – Ricky Nelson back in the day, and that relationship led to Harmon's first acting role on "Ozzie's Girls." But did you know Harmon's athletic and acting abilities combined to make him a standout performer in the 1980s on "Battle of the Network Stars?"
Harmon killed it on Battle of the Network Stars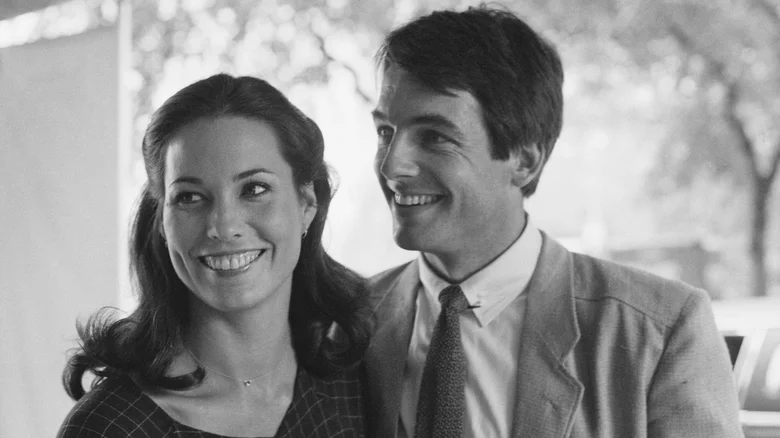 Michael Ochs Archives/Getty Images
"Battle of the Network Stars" premiered in 1976 (via IMDb), and the TV special pitted actors from the NBC, CBS, and ABC television networks against one another in a number of athletic competitions. Mark Harmon made his debut on "Battle of the Network Stars XI" in 1981, and as shown above, he was then starring on the NBC romantic drama "Flamingo Road."
During his first appearance on "BOTNS," Harmon's athletic ability — thanks to his days as an option quarterback at UCLA — allowed him to absolutely dominate the 3-on-3 football contest between his NBC squad and the CBS team (per YouTube). On defense, Harmon made an immediate impact as he intercepted a pass and took a potential score away from the opposition. Later, the former UCLA standout burned his defender in the back of the endzone and caught a touchdown pass to lead NBC to victory. Harmon returned to star on the television special a total of three more times from 1982 until 1984, but it's not the on-the-field accomplishments the actor reveled in.
Rather, Harmon was stunned by all the great sports figures he met as a result. "The best thing is like when you look back at it all," Harmon spoke of his time on the TV special in an interview with another "BOTNS" participant, Tony Danza, via YouTube. "It's like after that, I remember Howard Cosell said, 'Hey, what are you doing for dinner?' And I had dinner with him and Marcus Allen at Matteo's in Westwood, and Sugar Ray Robinson walked in," the former "NCIS" star recalled.