NCIS Fans Are Thrilled Over Delilah's Return In Season 20
20 years into its run, "NCIS" has long relied on the likeability of its characters — combined with unique storylines — to get audiences to tune in, week after week (after week). Similar to other police procedurals, the series features a core group of characters that has evolved as the series progresses, and as such, plenty of romantic pairings have sparked up and fizzled out over the years, but Tim McGee (Sean Murray) and his wife, Delilah (Margo Harshman), might be the healthiest couple on the show.
Tim and Delilah have been through a lot together. Viewers have seen them through the earliest stages of their relationship, all the way through to marriage and parenthood. However, even though McGee is a main player, we don't get to see his spouse very often. Her appearances are so infrequent that you might be wondering, well, what happened to Delilah? Finally, it's not such a mystery.
The latest episode of the series, titled "Higher Education," helps to answer that question. The plot focuses on the Major Case Response Team as they unravel the sudden d3ath of a college student who was leading a dubious double life. A major factor in this week's case is the victim's surprising connection to Delilah, and fans were over the moon to see her take center stage.
Viewers love to see Delilah in action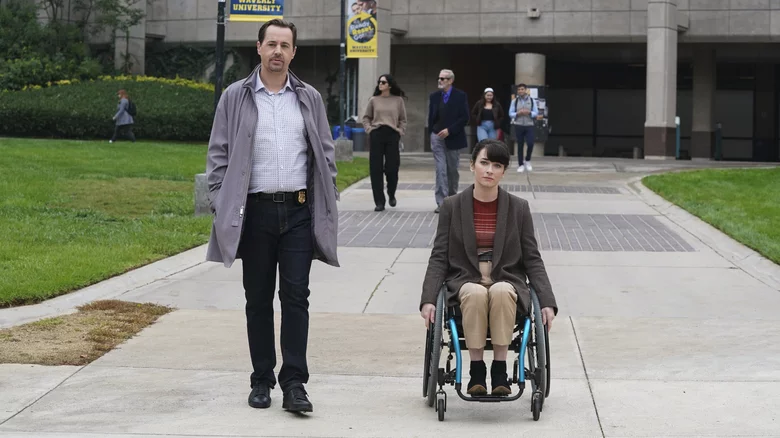 Sonja Flemming/CBS
This week's victim is Will Watson and once the team starts to investigate, they immediately see red flags. His erratic behavior suggests foul play, so McGee is surprised when surveillance footage shows Will and Delilah meeting in an alleyway behind a coffee shop. Turns out, Delilah has been teaching a cryptology course at Waverly University, where Will was her student. They were meeting to discuss Will's research project, though McGee is clearly bothered that he never knew about it. What follows is an intriguing episode that gives Delilah a chance to shine and explores the couple's dynamic.
Not surprisingly, it seems that "NCIS" fans loved getting a glimpse at the inner workings of Delilah and McGee's relationship. As said by Twitter user @CruisinSoozan, "Oh how we love a McLilah episode," referring to the couple's ship name. Twitter user @sandbar17 agreed, replying, "It's been too long since we've seen Delilah."
The installment allows Margo Harshman to exercise the breadth of her acting skills and gives both characters the chance to express some of their insecurities. Once the dust settles, it's clear that this couple is willing to go the distance to support each other and fans enjoyed the narrative's grounded approach to their relationship. "I absolutely adored tonight's episode. The writing for this, and the acting was excellent. Tim and Delilah episodes are my favorites," wrote @Sylviassister.
Overall, Delilah was a welcome addition to the episode. If we're lucky, the character will make another appearance before the end of the season. Regardless, it's nice to know that the couple is still doing well.