NCIS star Brian Dietzen's 'terrifying' brush with d3ath – all the details
NCIS favourite Brian Dietzen, 45, has been in the show since 2004, starring as Dr. Jimmy Palmer, however the actor had his own medical emergency in 2020.
The star, who was in his early forties at the time, suffered a major stroke due to a blood clot in his brain. Brian was home alone at the time of his stroke, collapsing on the bathroom floor, in what he called a "terrifying" ordeal.
"I had a dual embolic stroke in my cerebellum. My hands were all curled up, and it was terrifying," he told Outsider.
The stroke caused Brian to lose control of the muscles in his face and hands and saw him vomit, luckily he was wearing his Apple Watch, which he credits with saving his life.
"The Apple Watch saved my life. I was on the floor of my bathroom, throwing up, and I pulled out my phone and I was like, 'Oh —, I can't use my fingers.' And so I said, 'Hey, Siri, call Kelly,' and called my wife and I said, 'I need help'."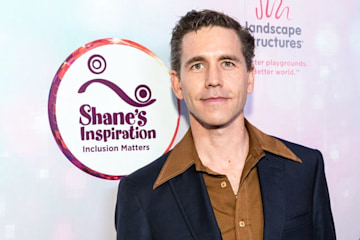 Brian Dietzen was home alone when he had hs stroke
Shortly afterwards, Brian regained the movement in his hands and tongue, and the blood clot in his brain moved on.
"I was really blessed that I'd stayed really healthy and had a really healthy cardiovascular system," Brian said of regaining his health.