Katrina Law Expects Her Extensive NCIS Research To Translate To Her Parenting
"NCIS" continues to draw in millions of viewers in its 20th season (via Deadline). Despite going through multiple lineup changes, the show still resonates successfully with viewers, and it could have a lot to do with the solid players they continue to recruit to fight crime on the small screen. Among the many excellent additions that have gone down over the years, it's hard to argue that actor Katrina Law isn't one of the best pickups. From her time as Nyssa al Ghul in the "Arrowverse" to her run on the Crackle series "The Oath," Law has a proven track record as an actor. It's no surprise then that her character, NCIS Special Agent Jessica Knight, has been a fixture on the series since Season 18 when she replaced Eleanor Bishop (Emily Wickersham).
Law reportedly went through a rigorous preparation process to portray Knight on the CBS series. That groundwork certainly helped her on-camera performance, but Law also believes it could have some significant real-world value in her personal life.
The NCIS actor isn't afraid to negotiate with anyone, big or small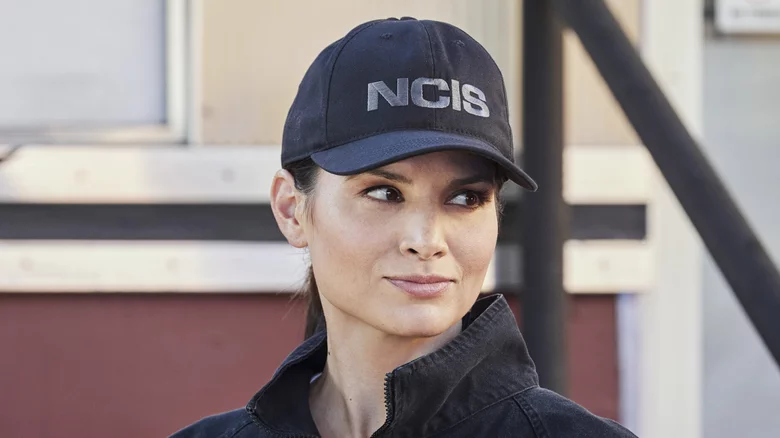 Sara Mally/CBS
There are probably a lot of things that can be attributed to the success of "NCIS," but Katrina Law believes the writing is one of the biggest contributors, especially when it comes to story and character development. So when it was time for her to join the team, Law knew she would need to take all the necessary steps to make sure she was ready to bring the well-crafted character of Jessica Knight, an operative on the squad whose specialty revolves around the tactful art of hostage negotiations, to life to keep up with fans' expectations.
Not only did she endure a demanding physical training regimen for the role, but she also looked up necessary intel on Knight's profession. And it turns out, her efforts in this matter may have even translated into some effective parenting maneuvers, according to the "NCIS" star. "A good actor always extensively researches a role so they can portray it accurately, so I have definitely done my homework," the actor said in an interview with TheCherryPicks.com. "The research and the skills I have picked up on hostage negotiation tactics will ultimately help me to navigate my daughter's toddler years with more efficiency."
Any parent will probably agree that toddlers can be formidable foes at times, and being able to negotiate a peaceful surrender is no easy endeavor. Thankfully, Law's tour of duty on "NCIS" has not only given her a rewarding experience but has also given the actor an edge regarding the challenges she will inevitably have to face at home.