Eric Christian Olsen Was Mean to Wife When They Met – She Was Not Impressed by Him Either
American actor Eric Christian Olsen has been married to Sarah Wright since 2012, but they did not really like each other when they first met. Get inside their amazing love story.
Eric Christian Olsen is famous for his role as Detective Marty Deeks on the CBS television series "NCIS: Los Angeles." In the series, Olsen and actress Daniela Ruah play the sweet couple Deeks and Kensi.
However, that is not where it ends for the actor, who usually goes home to his off-screen wife of nine years, Sarah Wright, and their children.
Olsen and Wright have a touching love story that has lasted over a decade. Get all the details of the "NCIS" star Eric Christian Olsen and "American Made" star Sarah Wright's marriage and love story.
HOW OLSEN AND WRIGHT MET
Olsen and Wright met on the set of the Fox sitcom, "The Loop," in 2006. However, they did not have an instant connection when they met. In an interview with ET's Kevin Frazier, the sweet couple discussed what they thought about each other on their first meeting.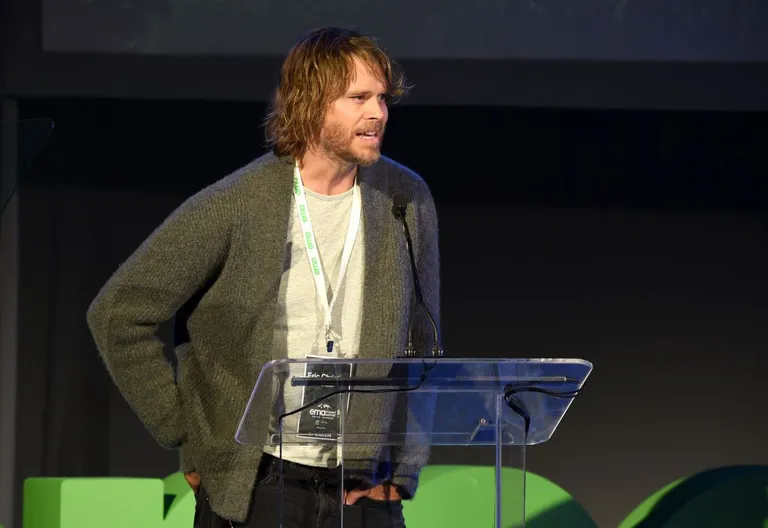 Eric Christian Olsen at the EMA IMPACT Summit at Montage Beverly Hills on May 21, 2018. | Photo: Getty Images
Olsen revealed he thought Wright got a role on the show because she was super gorgeous and not because of her talent. Thus, he was mean to her the first time they met. Meanwhile, Wright said she thought Olsen was a big jerk before adding:
"But at the first table read, you laughed at my jokes, and came up to me afterwards and apologized."
Since their first meeting, Olsen and Wright have grown from strength to strength and are now so used to each other. They shared some aspects of their friendship during a question-and-answer session in the interview with ET.
Wright said one thing that Olsen does that always makes her laugh is the way he sneezes and his most annoying habit is his knack for vacuuming all the time.
A SWEET PROPOSAL AND WEDDING
In a 2011 appearance on "The Talk," Olsen talked about his engagement to Wright. When one of the show's presenters noted that he was now off the market, the actor agreed and said he had met the one.
Olsen revealed that he knew Wright was the girl for him when he met her. He also disclosed how he proposed to Wright. He said they had been together for four years, and everyone knew the proposal would happen.
However, he hated the idea that Wright knew the proposal was coming because he wanted it to be magical. Soon after, it was time for Wright's birthday, and her parents believed he would propose. However, Olsen bought her a watch, and her parents were disappointed.
In the next three months, Olsen and Wright started talking about how he did not know if he wanted to propose and wondered if they should just have kids.
Before becoming pregnant with winter, wright had a miscarriage
Wright was trying to find traction with their discussions. Hence, they went down to Punta Mita, Mexico, and spent a perfect day engaging in different fun activities.
At night, while hunting starfish and trying to take perfect shots, Olsen proposed to Wright. He recalled the words he spoke to her, saying:
"Nobody makes me laugh more. Nobody makes me happier. Nobody is going to be a better mother. I want to spend the rest of my life with you. Will you marry me?"
Olsen and Wright tied the knot on June 23, 2012. Their wedding ceremony was magical and was held outside their mountainside home in Jackson Hole, Wyoming. Olsen's dad performed the ceremony, witnessed by 80 family and friends, including his "NCIS: LA" co-stars.
Wright celebrated her and Olsen's eighth wedding anniversary in June 2020 by posting a sweet picture of them sharing a passionate kiss on their wedding day alongside a heartwarming message.
A HAPPY MARRIAGE AND FAMILY
Since tying the knot, Olsen and Wright have become the cutest couple and have grown from strength to strength in their relationship.
The couple has also expanded their family. They became parents for the first time when they welcomed their son Wyatt Oliver on Friday, August 16, 2012. Following Wyatt's birth, Olsen told People:
"I've been a part of some pretty incredible experiences in my life, but I've never been a part of something so surreal, so life-affirming and so insanely beautiful as watching my son come into this world."
He described his son's arrival as a watershed moment where he knew everything he valued before seemed finite and temporary.
Olsen also disclosed that his wife wanted a natural birth at home and fought through 17 hours of intense labor before eventually delivering Wyatt. The proud dad concluded:
"I can only take stock in how lucky I am to have this amazing, powerful, woman in my life, and a beautiful new son."
A year after welcoming Wyatt, Olsen revealed his son was amazing and always had a gummy smile whenever he (Olsen) walked through the door. He added:
"It feels so good to come home to that. And he's a big boy. About 19 lbs. now! Sarah is totally fit because she's carrying around this giant baby all day long."
Besides Wyatt, Olsen and Wright are also parents to two adorable daughters, Esmé Olivia and Winter Story. They welcomed Esmé in 2016, while Winter was born in 2020.
Before becoming pregnant with Winter, Wright had a miscarriage and opened up about it in an Instagram post she made on May 19, 2020. Olsen has enjoyed being a father to his three kids and has often shared how he is coping with fatherhood.
The actor is such a doting dad that his "NCIS: LA" co-star Chris O'Donnell told People he (Olsen) was feeling the effects of daddy duty after Wyatt's birth.
Olsen also told People that fatherhood had turned him into a softie while gushing over his then-newborn son, Wyatt. He said:
"He squints his eyes and he gets this big gummy smile, and it's just emotions I didn't know I had. I've become such a softie. I get tears in my eyes, and I get all excited. It's just that's not who I am."
Olsen and Wright have enjoyed a beautiful relationship and are great parents to their three adorable kids. Hopefully, they will even have more incredible moments to share as a family.