NCIS: LA fans share reaction to return of 'favorites' ahead of major crossover
NCIS: LA fans were overjoyed to have the crime show back on CBS on Sunday evening and it seems they were even more overjoyed to see the return of two favorites: Densi!


Viewers took to social media to react to episode nine of season 14 titled Blood Bank and the return of on-screen couple Marty Deeks and Kensi Blye, played by Eric Christian Olsen and Daniela Ruah respectively.
ncis-la-fans-reaction-return-to-favorites-ahead-of-crossover
One person tweeted: "Gosh, I missed these smiles so much. Best part of this episode was seeing them together. My Densi fan heart is full today. #ncisla #densi." A second echoed this, writing: "It feels so good to see Densi working together again #Densi #NCISLA."
A third added excitedly: "DENSI MY PARENTS #NCISLA," while a fourth commented: "DENSI BANTER… just what my heart and head needed tonight! #NCISLA #Densi."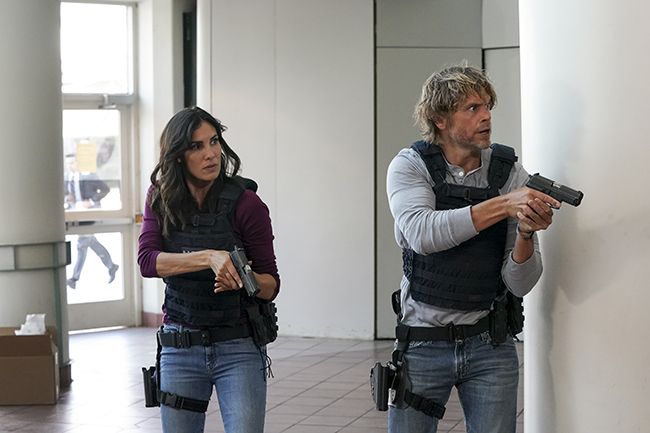 Fans love watching Kensi Blye and Marty Deeks
The on-screen couple often join forces within the same team to help solve head-scratching c****al cases. The synopsis for episode nine reads: "When NCIS investigates a shootout on a boat in which a rare cultural artifact is stolen, they're shocked to learn who owns the boat."
Meanwhile, fans are eagerly awaiting Monday night's epic three-way crossover event episode. The news of the three-part show was teased before Christmas on social media. "Brace yourselves for our BIGGEST crossover yet," the announcement read.

Are you looking forward to the crossover?
"The #NCISCrossover Event premieres Monday, January 9th for a three-show extravaganza all in one evening. Be there or be square." A trailer was also shared, which began with flashes of Jane Tennant and Sam Hanna tied to chairs before black masks are ripped off from over their faces.
A mysterious woman can be seen saying: "You need to tell me everything if you want to survive."
The clip reveals that the agents are investigating the suspicious d***h of a beloved professor, with Gary Cole's Alden Parker adding: "We follow the evidence until we find the truth."
The NCIS crossover airs on CBS on 9 January at 8/7c.