The Cast Of NCIS: Los Angeles Once Played A Hilarious Fake Ad Prank On LL Cool J
Rapper, actor, and TV show host. Those are just some of the many hats worn by LL Cool J. And according to his cast members on "NCIS: Los Angeles," he's also a good sport. The music legend has been fighting c**e as Special Agent Sam Hanna since the show first premiered in 2009. The Los Angeles installment of the "NCIS" franchise follows Hanna and his partner Special Agent G. Callen (Chris O'Donnell), as they go undercover and solve c**mes for the Office of Special Projects. Of course, they're not the only people working for the office. Kensi Blye (Daniela Ruah), Marty Deeks (Eric Christian Olsen), and Fatima Namazi (Medalion Rahimi) are just a few of Callen and Hanna's co-workers who investigate everything from arson attacks to missing artifacts.
Each episode brings plenty of action to the screen, placing these characters in challenging situations that can only be resolved with quick thinking and teamwork. And while the cast works hard to bring the drama to primetime, they're making sure there are loads of laughs behind the scenes.
The clever prank that required some help from the props team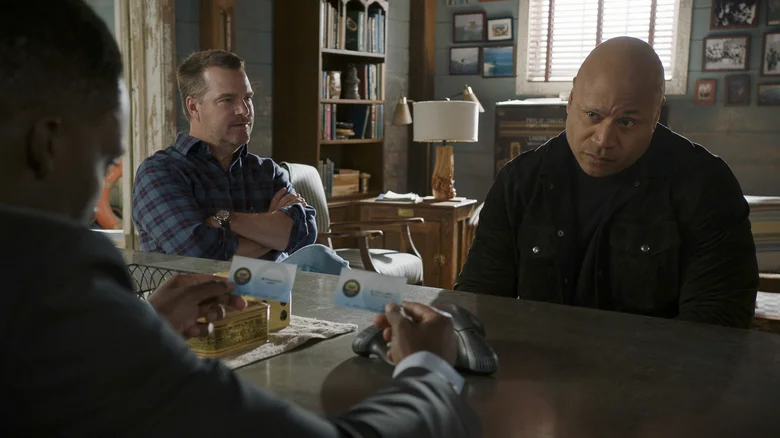 CBS
Social media has created another way for celebrities to connect with fans. Former "NCIS: Los Angeles" cast members Barrett Foa and Renée Felice Smith have been using Reddit to talk about what goes on behind the scenes of the hit CBS drama. Foa joined the cast as tech operator Eric Beale in 2009. Smith would enter the show a year later as intelligence analyst Nell Jones. Both actors left the show in 2021, but they have fond memories they share with fans.
In the subreddit r/IAmA, Redditor u/iabmob asked Foa and Smith several questions, including how the comradery is on set and if there are any pranks. While the show is a c**me drama, Foa replied that there is plenty of fun happening behind the scenes, mentioning a prank they played on LL Cool J. "We had a copy of Men's Fitness when COD [Chris O'Donnell] was on the cover, and we pasted a fake ad on the back cover (our props guys made it) with LL promoting some kind of protein powder. He FREAKED OUT! It was hilarious. The whole cast and crew were in stitches. LL was a good sport," he said, proving that the crew of this hit drama always has time for fun.