Daniela Ruah Says Kissing Her Brother-In-Law Eric Christian Olsen On NCIS: Los Angeles Was No Big Deal
Kissing on screen is something that every actor has to be prepared to do. It is a common interaction between acting professionals in the industry, and it works best when both parties are dedicated to their performance and have a work relationship built on trust and mutual respect.
In "NCSI: Los Angeles," Daniela Ruah, who plays the headstrong and competent special agent Kensi Blye, has had to kiss her co-star Eric Christian Olsen, who plays agent Marty Deeks, since as far back as Season 3, although it wasn't until a bit later that their characters at last got together as a couple. It is clear by their onscreen chemistry, that both actors have a solid bond between them in real life and are as committed to making the romantic scenes work as their characters are to preserving their relationship despite the many challenges that come their way.
One thing that is special about these two actors is that, not only are they cast mates, but they also became family a couple of years into their "NCSI: Los Angeles" journey, when Ruah married David Paul Olsen, Eric's brother and stunt double, in 2014. There was a real chance that perhaps their familial connection could have made the onscreen displays of affection awkward and uncomfortable. However, Ruah has assured that that is not the case for them.
Kissing comes with the job for Daniela Ruah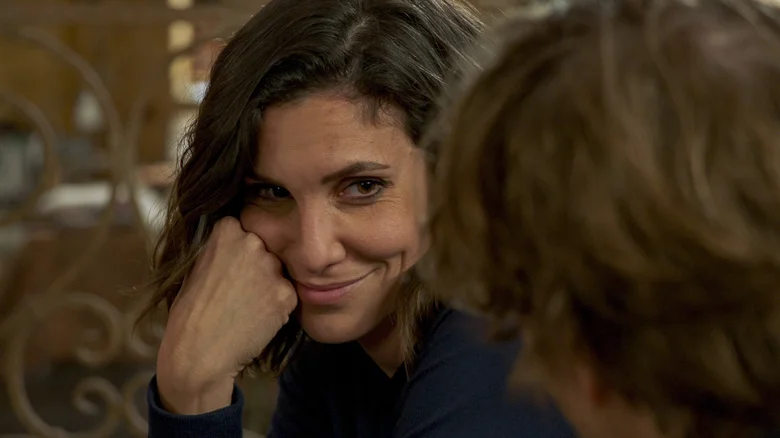 CBS Broadcasting
In an interview with Queen Latifah, the Portuguese-American actress was asked about having to kiss her brother-in-law on the show. To this Ruah, giggling, seemed a little flustered to be shown the kiss Kensi and Deeks shared in Season 6 Episode 11, "Humbug," but nevertheless she replied with grace and good humor. When questioned about whether it was weird to kiss her co-star taking into consideration his connection to her husband, the actress replied:
"The obvious answer would be 'yes,' but at the same time we're so invested in our characters and we're so interested that the audience who has been following these characters is happy with what's happening on the show. We're kinda trying to stay faithful to that more than anything else." She then explained how having both their partners in the acting business made it significantly easier for them: "Dave is in the business and Eric's wife is an actress, she's in the business, and I think everybody knows what that feels like."
In the latest Season 14, Kensi and Deeks have become adoptive parents to Rosa Reyes (Natalia Del Riego) and are trying to balance this new phase in their personal life with the hectic dynamic of their job. Looking back, it's nostalgic to see how far these characters have come since the beginning of the show more than a decade ago. But none of this would have felt as genuinely endearing and meaningful if the bond between Ruah and Olsen were not one built on deep trust, consideration, and unquestionable devotion to their roles.