NCIS fans left 'sobbing' over heartbreaking moment in episode 11
NCIS fans were left reaching for the tissues after Monday's episode, which focused on the relationship between fan-favorite couple Jessica Knight and Jimmy Palmer, played by Katrina Law and Brian Dietzen.
After Jessica asked if Jimmy's daughter, Victoria, would want to join them for their movie night, the doctor began acting strange, prompting his girlfriend to sheepishly ask if everything was going well in their relationship.
While Jimmy tried to reassure her with an awkward fistbump, Jessica wasn't convinced. After confiding in her colleague Kasie, the agent soon realised that the film the couple were planning on seeing is a family favorite for the Palmers.
An emotional conversation with Jimmy revealed that he is still struggling with the d***h of his wife, Breena, and while he wants Jessica to be part of Victoria's life, he's finding it hard to take that step. The pair hugged it out and all traces of awkwardness vanished.
Viewers took to Twitter to comment on the heart-rending scene, with one person writing: "Need a hug and a box of tissues. Great episode all around," while another added: "Jimmy and Jessica… y'all are breaking my heart!!!"
A third person commented: "THAT JIMMY AND JESS SCENE HAS ME SOBBING #NCIS," while another tweeted: "I like Jess and Jimmy and that was a sweet, quiet emotional scene tonight. Both ending scenes were emotional. Good episode. #NCIS."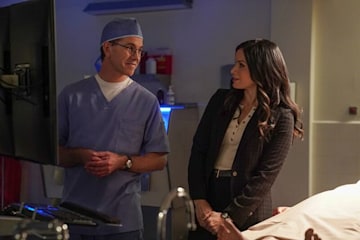 Katrina Law and Brian Dietzen as Jessica and Jimmy
Other viewers expressed their love for the on-screen couple, with one person writing: "Such a great episode!! Jimmy and Jess are a wonderful couple who deserve to be happy," while another added: "Jimmy and Jess. What a sweet storyline."
A third tweeted: "Thanks for not breaking one of the healthy couples on TV, thank you."
NCIS has seen some memorable romances over the years, and Jimmy and Jessica's is another one to add to the list. Fans have been in favor of the coupling ever since the pair confessed their feelings for one another in a major moment at the end of season 19.