NCIS's Epic Crossover Turned Deeks and Torres Into Comedy Gold
The following contains spoilers from NCIS Season 20, Episode 10, "Too Many Cooks," NCIS: Hawai'i Season 2, Episode 10, "Deep F***e" and NCIS: Los Angeles Season 14, Episode 10, "A Long Time Coming," all of which debuted Monday, Jan. 9 on CBS.
While NCIS' highly touted three-show crossover built up to a peak of action and drama in the NCIS: Los Angeles hour, it also found the CBS' franchise's best comedic duo in Marty Deeks and Nick Torres. Even casual fans would be able to crack a smile at the oil and water aspect of their dynamic, but the concept went deeper than that, too. Their differences made Deeks and Torres an excellent match in an already epic crossover.
Of course, Deeks and Torres bring attention to their contrasts. However, even as NCIS: Los Angeles' "A Long Time Coming" underscored the stark differences between the two men, its approach made Deeks and Torres the best unlikely duo rather than adversaries. The three series never pit their characters against each other, despite how easy that would have been considering how different they all are, from DC to Hawai'i to Los Angeles. Instead, the crossover brought the characters together through friendly banter and healthy competition. And no pairing was better than Deeks and Torres.
The NCIS Crossover Utilized Humor to Its Advantage
The NCIS crossover's exceptional and layered plot contributed to its overall appeal, but it involved some heavy-hitting story beats like the d***h of a beloved (by most) professor and the uncovering of a corrupted CIA program that k****d hundreds of people. Not to mention, it endangered multiple agents within the three-hour run time. The shows wove in plenty of humorous moments, however, like Jimmy Palmer drinking Jane Tennant's tea out of Tennant's mug. Without those comedic breaks, the weight of the crossover could have buckled under its own pressure.
Instead, the humor bolstered the characters through the heaviest scenes, which Torres needed because he questioned his career after learning that FLETC professor Dale Harding told Simon Williams the same disheartening sentiment Torres had heard one week before he graduated from the program. Even to the newest NCIS viewers, it was evident that Torres internalized the "lone wolf" comparisons even after Alden Parker attempted to assure Torres that he was not the same as the violent criminal. The crossover then put Torres' teamwork capability to the test with Deeks.
Deeks and Torres Were the NCIS Crossover's Best Unlikely Duo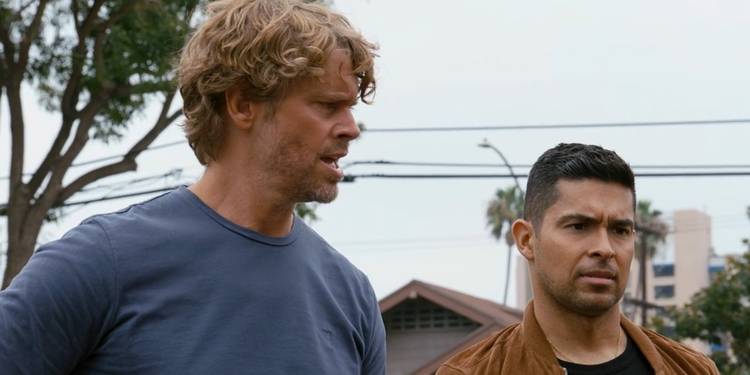 Deeks and Torres' first scene confirmed that everything that follows between the pair will be comedy gold, and further moments in "A Long Time Coming" did not disappoint. After joking about Hollace Kilbride's history with retired high-end arms dealer Nina Barnes, Torres told Deeks that multiple people warned him Deeks was "the sensitive one." Though Deeks tried to play that off as untrue, any viewer who has watched Deeks for a second knows that characterization to be accurate. Marty Deeks' sensitivity is part of what makes him one of the NCIS franchise's most beloved characters. It also makes him the perfect foil for Nick Torres.
It was telling that Torres laughed off Deeks' assertion of being "more of a street dog, lone wolf" after two episodes of Torres trying to convince himself he wasn't. That exposition created a foundation for Torres to know, with or without the knowledge of Deeks' discomfort with gluten, that Deeks was sensitive. Deeks isn't like Torres, and that's okay. In fact, that's why this pairing worked so well in the crossover's final hour, and it mattered that their jokes about each other's masculinity weren't belittling or patriarchal. Like the crossover's other uses of comedy, they landed well because of the intention behind them. Their words weren't said maliciously.
Similarly, when Deeks introduced Torres to Nina, he told her that Torres was "also with NCIS, except he's from fancy-pants Washington." Depending on that line's delivery, it could have landed as antagonistic, but that wasn't how Deeks moved through the NCIS crossover. Instead, Deeks led with kindness and sensitivity — two positive influences Torres needed within the crossover because of Williams and how rough NCIS Season 20 has been for him. Deeks and Torres proved that the crossover's pairings were fun and functional. They dynamically work to believably embed the heroes in three different shows while providing character development in a crossover that serves as a reintroduction to the NCIS franchise.
NCIS and NCIS: Hawai'i air Mondays at 9:00 and 10:00 p.m. on CBS, while NCIS: Los Angeles airs Sundays 10:00 p.m. on CBS.