NCIS fans worry for Wilmer Valderrama's fate ahead of latest episode
NCIS fans were left waiting with bated breath ahead of the show's latest episode which aired earlier this week, especially based on teasers shared prior.
The show ramped up suspense for the installment by teasing the plotline for one of its main stars, Wilmer Valderrama.
His character, Special Agent Nick Torres, got involved in an undercover case that certainly took a more dangerous turn, based on teasers that were posted on the show's social media.
One of the clips included the caption: "Monday night just got a whole lot more intense — Torres is playing with fire, and nothing is as it seems," while Wilmer himself posted a pair of images that read: "#NCIS Monday 23rd.  An undercover op goes worst case."
Fans were definitely concerned about his character's fate, leaving comments like: "Wait, this doesn't mean they are writing you off of the show, does it….?"
Another also wrote: "Hope that doesn't mean he is leaving," while a third expressed confidence, stating: "Torres will be at top of his game. He always is."

Torres' fate was one fans were concerned for based on teasers for the episode
Their worries were eased when the episode premiered, in which [spoiler alert] Torres reconnects with a former colleague, Special Agent Dale Sawyer, and infiltrates a gang of truckers to help Sawyer out after he seemed to be getting too invested in the case.
The concern over departing characters was definitely heightened after news broke that NCIS: LA would be ending after a 14-season run.
CBS has not disclosed a specific reason why NCIS: LA is coming to an end, however, reports state that it could be due to budget limits. The staple NCIS is still running as well as its other spin-off show, NCIS: Hawai'i.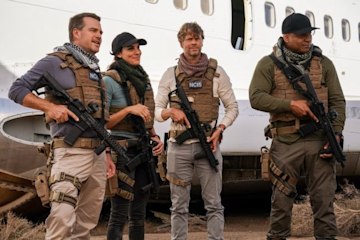 The long-running NCIS spin-off is going off the air after season 14
Deadline states: "A cancellation of a long-running drama with big-name leads filming in L.A. should not come as a shock given the big price tag involved, especially at a time when networks across the board are looking to cut their spending."