NCIS' Rocky Carroll Expects Vance And Parker's Relationship To Continue To Grow
Leon Vance (Rocky Carroll) originally enters "NCIS" during Season 5, and was first introduced as the agency's assistant director. Vance then becomes NCIS' official director after Jenny Shepard (Lauren Holly) takes a leave of absence and is later assassinated.
The new director and Special Agent Gibbs (Mark Harmon) are quickly at loggerheads when Vance implements some major changes in his department, including reassigning his agents. It's eventually revealed that Vance is trying to flush out a mole in the law enforcement agency, later identified as Special Agent Michelle Lee (Liza Lapira). Nevertheless, it takes time, and his proven loyalty to NCIS, for Gibbs to trust the Director and even bond with him.
Harmon left "NCIS" in Season 18, retiring the Gibbs character for good after decades with the team. His replacement, Special Agent Alden Parker (Gary Cole) had big shoes to fill, yet unlike his predecessor, he quickly gets along with Vance.
Here's what Rocky Carroll thinks about their relationship.
Rocky Carroll hopes for more of Parker and Vance's friendship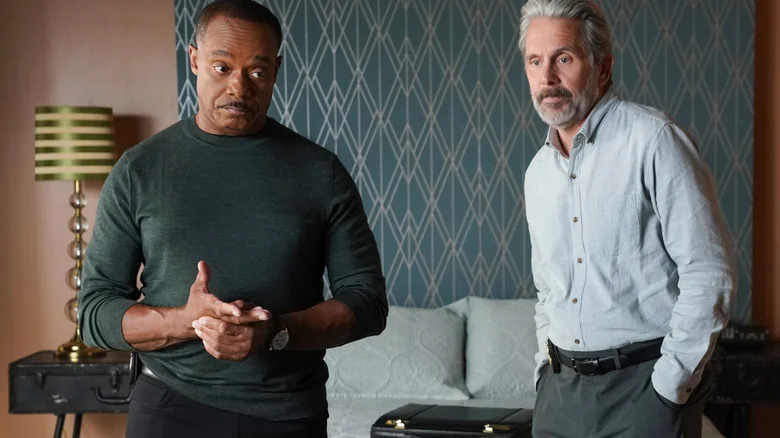 Sonja Flemming/CBS
Where Gibbs and Vance started out on shaky footing because of Vance's espionage on Season 6, it's not as hard for Gibbs and Agent Parker to quickly begin a solid working friendship. In a recent interview with TV Insider, actor Rocky Carroll mused, "I also see a relationship blooming between Vance and Parker that took a very long time for Vance and Gibbs [Mark Harmon] to establish."
Carroll especially likes that "we're not taking that much time with regard to Vance and Parker finding some common ground" (via TV Insider). Their bond also becomes stronger in Season 20 when, after Vance's house is broken into, the agent insists on acting as protection detail for Vance on his business trip. The widower even opens up to Parker about his fears of ending up alone.
The pair go see a movie together, so who knows where their friendship will lead? Per TV Insider, Carroll hopes to see more of "these two characters who are the senior members of this NCIS team kind of finding their footing with each other."