CBS reveals quick hiatus for new NCIS episodes
Fans will have to wait until February for a new NCIS episode
When a show has been around for as long as NCIS has, which is twenty years, and has the loyal following it does, little riles fans up as much as when there's an unexpected shake-up.
NCIS and its several spin-off shows have always been a reliable source of entertainment for fans, but the show can't always please them.
Just as NCIS: Hawai'i sees another episode without Yasmine Al-Bustami's character, Lucy Tara, and CBS confirms NCIS: Los Angeles will be ending, there's another shake-up happening over at the original show.
CBS has revealed a slight schedule change to NCIS, and fans shouldn't expect to see the show on its usual Monday night spot on their television guide.
Though it is unclear why, the network's television listing for upcoming days reveals that rather than a new episode, they will instead rerun a previous episode from the current 20th season.
An episode titled Unearth, the third episode in the 20th season, will instead play. Its plot follows the detectives investigating the murder of a boy whose body was found at an ancient burial site that is thought to be cursed, and will also see characters Nicholas Torres (Wilmer Valderrama) and Dr. Grace (Laura San Giacomo) continue therapy, later discovering that their lives are in danger.
The last few episodes have seen turmoil for Wilmer Valderrama's character
Fans will have to wait until February for a new installment of the show, when on Monday 6th, CBS releases the season's thirteenth episode.
Titled Evil Eye, the plot of the episode has yet to be revealed, but luckily for fans, it kicks off a return to their usual schedule, with the fourteenth episode coming out exactly a week later.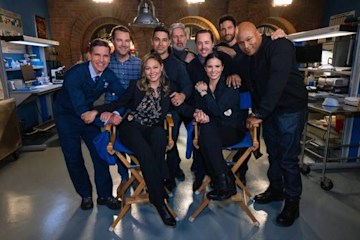 NCIS airs Mondays at 9pm on CBS
Though longtime viewers of the show will surely miss their usual Monday night NCIS routine, they've had plenty of special content from the show this year.
Deadline reports that the show's three-way crossover between NCIS, NCIS: Hawai'i and NCIS: Los Angeles proved to be quite successful, with record-breaking viewership.