NCIS: LA star Eric Christian Olsen shares sweet tribute to co-star following show cancellation
NCIS: Los Angeles star Eric Christian Olsen has shared a sweet tribute to his co-star Caleb Castille on Instagram following the news of the show's cancellation.
Reposting a snap shared by Caleb of the two actors on set, he wrote: "Love this dude. Miss him already."
Caleb plays Devin Roundtree in the police drama, while Eric stars as Investigator Marty Deeks.
The post comes just a week after CBS announced that the show would be ending after its 14th season.
The president of CBS Entertainment, Amy Reisenbach, said in a statement: "For 14 seasons, NCIS: Los Angeles has been a stalwart of our lineup with characters who were a joy to watch. It's no surprise this show succeeded as a global franchise.
"From Day 1, the cast, producers and crew were amazing Network/Studios partners, and their teamwork, talent and spirit vividly came through on the screen."
Eric reacted to the sad news by posting a photo of one of his co-stars in character walking through a dark tunnel. He wrote in the caption: "What a spectacular journey we all shared."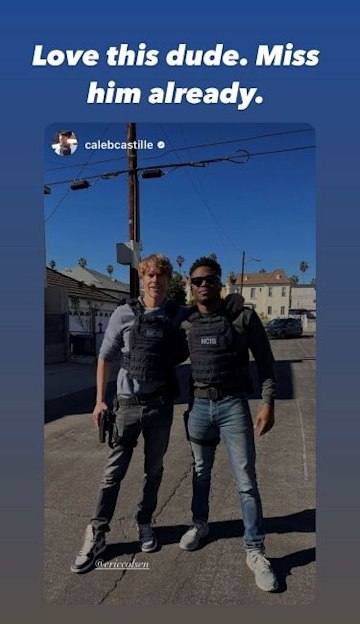 Eric paid tribute to his co-star Caleb amid the show's cancellation
Daniela Ruah, who plays Eric's on-screen love interest Kensi Blye, also reacted to the show's ending on social media, telling fans that her time playing Kensi had been "an absolute dream". She added: "So many feelings to process and too many words to say. I will save them for a later date… I'm so so grateful to have been a part of this NCISLA family."
Meanwhile, Caleb wrote: "There are too many words and emotions to try and fit into one caption so I'll just leave it at I'm grateful. I'm grateful to @cbstvstudios, our cast, the crew, and most importantly our fans for welcoming Agent Rountree into the @ncisla family with open arms! It's been an honor being a part of this team!"