NCIS' Pauley Perrette goes bald in stark throwback
Leave it to Pauley Perrette to show off the many different facets of personality with a heavy serving of edge, as evidenced by her latest social media upload.
The actress' appearance has frequently been at the forefront of her appeal, going from sporting dirty blonde locks to jet black to a multicolored cascade in the present.
She displayed a completely different side to her in a new throwback she posted, going completely bald for what looked like a photoshoot in New York.
Pauley paired her stark look with a contrasting outfit, featuring a floral maxi-skirt and a dark sweater with a white shirt underneath.
MORE: NCIS: LA's Eric Christian Olsen's body transformation which stunned wife and fans
TRENDING NOW: NCIS: LA star Eric Christian Olsen shares sweet tribute to co-star following show cancellation
In her caption, she clarified: "Me at 20 something? Did it myself," and she immediately received a barrage of compliments like: "Way to rock the bald head!"
Another one of her fans commented: "You make all styles work. I absolutely adore you. Such a beautiful soul," while a third even added: "You look amazing! This is the one cut I haven't had the guts to do yet."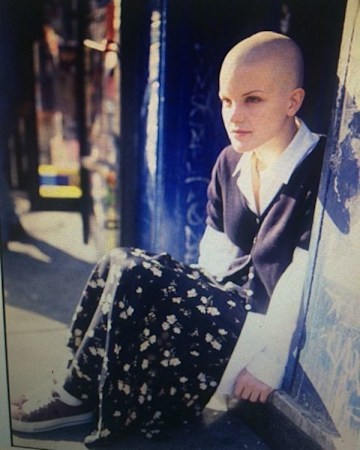 Pauley shared a throwback shot of herself when she was bald
When she first joined the social media platform back in December, the former NCIS star showed off her fun-loving aesthetic with a selfie displaying the bright pops of pink and yellow in her locks.
Recently, however, Pauley shared another pair of photos that displayed the blonder version of herself, a throwback to her days before becoming a TV star.
The shots from her days as a musician for the all-female band Lo-Ball featured her sporting dirty blonde pigtails, a look she maintained for much of her life till her profile as an actress grew and she went darker ahead of her CBS debut.

The actress sported blonde locks during her days as a member of Lo-Ball
She wore a crop-top and short-shorts as she even showed one of her shoes off to the camera, writing in her caption: "Me playing @VansWarpedTour 2001. Thanks @markodesantis for the pics!"