NCIS: LA's LL Cool J teases jumping ship to another NCIS spin-off following cancelation
LL Cool J is dealing with the news of the cancelation of the NCIS spin-off, NCIS: Los Angeles, like his fellow cast mates, but he isn't taking it to heart.
The actor opened up to ET on the Grammys red carpet about the end of the show's run and was quite optimistic about its legacy.
"Well, I gotta tell you it's not hard at all," he said. "CBS did an amazing thing with us; it's been an amazing run. 
"We're talking about 14 years. We not talking about two-and-a-half, three years and 'Oh it was fun while it lasted.' This was 14 years. So, I think that the show has done tremendous numbers."
He continued: "I mean, our last crossover did tremendous number. I couldn't complain, I have nothing. All I could say is, 'Wow, what a ride,' you know what I'm saying?"
The rapper was then told that Vanessa Lachey from another spin-off, NCIS: Hawai'i, offered him the chance to jump on to their show instead, and he implied that it could be possible.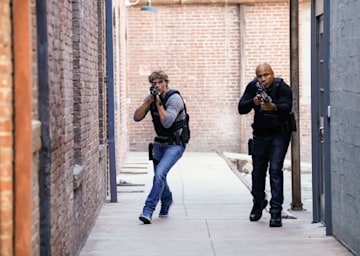 The rapper was optimistic about life after NCIS: Los Angeles
"I'll definitely keep that invitation in mind, Vanessa, and you never know. We'll see what happens. Maybe I'll come play a little bit, we'll see."
The Mama Said Knock You Out performer took to social media to celebrate the show after the huge numbers the NCIS crossover pulled in amid the spin-off's cancelation after its 14 season run.
He wrote: "This NCIS Crossover was a huge success!! Thank you to all our millions of fans around the world!! Some of our best ratings in years.

The show is ending after a 14 season run
"After 14 seasons, this is the perfect time to end @ncisla on top of our game!!! I look forward to continuing my fruitful partnership with @cbstv," teasing more was to come in collaboration with the network.