Eric Christian Olsen's unsuspecting NCIS: LA co-star revealed
Eric Christian Olsen is a fan favorite on NCIS: LA and works alongside his sister-in-law Daniela Ruah, who plays his love interest on the show.
What's more, he also has a close bond with a rather unsuspecting cast member, who fans may not see so much – his own brother!
Eric's actor sibling, David Paul Olsen, plays his stunt double on the show. David is a professional stuntman so it made sense that he should play his brother's stunt double.
The pair are incredibly close, despite growing up in different places.
Eric was born in Eugene, Oregon, while David was born in Moline, Illinois. What's more, Eric was the one that set up his brother with his now-wife.
Daniela opened up to Cassidy Gard about how she met David while on the 2017 red carpet.
"So yeah, I met my husband on set. It's Eric's brother. He is [Marty], a lot of you might know. [David] is his stunt double but also brother in real life, and so yeah. Eric was just like, 'you have to meet my brother because you like guys that are healthy and workout, and he likes brunettes with big shoulders.' And I was like… 'What? What are you saying?'"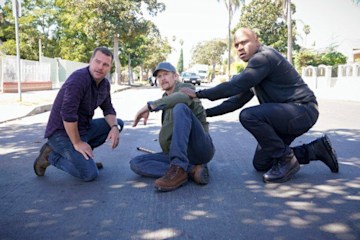 Eric Christian Olsen's brother David Paul Olsen plays his stunt double on NCIS: LA
She continued: "But it's great. It's strong. So yeah, I met my husband on set through Eric and kind of had to chase him around a little bit because he is kind of introverted at first until you get to know him, and then I nailed him. Got him and you know, had two children."
While NCIS: LA has been a blessing for them, it was recently announced that the program would be ending after its 14th series.
The president of CBS Entertainment, Amy Reisenbach, said in a statement last month: "For 14 seasons, NCIS: Los Angeles has been a stalwart of our lineup with characters who were a joy to watch. It's no surprise this show succeeded as a global franchise.
"From Day 1, the cast, producers and crew were amazing Network/Studios partners, and their teamwork, talent and spirit vividly came through on the screen."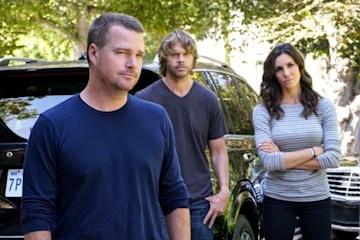 Eric with his sister-in-law and on-screen partner, Daniela Ruah
Eric reacted to the sad news by posting a photo of one of his co-stars in character walking through a dark tunnel. He wrote in the caption: "What a spectacular journey we all shared."
MORE: NCIS: LA's Eric Christian Olsen's body transformation which stunned wife and fans
MORE: How Mark Harmon's painful injury changed his lifestyle
Daniela also reacted to the show's ending on social media, telling fans that her time playing Kensi had been "an absolute dream".
She added: "So many feelings to process and too many words to say. I will save them for a later date… I'm so so grateful to have been a part of this NCISLA family."