Sean Murray's rollercoaster journey to NCIS explained
Sean Murray has been a staple of the hit CBS show NCIS for almost its entire run, making his debut in the very first season and having been there ever since.
20 seasons into the show's landmark run, it's hard to believe that the actor almost never became associated with his iconic role as Senior Field Agent Timothy McGee.
How did Sean become an integral part of the show in the first place? It all started with a well-placed cameo and a little bit of good timing.
Speaking with Studio 10 back in 2020, he explained how it came to be, mentioning that his character was originally written for a one-episode part of a rookie agent.
"It was an interesting thing," he said. "Things clicked well and everything went well in that episode. It was a one-time thing.
"They did their episode after that, McGee wasn't in it. And then, the episode after that, I believe when they finished editing it they were three minutes short."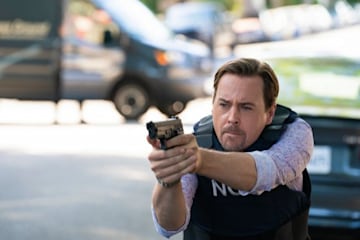 Timothy McGee was originally a one episode role
He continued: "They realized they needed to get a little C-story in there, so they said 'Let's bring McGee back, put him with Tony [DiNozzo] and see what happens.'"
Eventually, the writers liked him so much that they wrote more appearances in for him and he became a more regular part of the c***e procedural drama.
"McGee started appearing more and more slowly in the show. And towards the end of that first season, it just felt like things were clicking right and gelling right.
"Everyone felt it and it was really great to be invited full-time onto the show, it's been an incredible experience."
Sean's daughter Cay has since also made appearances on the show
The star will complete 20 years on the show this year, having made his first appearance back in 2003, having become NCIS' new main lead starting with the current 20th season.