NCIS star Brian Dietzen delights fans as he makes major announcement
NCIS star Brian Dietzen has made an exciting announcement about the upcoming episode of the police procedural drama.
Taking to his Instagram Stories, the Jimmy Palmer actor revealed that he has co-written Monday night's instalment along with executive producer Scott Williams. Resharing a post from the show's account – where the initial announcement was made – Brian wrote: "New episode Monday (co-written by me!)"
The original post from the drama's page showed several photos of Brian working behind the camera alongside Scott.
The caption read: "You're in for a real treat this Monday because an all-NEW #NCIS co-written by Brian Dietzen and Scott Williams is in your future. Are you ready for this one?"
Fans were quick to share their excitement in the comments section, with one person writing: "SOO READY!!!!" while another added: "I'm sure it'll be awesome."
A third person commented: "I am honestly so excited!!" while another added: "Wooo!! Can't wait!!"
Brian co-wrote Monday's episode
Monday's instalment, which is titled Old Wounds, marks the second episode that Brian has written for the drama.
The synopsis reads: "Parker grapples with his emotions when a conman from his past turns up as a prime suspect in the m****r of a navy officer transporting millions of dollars' worth of opioids."
Brian, who recently gave an insight into his off-screen relationship with his co-stars, also co-wrote an episode titled The Helpers in season 19, which aired last year.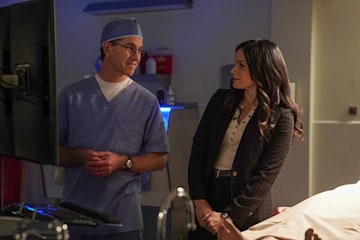 Fans can watch NCIS on Disney +
The 45-year-old – who has been married to his wife Kelly since 2004 – recently celebrated record-breaking viewer ratings for the NCIS crossover, which aired earlier this year.
The three-hour event surpassed season highs in audience numbers and resulted in CBS' most-watched Monday since the NCAA men's basketball championship game.
Taking to Twitter back in January, he reshared an article detailing the viewership figures along with the caption: "Thank you to everyone who watch the #NCISCrossover last night! It was a blast to film, and I hope you all enjoyed it as much as we did!"