NCIS Actors You May Not Know Passed Away
Debuting as a spin-off of "JAG" in 2003, Donald P. Bellisario's "NCIS" (which stands for Naval Criminal Investigative Service, in case you'd forgotten) is one of the best-known procedural TV shows of all time. The Emmy-nominated series is still a big fan favorite over two decades since it dropped on CBS, and it has spawned some spin-offs of its own in that time: "NCIS: Los Angeles," "NCIS: New Orleans," and, the latest installment in the franchise, "NCIS: Hawaii." Given that hundreds of actors have plied their trade in the "NCIS" universe as either main, recurring, or guest stars over the years, it's actually somewhat remarkable that only a fairly small number of them have passed away. That being said, there have definitely been some painful losses for the "NCIS" family.
From memorable one-time guest stars to series regulars and everything in between, the following "NCIS" actors are no longer with us.
The following article contains mentions of suicide.
Michael Gilden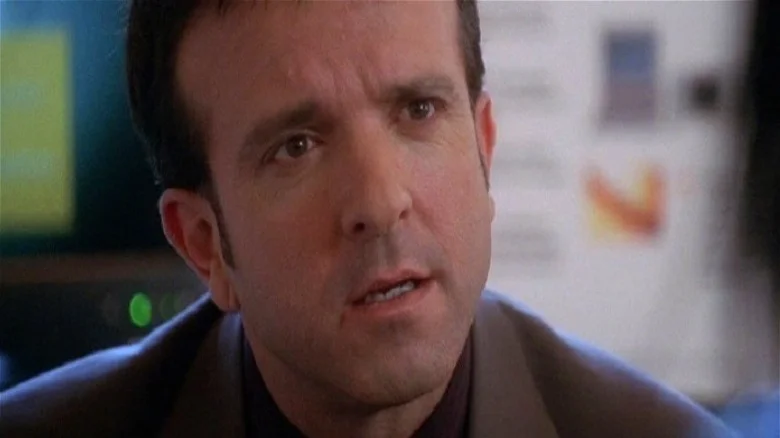 CBS/Paramount
Los Angeles native Michael Gilden, who d**d by suicide in 2006, had a fascinating career that began with an appearance in the 1981 Chevy Chase comedy "Under the Rainbow." He was one of several dwarf actors to appear in the film, all playing actors from 1939's "The Wizard of Oz." Carrie Fisher also featured, and Gilden would reunite with her a few years later when he was hired to play one of the Ewoks in "Star Wars: Episode VI – Return of the Jedi." He went on to do both acting and stunt work in several notable films, including "Pulp Fiction," "Last Action Hero," and "My Giant."
As for his television career, Gilden appeared on "The Amanda Show," "Family Law," "Charmed," and "CSI," in addition to his two episodes in the fourth season of "NCIS," where he played Marty Pearson. Gilden also worked as a stockbroker and was involved in organizations that supported little people. His wife at the time of his d***h, actor Meredith Eaton, made history when she joined the cast of "Family Law" and became the first female with dwarfism to ever be a regular on a primetime television series. "One day in 2006, Eaton found her husband hanging in their Los Angeles home," The Hollywood Reporter confirmed. "He was 44."
If you or anyone you know is having suicidal thoughts, please call the National Suicide Prevention Lifeline​ at​ 1-800-273-TALK (8255)​.
Annie Wersching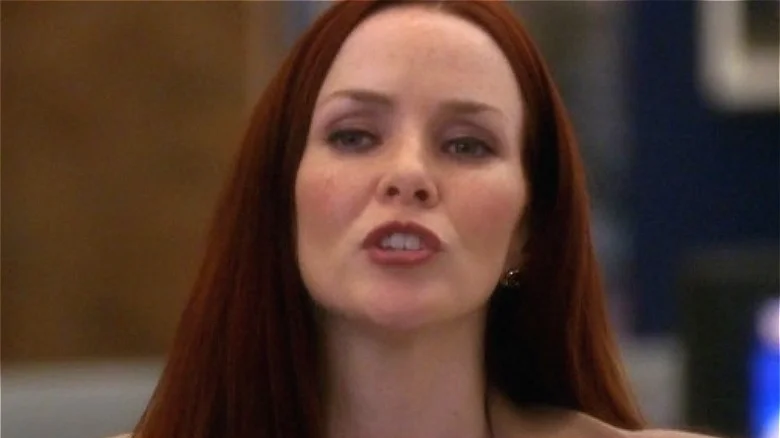 CBS/Paramount
"NCIS" cast member Annie Wersching d**d from cancer in January 2023, aged just 45. Though she was better known for her roles on the shows "24," "The Vampire Diaries," and "Bosch," as well as playing Tess in the acclaimed video game "The Last of Us," Wersching had also appeared as Deputy DA Gail Walsh in the "NCIS" Season 8 episode "False Witness."
Per Deadline, Wersching was diagnosed with cancer in 2020, but she didn't let that keep her from the career she loved and she continued working as long as she was able. In 2022, she played a Borg Queen in Season 2 of "Star Trek: Picard" and she continued with her recurring role as Rosalind Dyer on ABC's "The Rookie" up until 2022. Her "Picard" role brought her career full circle, as her earliest screen credit was on "Star Trek: Enterprise" in 2002. She played Liana, a curious Kantare female who quizzed the crew of the Enterprise NX-01 about humankind when they landed on the planet she was stranded on.
Actor Abigail Spencer, who worked with Wersching on the show "Timeless," shared a heartfelt tribute to Wersching on Instagram, calling her "the best scene partner." She went on to say that Wersching was "the backbone" and "the ringer" on many shows she graced.
Gregory Itzen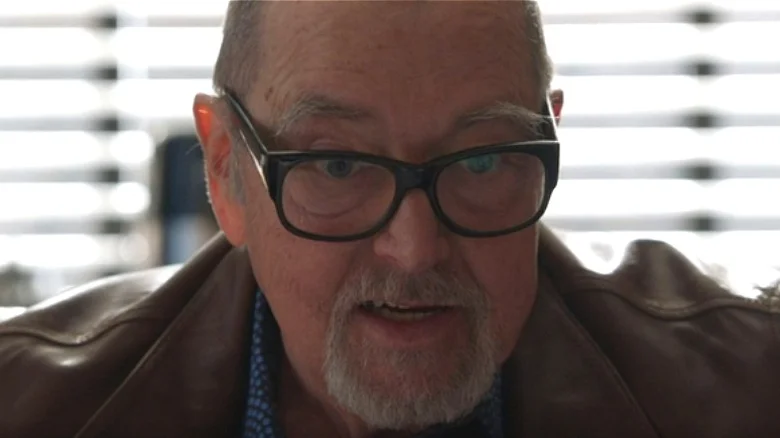 CBS/Paramount
One of the true marks of a great character actor is the ability to play multiple different roles in the same series. This is something that Gregory Itzin did several times throughout his long acting career, perhaps most notably within the "Star Trek" universe: Itzin played five different characters across "Deep Space Nine," "Voyager," and "Enterprise." He also played multiple roles on "Empty Nest," "Night Court," "The Practice," and, of course, "NCIS."
Within the "NCIS" universe, Itzin played three different characters. He portrayed Undersecretary of State Lawrence Culbertson in "JAG," and Director Charlie in a pair of Season 1 episodes of "NCIS." He returned to play Spencer Downing in a Season 17 episode of the latter show, which would be one of his final roles. Itzin's most prominent and most celebrated role was President Charles Logan in "24," a character he played across three different seasons. He received two Emmy nominations for his work as Logan.
Itzin d**d in 2022 after emergency surgery led to complications, his family confirmed to Deadline. He was 74. "He was one of the most talented actors I had the honor to work with but more than that he was an all around great guy," director and producer Jon Cassar, who worked with Itzin on "24," said in a tribute tweet. "He'll be missed by his 24 family who had nothing but love & respect for him. You made your mark, now Rest in Peace friend."
René Auberjonois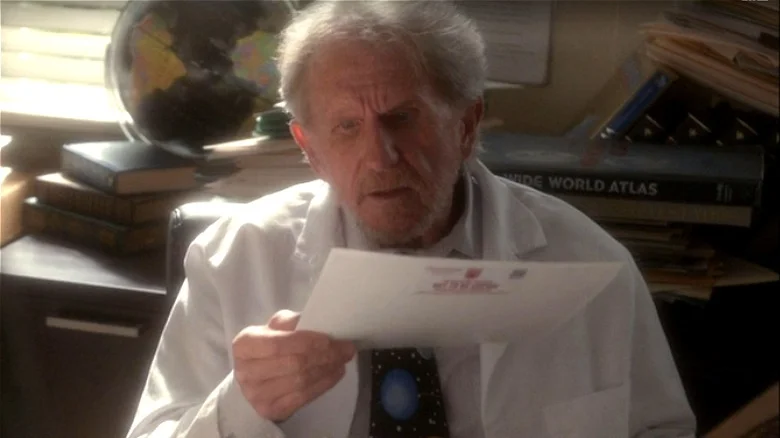 CBS/Paramount
Even if you're not a "Star Trek" fan and have never watched a single episode of "Deep Space Nine," you might have heard of the character Odo, the shape-shifter who was played by René Auberjonois for all seven seasons of the show. Auberjonois was best known for this role, but there was a lot more to him than just "Star Trek." He was also a series regular on both "Benson" and "Boston Legal," and he appeared in films like Mel Gibson's "Ransom" and the original "MASH," playing Father John Mulcahy.
Auberjonois' life off screen was just as interesting as his life on it. The New York native was named after his grandfather, a renowned post-impressionist painter from Switzerland. His father, Fernand Auberjonois, was a Swiss-born journalist, and his mother, Laure Louise Napoléone Eugénie Caroline Murat, was a member of the French aristocracy, a relative of one of Napoleon Bonaparte's marshals. He spent time in Paris and London during his childhood and briefly lived in an artists' colony in Rockland County.
He always seemed destined for a career in the arts, and excelled as an actor both on camera and on the stage. He won a Tony Award for his turn in the musical "Coco" in 1970, and he was also nominated for two Emmys during his career, one for "Benson" (in which he played Clayton Endicott III) and one for "The Practice" (in which he guest-starred as Judge Mantz). Per The Hollywood Reporter, Auberjonois d**d from cancer in 2019 at the age of 79.
Ralph Waite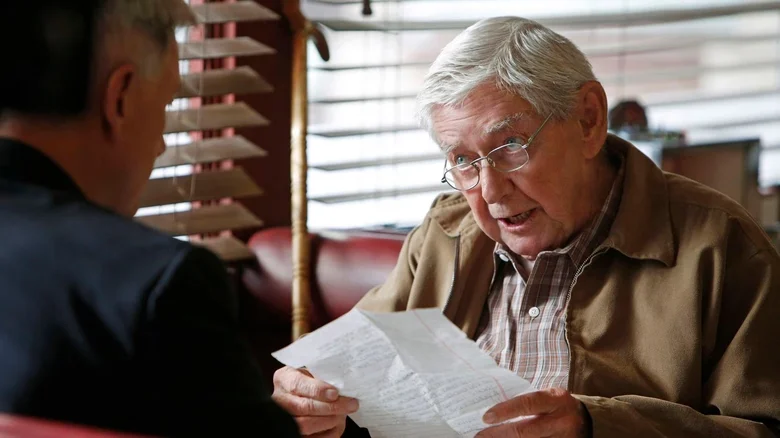 CBS/Paramount
Television veteran Ralph Waite had been gracing the small screen for a long time prior to his eight-episode stint on "NCIS." He delivered an Emmy-nominated performance in "Roots" in the late 1970s, but he was best known for portraying patriarch John Walton Sr. on the long-running historical drama "The Waltons," a role he played for all nine seasons of the original series, as well as all six subsequent movie specials. But he wasn't only a TV actor, as Waite had also appeared in such classic films as "Five Easy Pieces" and "Cool Hand Luke."
As for his tenure on "NCIS," he played the important role of Jackson Gibbs, father to series lead Leroy Jethro Gibbs (Mark Harmon), in eight episodes of the show. Waite portrayed the character right up until the end of his life. Jackson Gibbs d**d in the Season 11 episode "Honor Thy Father," which aired three months after Waite's d***h in February 2014 at the age of 85. In addition to acting, Waite also dabbled in politics. He ran for Congress in California, "narrowly losing in 1990 and again in 1998 to Mary Bono, the widow of former congressman and Sonny and Cher star Sonny Bono," CNN reports.
Chaney Kley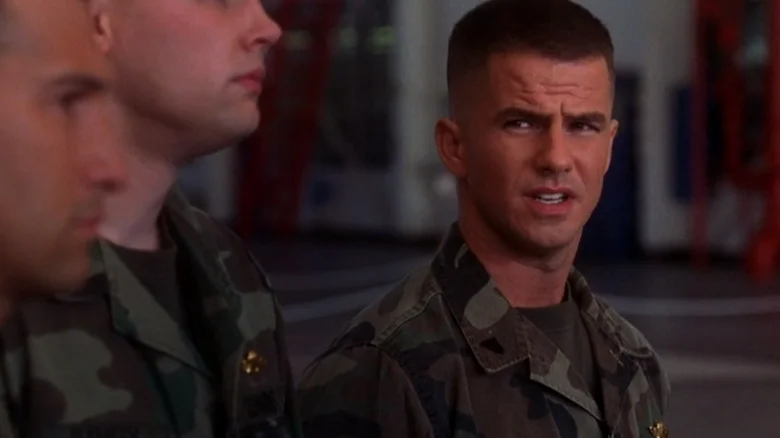 CBS/Paramount
Though he had an early brush with movies thanks to a small role in 2001's "Legally Blonde," actor Chaney Kley plied his trade in TV for the bulk of his career. His lengthiest gig was as recurring character Officer Asher on "The Shield." He appeared in 16 episodes of the award-winning FX police drama between 2005 and 2008, extending beyond his 2007 d***h. Asher is notable for being one of the only characters on the show that has seemingly earned the trust of Vic Mackey (Michael Chiklis), who asked Asher on more than one occasion to keep an eye on his family.
Kley seemed to be carving out a niche on law enforcement shows, also landing guest star roles on "CSI," "Cold Case," and as an FBI agent on "Las Vegas." He popped up early in the run of "NCIS," playing Corporal Paul Brinkman in "Hung Out to Dry," the show's second episode. Kley tragically passed away in July 2007 aged just 34, a result of complications from sleep apnea according to his memorial page. His final completed role was in the movie "One Way to Valhalla," released two years after his d***h.
Sam Sarpong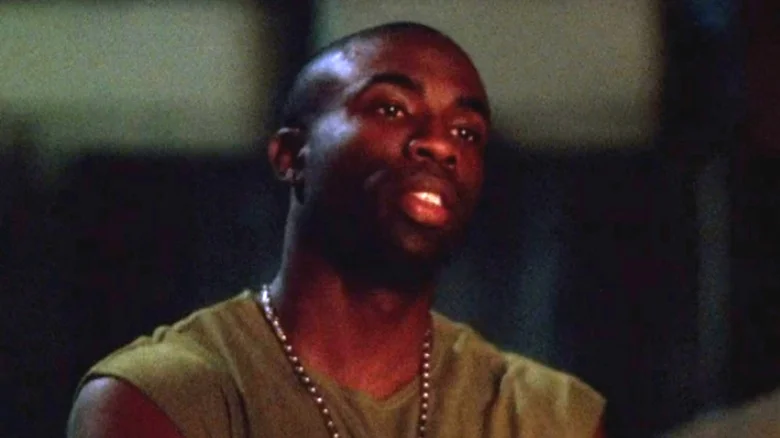 CBS/Paramount
"NCIS" guest star Sam Sarpong accomplished a lot in his life, despite it being cut tragically short. The London-born multi-hyphenate was an actor, model, television host, singer, writer, producer, and director. He was one of the earliest guest stars on "NCIS," appearing in the Season 1 episode "Seadog." He began his acting career almost a decade earlier when he snagged an uncredited role in "My So-Called Life." He steadily built up a respectable TV resume in the years that followed, popping up in the likes of "Family Matters," "Home Improvement," "ER," "Everybody Hates Chris," "24," and "Bones." His final appearance was a posthumous one in "American C***e Story."
Sarpong moved to Los Angeles to live with his father aged 11. He played basketball in high school, and, according to the Independent, he wanted to play professionally. "When that didn't work out he turned to modeling and acting," the British newspaper confirmed, adding that he "carved out a successful catwalk career, working with Hilfiger, Gucci, Versace and Louis Vuitton." He became a well-known television presenter, co-hosting MTV's "Yo Momma" and later fronting the pre-show of the annual BET Awards. He showed off his musical skills on screen in projects like "Carmen: A Hip Hopera" and off screen as music supervisor on several films. He was also a successful recording artist in his own right, with his group The League having sold over a million records worldwide.
Sarpong jumped off a California bridge to his d***h in October 2015. He was 40. "His passing is a loss for the world," his sister, TV presenter June Sarpong, said (via the Daily Mail). "I'd ask anyone who is going through tough times to seek help. Please talk to someone."
If you or anyone you know is having suicidal thoughts, please call the National Suicide Prevention Lifeline​ at​ 1-800-273-TALK (8255)​.
Charles Durning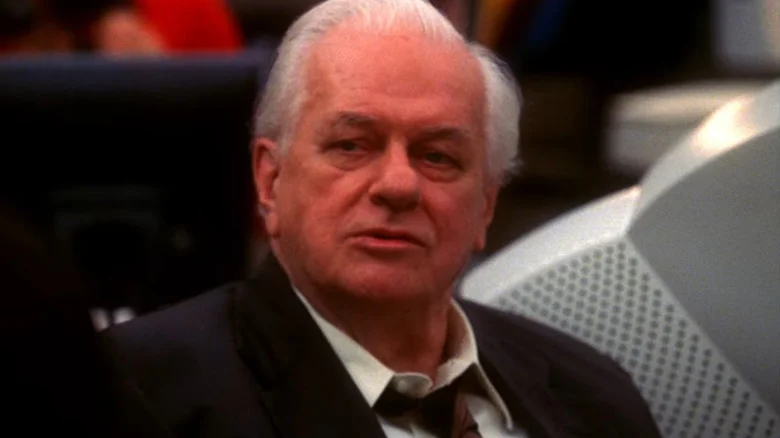 CBS/Paramount
With a decorated career that spanned seven decades, Charles Durning appeared in several critically acclaimed films: "Dog Day Afternoon," "The Sting," "Tootsie," "O Brother, Where Art Thou?," and "The Muppet Movie," to name but a few. The late actor was a two-time Oscar nominee for his roles in "To Be or Not to Be" and "The Best Little Whorehouse in Texas," and a Tony Award winner for his performance as Big Daddy in the 1990 Broadway run of "Cat on a Hot Tin Roof."
Durning was also plenty busy in television over the years. He was a series regular on the Burt Reynolds sitcom "Evening Shade" and a recurring character on FX's "Rescue Me." The latter got him a Primetime Emmy nomination and the former earned him an Emmy win in 1992. He had further Emmy nominations for the 1976 television movie "Captains and the Kings," the series "Homicide: Life on the Streets," and "NCIS," where he was recognized for his performance as Corporal Ernie Yost in the acclaimed 2004 episode "Call of Silence."
Durning once told USA Today that he "was born a character actor," adding: "I was born looking older — and I've been aging since I was a teenager." He passed away from natural causes in 2012 at the age of 89, leaving behind not only a stellar body of acting work but a highly-decorated military career. According to the U.S. Army website, he was "a survivor of the June 6 D-Day invasion who received a Silver Star and three Purple Hearts."
Nina Foch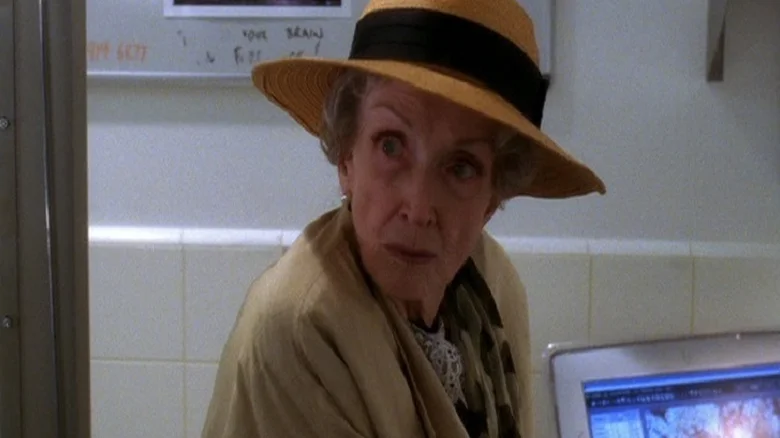 CBS/Paramount
Shows like "NCIS" are often a great showcase for aging actors. A guest spot doesn't require a significant time commitment, but the roles are usually more meaty than a quick appearance on a sitcom or soap opera. "NCIS" in particular seems to do a great job at casting longtime veterans of the business and helping them get one last great role before they retire or pass away. Nina Foch got that chance when she played Victoria Mallard in two episodes of "NCIS," once in Season 2 and again in Season 3.
As the mother of Donald "Ducky" Mallard (David McCallum), who has been around since the show's backdoor pilot episode in "JAG" and has been a main character on the entire run of "NCIS," Foch got to play an important character in the show's canon. It was one of her last ever appearances, helping to cap a career that stretched all the way back to the 1940s. Her notable credits include iconic films such as "The Ten Commandments" and "Spartacus," and classic television shows like "Gunsmoke," "Bonanza," and "M****r, She Wrote." The New York Times reported that Foch d**d in 2008 at the age of 84, calling her an "actress in sophisticated roles."
Terry Rhoads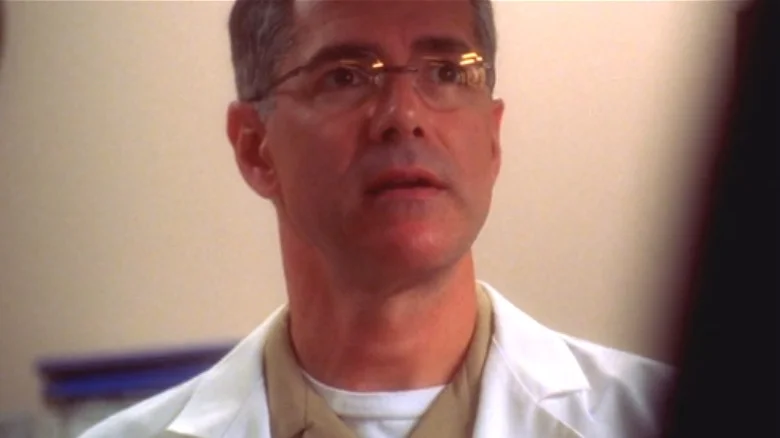 CBS/Paramount
Character actor Terry Rhoads wasn't particularly well-known, though he was beloved in Denver. "His impact on Colorado theater was enduring," said the Denver-focused arts blog Culture West. "Rhoads played the leading man at dozens of Country Dinner Playhouse shows." The closest he came to making it big in Hollywood was playing a main cast member in the Fox sitcom "Living in Captivity," which was canceled before the end of its first season. He starred as Gordon, the security guard of the gated community where the show was set. After that, many of his characters were nameless, defined purely by their professions. However, he managed what many other character actors struggle to achieve in that he landed regular work after breaking into the industry in the early 1990s.
On "NCIS," Rhoads appeared as captain and doctor Brent Peters in the Season 1 episode "My Other Left Foot." Casting directors often saw him as a medical professional: He also played doctor characters in "That '70s Show," "Bones," "My Wife and Kids," "The Drew Carey Show," "Two and a Half Men," "Still Standing," "What About Brian," and "Center of the Universe." Movie-goers may remember Rhoads from the likes of "Liar Liar," in which he played a pilot, and "The Day After Tomorrow," in which he played an anchorman. He d**d in October 2013 at the age of 61 according to Culture West, which referred to him as "Denver's leading man."
Gerry Becker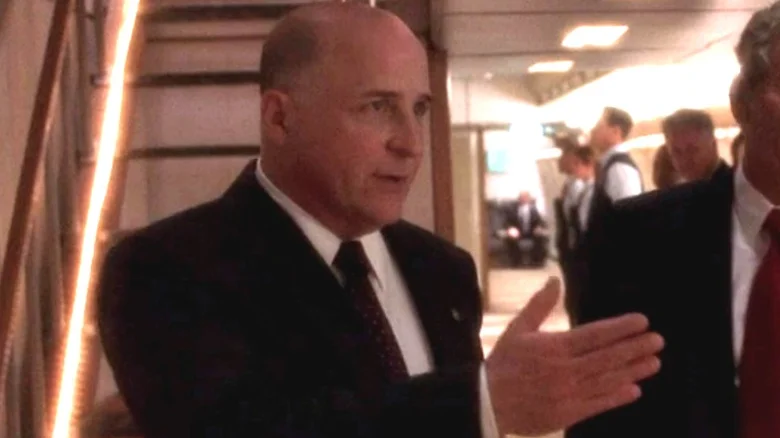 CBS/Paramount
One of the first actors you see in the very first episode of "NCIS" is Gerry Becker, who is escorting the show's version of president George W. Bush through an airplane. Not many people can say they got to help introduce a show to millions of viewers that would be on the air for 20 years, but Becker is one of them. The actor's first love was theater and that's where he did the bulk of his work, particularly in the Chicago area throughout the 1980s and '90s. His most notable stage credit came in 1993 when he appeared in the apartheid-set Broadway play "The Song of Jacob Zulu," playing the character Marty Frankel.
Becker still played plenty of film and TV characters during his career, including sizable roles in the movies "Donnie Brasco," "Man on the Moon," "Mickey Blue Eyes," and 2002's "Spider-Man." He portrayed Maximilian Fargas in the Sam Raimi film, a member of the OsCorp Board of Directors who clashed with Norman Osborn over plans to sell the company. He gets m******d by Osborn after he becomes the Green Goblin and a*****s the World Unity Festival. Becker stepped away from acting in the 2010s, with his last credited screen role being in a 2008 episode of "Law & Order." He passed away in April 2019 due to complications related to diabetes, per Chicago Theater Bike Ride.
Bruce Gray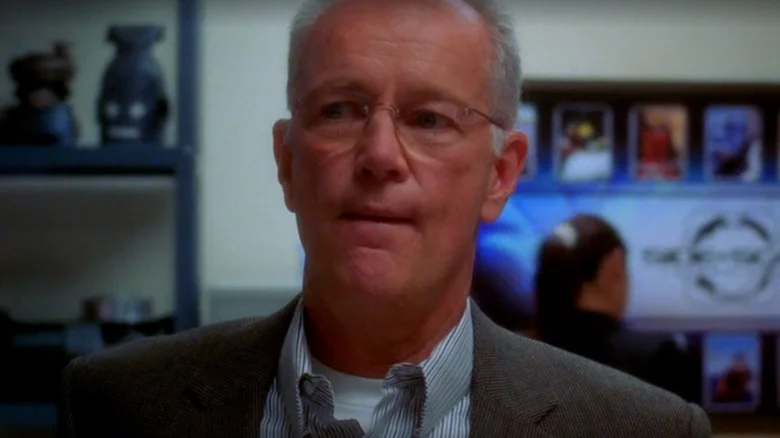 CBS/Paramount
Another actor who played separate characters on "JAG" and "NCIS" is Bruce Gray. He first appeared on "JAG" in the 2002 episode "Head to Toe" as Brigadier General Sawyer, and later made the jump to "NCIS" in 2004 as Assistant Director Jonathan Overmeier, popping up in the Season 1 episode "Eye Spy." These are just two of the many guest star appearances that Gray made in the 2000s and 2010s, including roles on "How I Met Your Mother," "The West Wing," "Boston Legal," "Castle," "Sons of Anarchy," "Criminal Minds," and "Stargate SG-1." Prior to that, Gray played Vice Admiral Chekote, a senior Starfleet officer stationed at Starbase 227, in "Star Trek: The Next Generation" and "Star Trek: Deep Space Nine."
Born in Puerto Rico to Canadian parents, Gray lived in San Juan until he was a teenager. He cut his teeth on the stage, heading to England to tread the boards of London's Mermaid Theatre opposite Donald Sutherland in "Androcles and the Lion." He then returned to North America and spent the early part of his acting career in Canada before eventually settling in Los Angeles, where he resided at the time of his d***h in October 2017. He was 81. "Bruce was not only an amazingly talented actor, but an incredible role model on set," producer Alyson Richards, told The Hollywood Reporter. "He charmed the entire cast and crew of 'Don't Talk to Irene' with his warmth, generosity and incredible wit." Other notable movie roles include "Starship Troopers," "Water for Elephants," and "My Big Fat Greek Wedding," in which he played the father of John Corbett's character.
Miguel Ferrer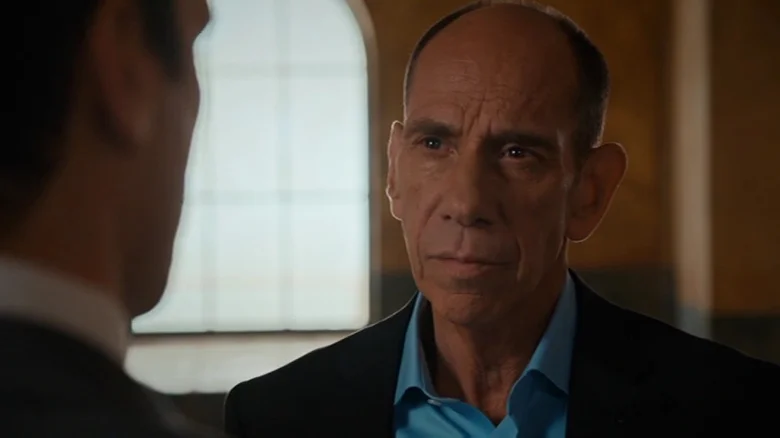 CBS/Paramount
So far, the biggest loss to the "NCIS" family in terms of role size has been Miguel Ferrer, who d**d from throat cancer in 2017 at the age of 61. Ferrer played Owen Granger on "NCIS: Los Angeles," starting as a recurring character in Season 3 and Season 4 before becoming a main cast member for Season 5 through to Season 8. It wouldn't be the first or only series Ferrer was a regular player on, as he graced the casts of many television shows during his 40-plus year career.
Though it wouldn't air until after his d***h, Ferrer reprised the role of FBI agent Albert Rosenfield for the revival of "Twin Peaks" after having previously played the character in the original series and the follow-up film "Fire Walk With Me." He was also a main cast member in "Crossing Jordan," and he had multi-episode stints on "The Protector" and 2007's "Bionic Woman." His big screen breakthrough was in the original "RoboCop," and he went on to appear in films like "Star Trek III: The Search for Spock," "Traffic," and "Iron Man 3." He played Vice President Rodriguez in the Marvel movie, a corrupt character who was impeached for his role in the Mandarin's terror a*****s.
Ferrer also did a lot of voice work. He brought his distinctive tones to everything from Disney's "Mulan" to shows like "Jackie Chan Adventures," "Adventure Time," and "Young Justice." He was a first cousin of George Clooney, who told Variety that Ferrer "made the world brighter and funnier" in a statement following his d***h. "His passing is felt so deeply in our family," the A-lister said. "We love you Miguel. We always will."
Barbara Tarbuck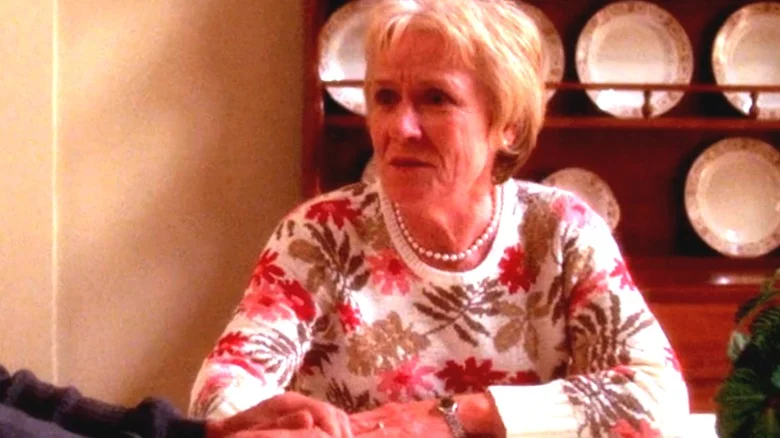 CBS/Paramount
Stage and screen veteran Barbara Tarbuck made the rounds in the soap opera circuit during her long career. She had multi-episode stints on "Dynasty," "Falcon Crest," and "Santa Barbara" before beginning a recurring role in "General Hospital" that lasted for over 40 episodes. Her most recent extended stint on a series was the "Asylum" season of "American Horror Story," playing Mother Superior Claudia in what would be one of her final screen roles.
Between her soap opera days and her final years, Tarbuck racked up an impressive resume of TV show appearances that included the likes of the original "Quantum Leap," "ER," "NYPD Blue," "Six Feet Under," "Glee," "Medium," "Nip/Tuck," and the Season 1 "NCIS" episode "UnSEALeD." She didn't do many movies, but her film roles included "Short Circuit," "Curly Sue," and the 2004 Dwayne Johnson-led remake of "Walking Tall." According to The Hollywood Reporter, Tarbuck did a lot of regional theater work and was an acting teacher at UCLA. The Detroit native passed away in December 2016 from the degenerative brain disorder Creutzfeldt-Jakob Disease, or CJD. She was 74.
Read More: https://www.looper.com/1192632/ncis-actors-you-may-not-know-passed-away/