Ducky's Job In NCIS Is Not Portrayed Accurately
It may not surprise even longtime fans that "NCIS" has received criticism over factual inaccuracies, with there being a lot of questionable things some viewers ignore. After all, the series has not only been on the air for 20 seasons, but it's also meant to be a high-octane c***e-drama. For the sake of entertainment, "NCIS" does distort some of the truth behind the real-life NCIS agency. Executive Producer Gary Glasberg talked in 2012 about where the show's writers draw inspiration. 
"It's a little bit of letting our own imaginations run wild, of really understanding the kind of stories that are fun for these characters now after 10 seasons," Glasberg told The Futon Critic, "and then periodically drawing off of something that we hear about or that we read." 
The series also employs technical consultants to help the actors and production feel more accurate. Despite that, "NCIS" also keeps getting a big part of Dr. Donald "Ducky" Mallard's (David McCallum) job wrong for no apparent reason.
Ducky regularly contaminates c***e scenes and medical labs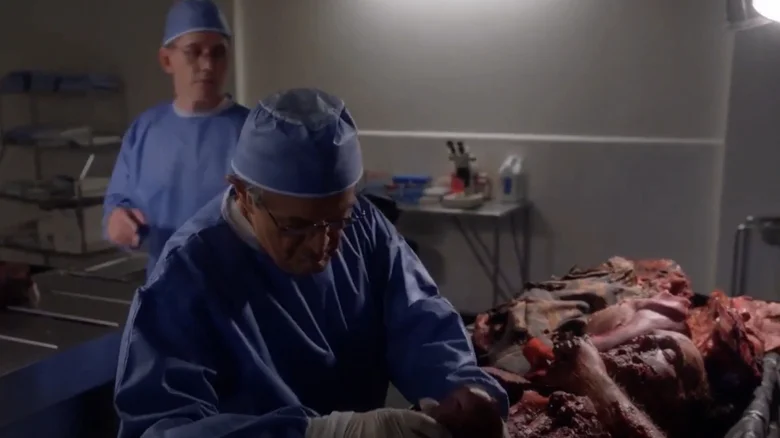 CBS/YouTube
Dr. Donald "Ducky" Mallard is supposed to be an expert in forensics, serving as the NCIS Chief Medical Examiner for years before his retirement; however, Dr. Mallard constantly messes up when it comes to contaminating other areas and not watching out for biohazardous materials.
The doctor is repeatedly shown entering other areas, including Abby's (Pauley Perrette) lab, with blood still on his coat, and that's considered biohazardous waste. As a medical professional, Ducky would have otherwise known to immediately leave the coat behind before entering an uncontaminated medical area.
What's really absurd is how a competent senior medical examiner never wears any equipment to protect himself while present at major c***e scenes. Masks, overalls, gloves, and hair coverings are essential for not contaminating evidence. Ducky, meanwhile, only wears a hat and a suit when he's around a grisly incident. The inconsistency and lack of professionalism simply feels ridiculous when the character is such a respected, lovable fixture of "NCIS."
Read More: https://www.looper.com/15977/untold-truth-ncis/