Early Roles That NCIS Actors Would Probably Like You To Forget About
When it comes to TV procedurals, there are several franchises that have dominated our screens for decades. While the "Law & Order," "CSI," and "Chicago One" franchises have focused on big city cops, "NCIS" has the unique angle of following the military to set it apart from its rivals. What's interesting about it is that the first series in the saga is actually a spin-off, growing out of the Navy legal drama "JAG." When "NCIS" became even bigger, spin-offs of that show soon followed, each with their own roster of special agents played by a who's who of veteran TV stars.
The "NCIS" shows have featured some of the finest ensemble casts on television. While they've largely been led by established actors, each show has helped bring through new talent, making big names out of the likes of Pauley Perrette and Michael Weatherly. Just about every major cast member can count their roles in the "NCIS" universe among their best, but they all have something in their past that they likely want us to never look back on. Here are some early roles that "NCIS" actors would probably like you to forget about.
Mark Harmon – Cold Heaven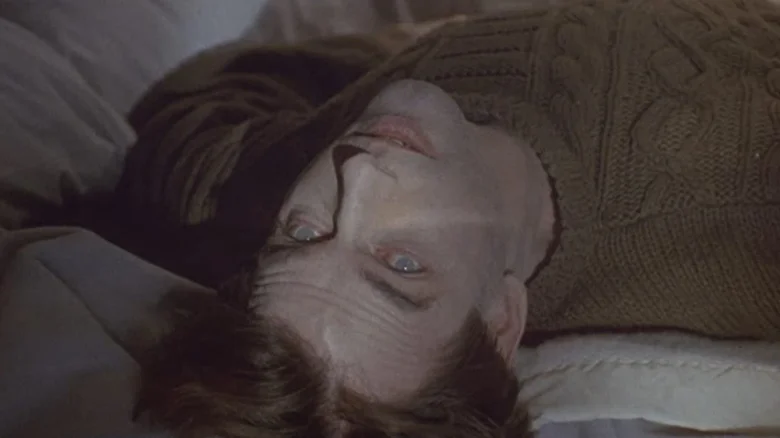 Hemdale
As Special Agent Leroy Jethro Gibbs, Mark Harmon starred in the flagship series "NCIS" for an astonishing 18 seasons, departing a few episodes into its 19th year. So identified is Harmon with the hit CBS procedural that some audiences may not even remember the days when he starred in the likes "St. Elsewhere" on television, and in cult comedy classics like "Summer School" in the '80s. In 1991, Harmon appeared in a thriller that landed with a thud, titled "Cold Heaven."
Based on a 1983 novel by Brian Moore, the film tells the story of Marie (Theresa Russell), who is planning to leave her husband Alex (Harmon) for Daniel (James Russo). But when Alex is k****d in a boating mishap and somehow returns from the dead vomiting blood, Marie seeks the help of a local priest for answers. A complicated murder scheme, a confusing religious mystery, and an inexplicable wrap-up later, and you're left with a movie that will have you scratching your head, wondering how it ever got made.
Audiences were confused by what the movie was trying to say about love, loss, infidelity, and, well, anything at all. For all its weighty themes and powerful imagery it doesn't seem to be saying much at all. In the end it was a total flop and a forgotten failure — and Harmon probably wants to keep it that way.
LL Cool J – Rollerball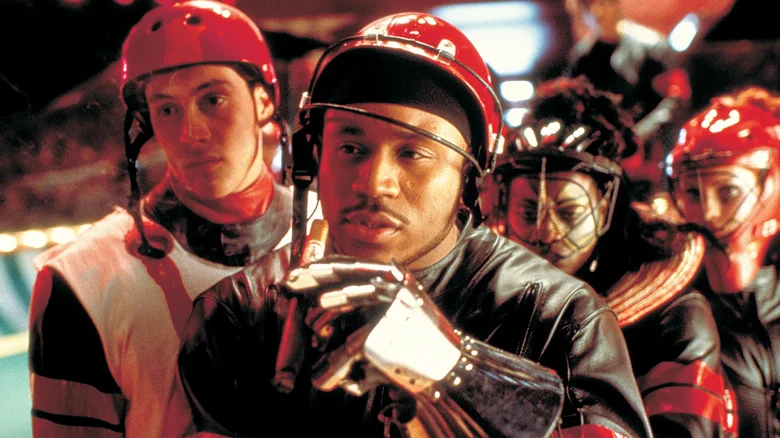 MGM
LL Cool J can't quite touch the incredible 20-plus year run of Ice-T on "Law & Order: SVU," but his time on "NCIS: Los Angeles" surely ranks among the longest stints for a rapper-turned-actor on a prime time police procedural. Since 2009, he has played Special Agent Sam Hanna, a role he has reprised on sister shows "NCIS" and "NCIS: Hawaii." He's well-known for the role, but what fans of "SVU" may not know is that he once appeared in an infamous sci-fi bomb called "Rollerball," which dropped back in 2002.
A remake of a 1975 film that remains among the best sci-fi flicks of its era, "Rollerball" also stars Rebecca Romijn, Jean Reno, and Chris Klein. It takes the original's all-too-prescient premise of a future world ruled by entertainment and infuses it with a turn-of-the-millennium sensibility. LL Cool J plays Marcus Ridley, one of three of the most famous athletes in the game of Rollerball, a brutal sport designed to keep the masses mesmerized. When their corporate masters decide to make the game more dangerous, the trio of stars realize they're just pawns and become fugitives.
The nuance and message of the original are nowhere to be seen here, with the remake becoming by-the-numbers action schlock. Little more than an excuse to peddle some extreme sports sequences and show off some of the day's hottest stars, the movie was rated as one of the worst films of the decade by critics and the cast is still trying to live it down.
Chris O'Donnell – Batman & Robin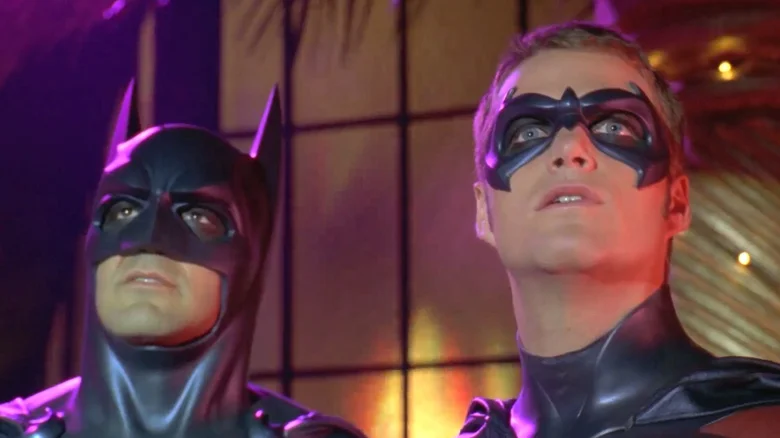 Warner Bros.
In the early '90s there were few young actors hotter than Chris O'Donnell, who gave a breakout performance alongside Al Pacino in "Scent of a Woman." He never did achieve the big screen stardom many had him pegged for, but he wound up finding success on television instead and today is best known as the star of "NCIS: Los Angeles." If there's one past role that O'Donnell could erase from history, it would undoubtedly be the one that many think ruined his movie career — Robin in the 1997 superhero flop "Batman & Robin."
O'Donnell had previously played the part in the film "Batman Forever," but dreams of fronting a Robin spin-off never materialized thanks to the dreadful follow-up. "When the reviews came out on 'Batman & Robin,' that was shut down immediately," he said of the planned spin-off (which was to be titled "Nightwing") during an interview with Entertainment Tonight. He went on to praise George Clooney — who replaced Val Kilmer as Batman — for taking the failure in his stride. "I thought George handled it great. He was like, 'Well, we k****d the franchise,' and funny about it." But what went wrong with "Batman & Robin," exactly?
The sequel was lighter, brighter, and much goofier than the films that came before it. Devoid of the drama that made Tim Burton's entries in the series successful, "Batman & Robin" is basically a live action cartoon. Still seen as one of the worst comic book movie adaptations of all time, it took nearly a decade for the franchise to recover. It would take O'Donnell even longer to salvage his career, landing his role on "NCIS" in 2009. He's now played Special Agent G. Callen in over 300 episodes of the spin-off, and is a big fan favorite.
Nia Long – Stigmata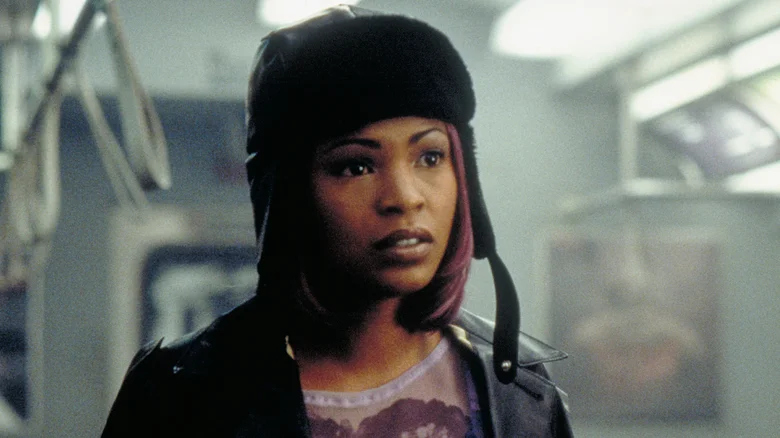 MGM
Nia Long may have one of the most fascinating careers among the cast of any "NCIS" series. She broke out in the critically acclaimed drama "Boyz n the Hood" in 1991, had a recurring role in the iconic '90s sitcom "The Fresh Prince of Bel Air," starred opposite Martin Lawrence in a pair of "Big Momma's House" films, and appeared in the Emmy-winning series "Third Watch," all before landing the role of NCIS director Shay Mosley in "NCIS: Los Angeles." Long has established herself as one of TV's most talented veterans, but 1999's "Stigmata" remains a smear on her glittering resume.
This ludicrous horror movie stars Patricia Arquette as Frankie Paige, a young woman suffering from an inexplicable case of stigmata. She begins showing signs of the same wounds suffered by Jesus Christ during the crucifixion. When she becomes the victim of strange forces, Father Andrew Kiernan (Gabriel Byrne) comes to look into her situation, only to have his faith rocked to its core when it appears as though demonic agents may have possessed Frankie's body. Long plays Frankie's friend Donna Chadway, who chips in with the odd confused expression and doesn't really do much else.
Part of a wave of late '90s religious thrillers, "Stigmata" is an utterly baffling film that makes little sense. Critics were unkind to say the least, with Entertainment Weekly declaring it "a derivative, pretentious rock video," and the late, great film buff Roger Ebert calling it an "'Exorcist' wannabe" that is "perhaps the funniest movie ever made about Catholicism from a theological point of view."
Pauley Perrette – The Price of Kissing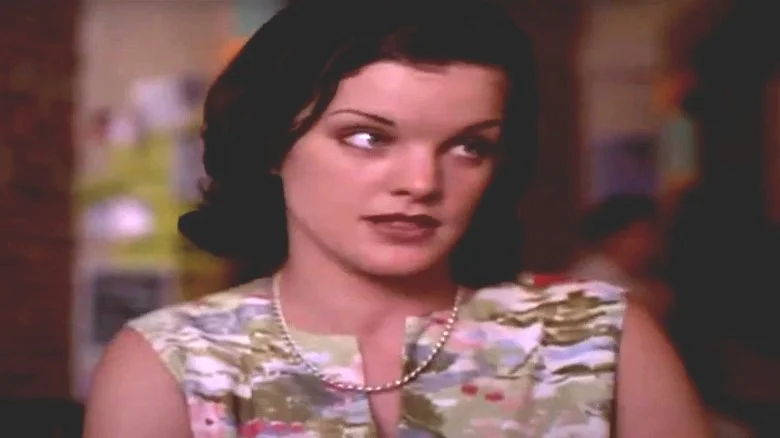 Evergreen Entertainment/YouTube
Pauley Perrette starred in the original "NCIS" as quirky forensic specialist Abby Sciuto for 15 seasons, a run exceeded only by fellow series star Mark Harmon. Prior to her time on the series, Perrette was probably best known for her role as Gwen in Season 2 of "Murder One," which was one of her first on-screen performances. Around the same time — in addition to guest appearances in episodes of "Frasier," "Early Edition," and "The Naked Truth" — Perrette starred in a miserably misguided romantic comedy titled "The Price of Kissing."
The film puts Perrette in the clichéd role of Renee, a gorgeous young woman who just can't seem to find a man. A cardboard cutout of a character, she has plenty of lovers, but she wants something more. She can't decide which man she wants to keep, stuck between a sexy singer and a soft-spoken gentleman. With the help of her quirky but loyal friends, she's sure to figure it all out. It's the kind of eye roll-inducing story that we've seen play out on screen dozens of times over the years.
While the cast members do the best they can with the material, the script is riddled with dialogue that feels churned out in a hurry. Lacking all the ingredients you want in a movie of this type, "The Price of Kissing" is stale, tired, and devoid of all charm. Few people are aware of its existence, and Perrette no doubt wants it to stay that way.
Linda Hunt – She-Devil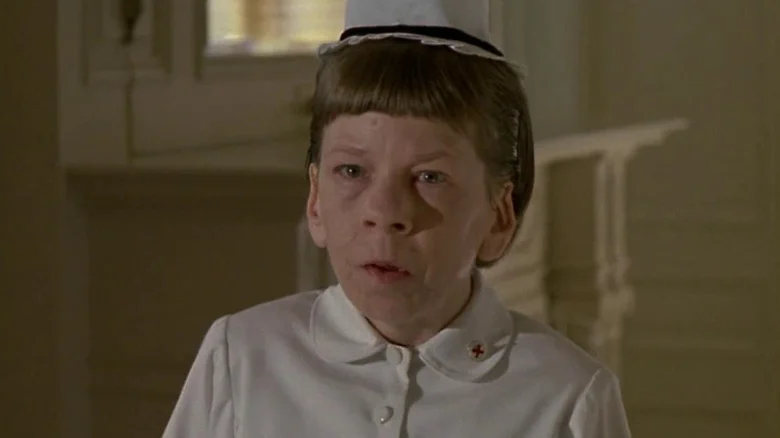 Orion Pictures
"NCIS: Los Angeles" star Linda Hunt is one of those actors you've seen all over and just can't forget. Outside of her long-time role as Hetty Lange on the "NCIS" spin-off, she's starred in "The Practice" as Judge Hiller and movies like David Lynch's "Dune." Her unmistakable voice can be heard in classics like "Pocahontas," the "God of War" video game series, and even "Solo: A Star Wars Story." She's plied her trade in dozens of memorable projects, but there's one early role that she probably regrets taking on.
Back in 1989, Hunt appeared in the dreadful comedy "She-Devil," which paired distinguished leading lady Meryl Streep with crass comic Roseanne Barr. In this boorish black comedy, Barr stars as mother and housewife Ruth. She struggles to put up with her husband Bob (Ed Begley Jr.), who she knows is cheating on her. Bob is a ruthless businessman messing around behind his wife's back with successful romance writer Mary Fisher (Streep). When Bob finally leaves his wife to marry her, Ruth snaps and goes looking for revenge on both of them.
A dark comedy is one thing, but what "She-Devil" lacks is laughs. Barr — who made her name with lewd stand-up comedy that many found offensive –is completely neutered in this PG-13 flick, taking away any appeal the film might otherwise have had. With gags that don't work, "She-Devil" is simply a mean-spirited story with no characters to root for. Hunt plays Hooper, a nursing home employee who teams up with Barr's unhinged character.
Lucas Black – Legion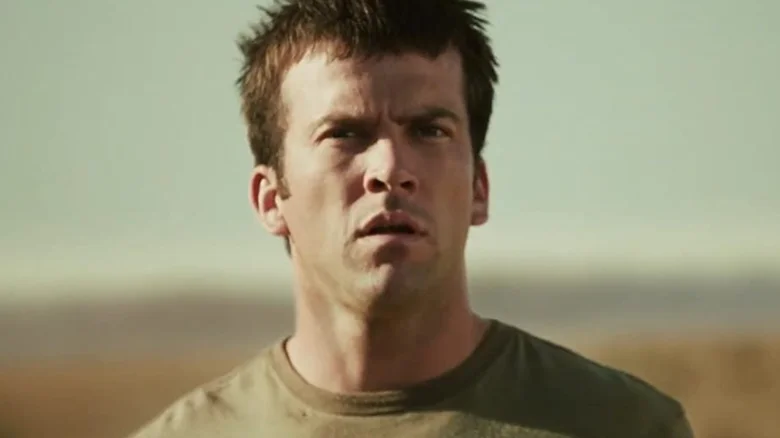 Screen Gems
It's safe to assume that "NCIS: New Orleans" star Lucas Black would rather the world forget all about 2010's "Legion." This religious thriller features Paul Bettany, Adrianne Palicki, Tyrese Gibson, and Dennis Quaid alongside Black. Like any movie, it may have the odd fan, but it's generally seen as just another film in a long line of bizarre and confusing horror-action thrillers about angels, demons, and apocalyptic prophecies.
What makes "Legion" unique is that it takes the concept of an angel on Earth and fuses it with a vigilante premise. Bettany stars as the archangel Michael, who arrives in a small town to inform a pregnant waitress named Charlie (Palicki) that her unborn child is the savior of the human race, and that it's up to him to protect it. But, instead of biblical super powers, Michael uses machine guns and action movie one-liners as his weapons of choice. Black plays a mechanic named Jeep Hanson, who is in love with Charlie but isn't the father of her child. His father (Quaid) owns the diner that Charlie works at.
You can see why "Legion" looked like a good bet on paper, but the film takes itself way too seriously. Maybe if it had been a more tongue-in-cheek action comedy it could have worked, but, as it is, it just falls all over itself trying to be edgy. Despite a critical drubbing, it actually got a TV adaptation in "Dominion," which did much better with the critics.
Scott Bakula – Eisenhower & Lutz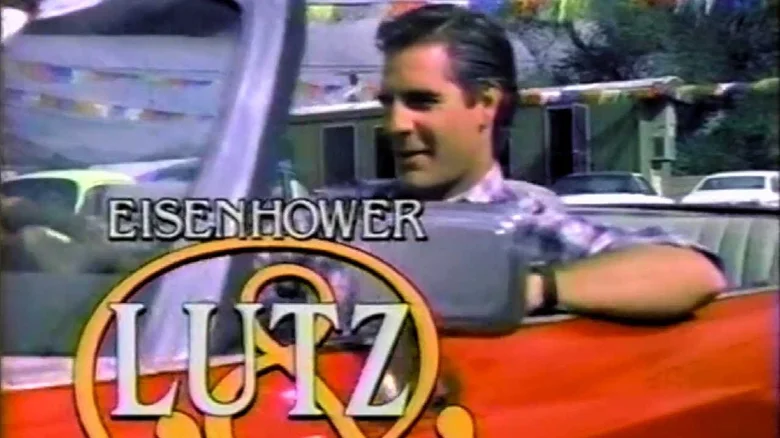 CBS
The star of "NCIS: New Orleans" for the entirety of its seven-season run, Scott Bakula has been a TV icon for decades. He's had a number of hit roles over the years, including time traveling do-gooder Sam Beckett in "Quantum Leap" and Captain Jonathan Archer in "Star Trek: Enterprise." However, not every TV role he took on became a success. In fact, one of his earliest attempts at leading his own series was such a debacle he might be hoping we let it stay buried. Back in the late 1980s, Bakula had a disastrous turn as Bud Lutz in the ill-conceived single-season sitcom "Eisenhower & Lutz."
It goes without saying that Scott Bakula is a charismatic leading man who oozes earnest charm. That's one of the reasons things went so wrong for this series, which is centered on a sleazy, womanizing lawyer who cheats his clients and treats women like garbage. Because he's played by a likable everyman in Bakula, we're not sure whether we're supposed to sneer at him or cheer him on. He gets caught in the middle of a love triangle with his current girlfriend Megan (DeLane Matthews) and his hopelessly-in-love ex Kay (Patricia Richardson). Not funny, not clever, and painfully sexist from start to finish, the series was quickly canned. Nobody seems to even remember that it existed, and we're guessing that's how Bakula wants it.
Lauren Holly – Turbulence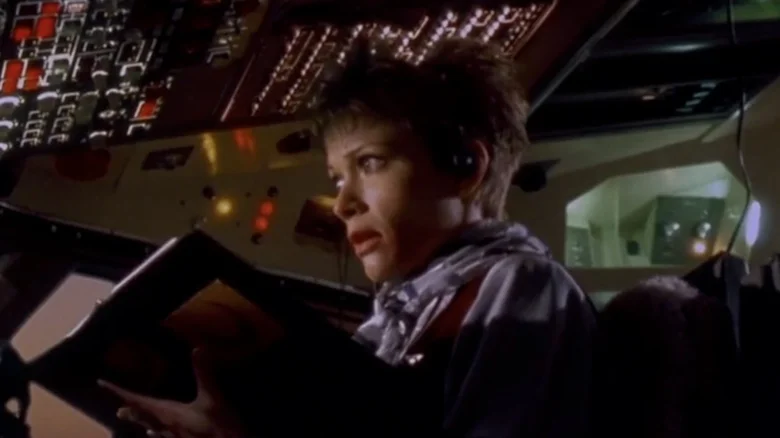 MGM
When Lauren Holly joined the cast of "NCIS" as Jenny Shepard in 2005, she'd already had a long and successful career on TV and in movies. She has since led shows like "Motive" and "Tiny Pretty Things." With such a long and diverse career, Holly has a few projects she probably looks back on with a little bit of awkwardness, but the one that stands out most has to be the 1997 action movie "Turbulence."
A memorable movie for all the wrong reasons, "Turbulence" stars Ray Liotta as Ryan Weaver, a serial k****r who insists he is innocent. While being transferred by plane to New York for his trial, a fellow prisoner breaks free and the two pilots of the flight are k****d. Surviving flight attendant Teri Halloran (Holly) must ally herself with Weaver to take control of the plane and fight back against the other prisoners. But, no matter how innocent Weaver seems, Halloran is unsure if she can trust a man ready to be tried for a series of grisly murders.
With a preposterous story that strains believability, the biggest criticism levied at the film at the time was that it's just plain boring. Compared to the likes of "Speed" and "Die Hard," "Turbulence" can't measure up. It crashed and burned hard, both at the box office and with audiences.
CCH Pounder – Brothers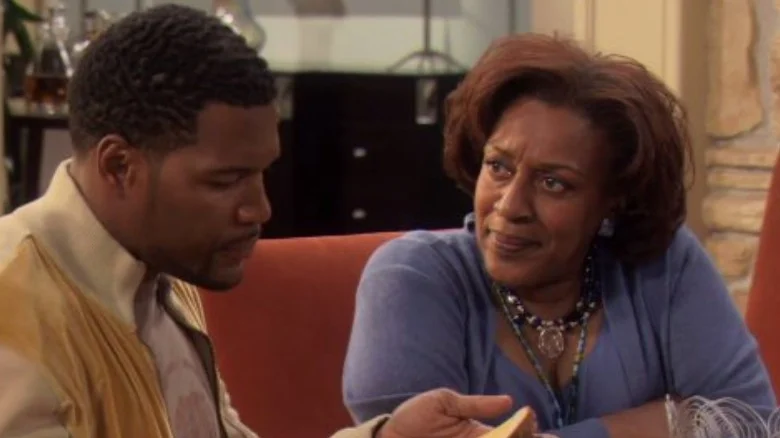 Fox
One of the most accomplished character actors in the "NCIS" franchise, CCH Pounder is famous for her work in police and legal dramas. She has appeared in the likes of "Hill Street Blues," "Cagney & Lacey," "L.A. Law," "Miami Vice," and "The Practice." Superhero fans will no doubt know her as the voice of Amanda Waller in the DC Animated Universe and several video games. Unfortunately, when Pounder strayed into sitcoms, the result was the notorious 2009 disaster "Brothers."
An ill-conceived family comedy, "Brothers" is led by former NFL quarterback Michael Strahan, who stars as a fictionalized version of himself. He plays Mike Trainor, a retired NFL star who moves back home to reconnect with his family, which includes his overbearing father Coach (Carl Weathers), his more understanding mother (Pounder), and his brother Chill (Pounder's future "NCIS: New Orleans" cast mate Daryl Mitchell).
Admittedly, this isn't exactly an early career role for Pounder, who debuted back in 1979 with the Bob Fosse musical drama "All That Jazz." But the show is a master class in how not to do a network sitcom, completely wasting a cast of talented actors by anchoring it around a non-actor and sports star, ultimately delivering clichéd stories and limp laughs. It was canceled after one season, and we don't think Pounder will be complaining about the fact that hardly anyone remembers it.
Sasha Alexander – Lucky 13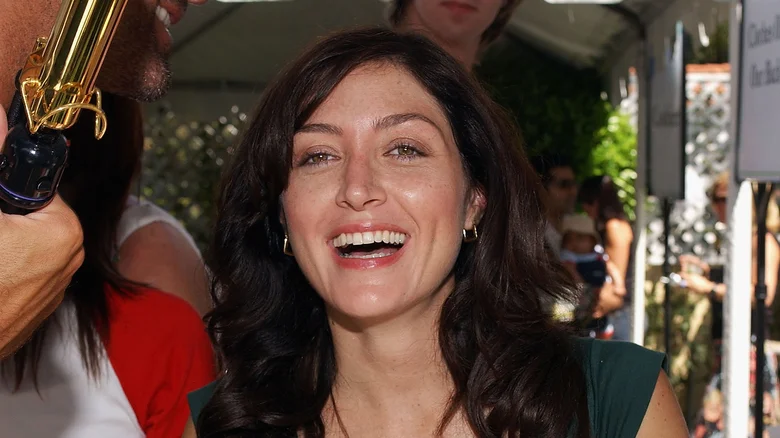 Amanda Edwards/Getty Images
When "NCIS" launched in 2003, the series was led by Sasha Alexander as Special Agent Caitlin Todd. Though she left the show in 2005 after just two seasons, Caitlin Todd still remains one of Alexander's most memorable parts, right alongside her starring role in "Rizzoli & Isles" and her recurring role in "Shameless." But before she became a regular on the small screen, Alexander had a few misfires at the movies. None were as regrettable as the horrific 2005 rom-com "Lucky 13."
The film stars Brad Hunt as Zach, a man ready to settle down after 12 failed relationships. He's preparing for his first date with the titular lucky number 13, and he wants it to be perfect, so goes through his list of lost loves to see what he can learn. This leads to a number of recognizable actors entering and exiting the film in quick succession, including Kaley Cuoco and Pamela Adlon. Alexander plays Susie, while "Gilmore Girls" vet Lauren Graham plays Zach's latest love, Abbey.
It's all very boring and bland, like the writers went down a checklist of rom-com hallmarks making sure they hit all the customary notes without putting much thought into it. None of the jokes land, the performances feel like everyone was in a hurry to get the whole thing over with, and its well-meaning message falls flat.
Michael Weatherly – Girls Club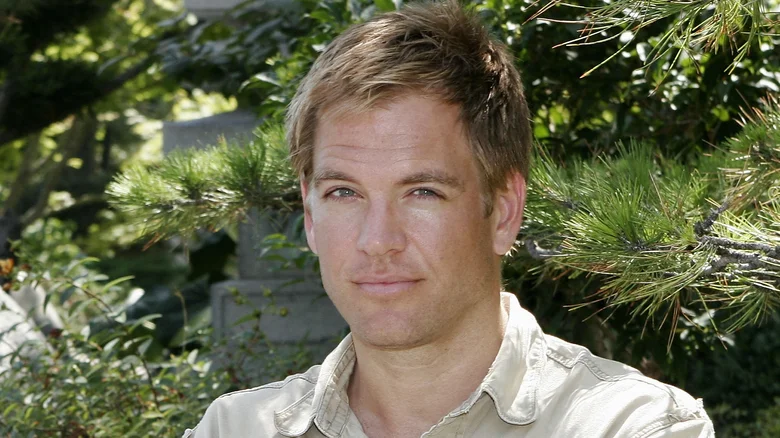 Francois Durand/Getty Images
"NCIS" star Michael Weatherly held the role of Senior Field Agent Anthony DiNozzo from 2003 until 2016, making him one of the longest-serving cast members. After he left the show, Weatherly starred as the title character in the CBS drama "Bull," a show about a consulting firm that offers expert analysis for lawyers. The series had a successful six-season run between 2016 and 2022. Before he was a prime time TV star, Weatherly played a small role in an abysmal effort from acclaimed producer David E. Kelley, a forgotten legal comedy called "Girls Club."
An attempt to duplicate the success of Kelley's '90s hit "Ally McBeal," this series from 2002 centers on not one but three feisty female lawyers. Led by Gretchen Mol, Kathleen Robertson, and Chyler Leigh, it chronicles the ups and downs of their legal careers at a law firm in San Francisco as they're plagued by industry sexism, office politics, and, of course, struggles in their social lives. Weatherly played a gynecologist in Episode 7 and Episode 8, though, luckily for him, they never made it to air — the show was canned just two weeks in, following disastrous ratings. It was "the least-watched show on six networks at 9 p.m. Monday," reported The New York Times. "It was easily surpassed by 'Everwood,' the entry on the far smaller WB network, and even by the offering on the UPN network, 'Girlfriends.'"