Rocky Carroll Equates Starring On NCIS To Being In The MCU – Exclusive
As Director Leon Vance, Rocky Carroll is a fixture on "NCIS," offering direct but compassionate leadership to the special agents from the Naval Criminal Investigative Service. Each week, he helps guide the agents — including Gary Cole as Alden Parker and Wilmer Valderrama as Nick Torres — through solving criminal activities involving the Navy and Marine Corps., from attempted assassinations to drug busts and everything in between.
The series, which airs Monday nights on CBS and is currently in its 20th season, is arguably the biggest role of Carroll's career, although he has also starred on "Roc" and "Chicago Hope." Additionally, he has lent his voice to both Marvel- and DC Comics-based animated projects, including "Justice League: War," "The D***h of Superman," and "Fantastic Four."
Those brushes with superhero fame have left the veteran actor equating his time on "NCIS" to being part of the MCU, an idea that Rocky Carroll sheds some light on during an exclusive interview with Looper, in which he also reveals his dream live-action superhero role.
Carroll believes NCIS has built an empire that rivals the MCU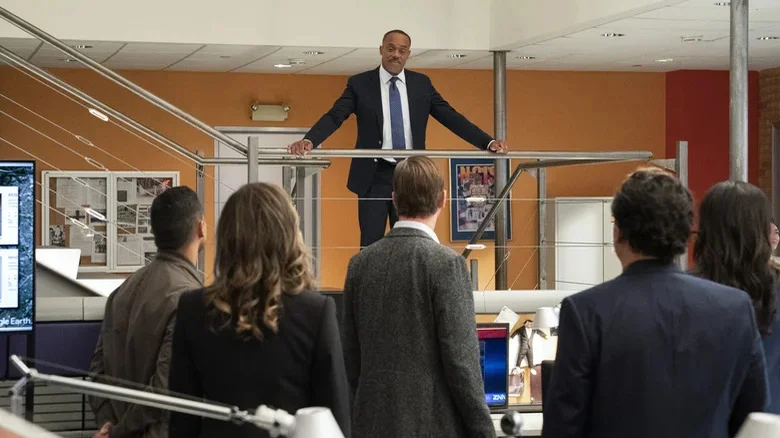 Robert Voets/CBS
While Rocky Carroll has only dipped the very tip of his toe into the Marvel world via small voice roles in the short-lived "Fantastic Four" animated series in the 1990s and the 2004 "Spider-Man 2" video game, the veteran actor feels confident that he is part of a large-scale setting on par with starring in the MCU.
"There are times when I feel like what we are doing on 'NCIS' is as close to the TV version of being part of a Marvel franchise," he says. "We're 20 years in, and there have been at least three spinoffs of 'NCIS.' We're as close to a Marvel kingdom as you could possibly get with regard to television."
That doesn't mean he wouldn't like to step into the actual MCU, and when it comes to dream roles, Carroll admits he'd love to play Professor X of the X-Men — and he's certain "NCIS" has properly prepared him for taking on such a role. "My resume of several hundred episodes of 'NCIS' would be pretty good [experience] if I ever get a chance like that," he says.
"NCIS" airs new episodes on Mondays at 9:00 p.m. ET/PT on CBS.