Emily Wickersham Made Her NCIS Audition Stand Out By Sitting Down
The CBS series "NCIS" began in 2003 as a spinoff of the procedural series "JAG." However, it ultimately surpassed its parent series, running twice as long at 20 seasons.
Equally important to the show was performer Cote de Pablo, who plays NCIS Special Agent Ziva David. David was a part of the team until Season 11, when De Pablo decided to leave the series, requiring the casting of a new agent for the team. She was eventually replaced with Special Agent Eleanor Bishop, played by Emily Wickersham.
Originally from Oklahoma, Bishop was an NSA agent who was initially a liaison from the NSA to the NCIS team before becoming a full-fledged Special Agent at NCIS. She was on the show for a total of seven seasons.
Wickersham was a standout for the role right from the audition process when she decided to sit down. Here's how the choice ultimately led to her joining "NCIS."
Wickersham's audition decision showed she understood the character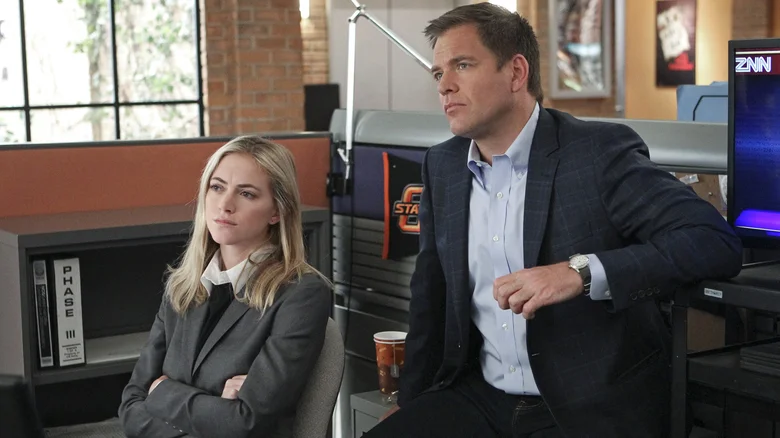 Sonja Flemming/CBS
In an oral history at TV Insider, Glenn Geller spoke about watching the auditions for potential new cast members. Seeing Emily Wickersham sitting on the floor gave him pause.
This led Geller to ask Gary Glasberg, the "NCIS" showrunner at the time, why she was doing that. Glasberg replied that Wickersham made the decision on her own, but he found it very in line with the character. "Ellie really sees the place as her own space, so it works," Glasberg said in response to Geller's question. Glasberg also noted that Wickersham making a decision so in line with the character, without even being told, showed him that she had an innate understanding of Ellie Bishop already.
In speaking to the New York Post, Glasberg spoke about his strategy for the casting of Eleanor Bishop, pointing out that he didn't want to bring in a poor facsimile of Mossad agent Ziva David, played by Cote de Pablo. Instead, he decided to make Bishop younger than David and from the American Midwest rather than from Europe.
Wickersham's audition process, however, was more rigorous than most. After the initial selection process, Wickersham was brought in to do on-camera auditions with Mark Harmon, Michael Weatherly, and Sean Murray.
Murray added that Wickersham's audition lasted for the duration of her time on set. She was also assessed with the team during lunch as well as in between scenes and impressed the cast and crew during that time. Glasberg said that crew members approached him in private to endorse Wickersham, which factored into his final decision.