How NCIS' Brian Dietzen influences the show even more than you think
Participating since its very first season, Brian Dietzen is a cornerstone of the long-running c***e procedural drama NCIS.
Playing Dr. Jimmy Palmer, he initially started off as a recurring character, before eventually becoming an "also starring" role in season six, and finally ascending to the main cast in season ten.
20 seasons in, Brian is not only one of the longest-running cast members on the show, but he also holds a distinction that no one else on the cast does.
In 2022, the actor became the first of the main cast members to co-write an episode, beginning with "The Helpers" in season 19.
The episode proved to be a success, so much so that a year later, on February 13 of this year, Brian's second episode as a co-writer debuted, titled "Old Wounds."
Speaking with Variety ahead of "The Helpers'" premiere, the star stated: "The creative element of coming up with something and putting words in the mouth of these characters that I've known so intimately and so closely for so many years just seemed to make a lot of sense."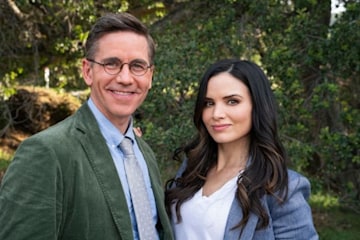 Brian has been one of the show's central characters throughout its 20-season run
He was initially hesitant, however, "because we have one of the most talented and under-appreciated writing staffs on television, so I thought that might be seen as hubris and I didn't want to overstep, to be honest."
The father-of-two has prior experience with writing, having worked on several shorts and even written a 2012 feature titled "Congratulations."
Prior to the airing of "Old Wounds," the show's 448th episode, Brian expressed to Parade how much of an honor it was for him to see his words coming to life on screen.
"The part that is the absolute most rewarding is not just our actors, but also our other writers, our producers, our post-production producers, everyone brings their A-game and elevates what's put on the page.
He most recently co-wrote the season 20 episode Old Wounds
"None of the script really means anything without the hard work and amazing talents of the people that work on it. We're pretty blessed to have those people."