NCIS Sometimes Gives Diona Reasonover Fake Scripts (Like For Ziva's Return)
Diona Reasonover first appears on "NCIS" during Season 15 of the CBS c***e drama. Reasonover plays Kasie Hines, a medical grad student helping Ducky (Donald McCallum) with his book. After Abby Sciuto (Pauley Perrette) leaves the team in Season 16, Gibbs (Mark Harmon) hires Kasie as a temporary NCIS forensics specialist to fill her role.
Kasie proves to be an invaluable asset to the c***e fighters, and she's soon permanently hired. An inquisitive and bright person, Kasie is also extremely friendly and personable, though she seemed cold to Abby at first because she was so nervous about meeting her.
Reasonover has a comedy background, and she likes that "NCIS" has fit the character to her personality. "Comedy gets people to unite and Kasie even with her one-liners brings life to everyone around her," the actress said in 2020.While Reasonover works on the show and is an integral part of the "NCIS" team, she has been shocked by some of the major twists of "NCIS." The secret? Fake scripts.
She had no idea Ziva was coming back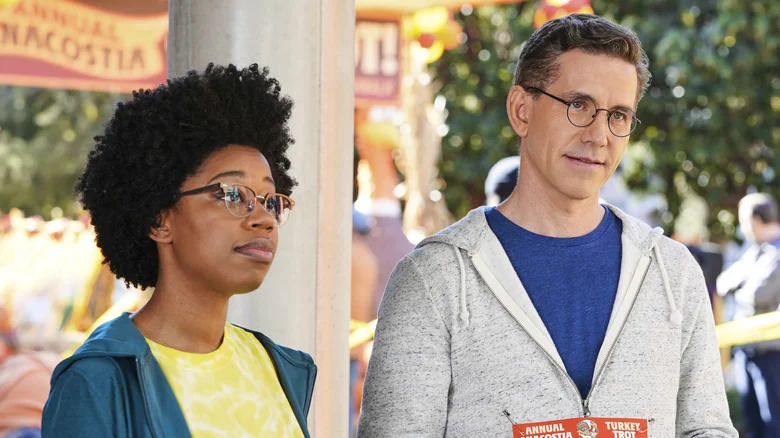 Sonja Flemming/CBS
When Diona Reasonover watches "NCIS" at home, along with millions of other viewers, she's avoided certain spoilers and has been shocked by some major plot twists. The secret? Fake script endings that don't give away the real denouements of every case.
In a behind-the-scenes featurette for the "NCIS" 450th episode, Reasonover said of the show's writers, "They really keep me in the dark. Sometimes, I'm not even kidding, they write fake scripts and give me a fake script." This means that when Ziva David (Cote de Pablo) returned on the Season 16 finale "Daughters" to warn Gibbs about Sahar (Mouzam Makkar), Reasonover had no idea. "I totally had the fake ending, I did not know she was coming back, I was sitting there watching it with the rest of America."
Luckily the actress seems to enjoy that the writers don't let her in on these revelations. She said, laughing, "I looked so silly!"
Read More: https://www.looper.com/174794/the-real-reason-these-ncis-actors-left/