Michael Weatherly Always Compared NCIS To MASH And Scooby-Doo
One might not realize it, but the Naval Criminal Investigative Service that patrols Naval bases and its surrounding areas has a lot going on. Far from just reprimanding drunken sailors, this law enforcement branch often deals with extreme situations involving undercover work, international affairs, m*****s, and the flow of illegal contraband. In other words, the popular show "NCIS" certainly had more than enough to fill a decade's worth of television. Besides riveting plots, "NCIS" also has an impressive cast of varied characters that have come and gone, and one of the first to really make a splash with audiences was Anthony DiNozzo (Michael Weatherly).
Appearing in well over 300 episodes, DiNozzo's personality is far more lackadaisical and humorous than most of his coworkers, and his brash demeanor and chauvinism certainly grated on some during his earliest tasks. However, working cases with his fellow "NCIS" members soon softened his behavior, and he quickly became a popular individual on the show. Oddly enough, the actor who plays DiNozzo also appears to have a laid-back approach in real life, and he definitely views "NCIS" in a different light than most.
Weatherly thinks the NCIS gang should probably have a Mystery Machine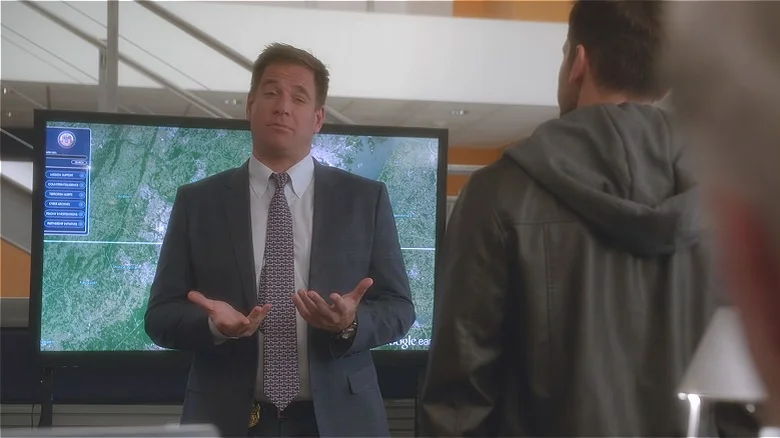 CBS
Speaking with The Futon Critic in 2007, Michael Weatherly was asked how he thinks "NCIS" is perceived by people who have never seen the show or know anything about it. His response was quite telling, and he replied, "'NCIS' is sort of [promoted as] 'The Unit' meets 'CSI' when clearly, to my way of thinking, we're more like 'Scooby-Doo' meets 'M*A*S*H.' You know, it's like we have a mystery van and we go around, and if weren't for those damn teenage kids!" He continued, "And so it's always interesting to me because in other countries like on France on M6, the personality of the show is much more at the forefront. So no one even really… people actually think that 'NCIS' is like making fun of 'CSI.' It's almost like spoofing it. I mean the sensibility is so much different."
Although "NCIS" is typically usually quite serious in its tasks and investigations, there are moments of levity, but perhaps not as much as Weatherly is making it out to be — there probably aren't too many moments in "NCIS" where some international criminal mastermind is revealed to be a crotchety old man looking for an insurance payday. Joking aside, Weatherly has a unique perspective on the popular show, and there probably aren't too many people out there that would compare a show like "NCIS" to two comedies.