NCIS's Pauley Perrette is almost unrecognizable in early role in famous sitcom
Pauley Perrette is best known for her role as Abby Sciuto in the incredibly successful NCIS franchise, but despite that the actress is almost unrecognizable in some of her earlier roles.

While it's well known that the 53-year-old has changed her appearance quite dramatically since leaving NCIS in 2018, it turns out that before she landed her role as the eccentric forensic scientist the actress also looked very different.
Remind yourselves of Pauley's look in 2018 by rewatching Abby's departure from the long-running CBS drama in the video below.
The New Orleans-born actress' different appearance prior to her NCIS role can be seen in an image which has surfaced online from one of her early career roles. The screenshot comes from when the actress played a waitress in an episode of the fourth season of NBC's hugely successful sitcom Frasier, which aired in 1997.
Appearing in the episode Three Dates and Breakup, Pauley can be seen with a lighter hair color which is perhaps a little closer to her natural blonde color than the jet-black dyed hair which she is so known for. Her hair has also been styled into a less familiar bob haircut.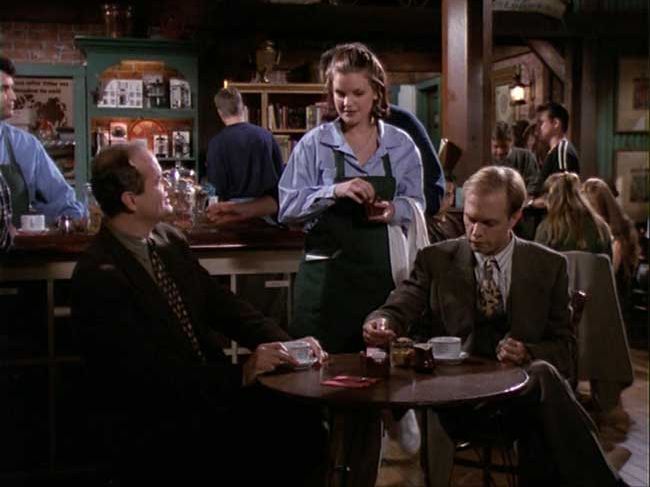 Pauley Perrette stars in Frasier © NBC
The star was only 27 years old at the time when she appeared in the show alongside its lead actors Kelsey Grammer and David Hyde Pierce. Prior to her role serving in the series' famous coffee shop Café Nervosa, the fresh faced actress had only starred in a handful of projects.
These include parts in Early Edition, also in 1997, Murder One between the years of 1996 and 1997, and The Naked Truth in 1995. According to IMDB, Pauley's first acting role was in an episode of the children's TV show ABC Afterschool Specials in 1994.
While her role in NCIS was clearly the one to make Pauley a household name, no doubt starring in other such TV successes, even in just bit parts, helped prepare the actress for life as the hugely popular forensic scientist.